Facebook has launched Trusted Contacts feature couple of days ago to make the account recovery process much easier. Facebook also said, that it was testing this feature since 2011 and found it is really effective to recover facebook account easily and with better security measure in place as well. The only risk involved in Facebook Trusted Contacts feature is, you have to select few of your existing facebook friends whom you trust and add them to the Trusted Contacts list. If you have forgotten your password or your facebook account got compromised and unable to login to your facebook account, then this method will surely help.
[youtube]http://www.youtube.com/watch?v=K7GDwj4k-tA[/youtube]
There are hundreds and thousands of facebook accounts compromised or hacked ever day. Also many people unable to access their facebook account due to password forgot reasons and when they approach facebook support team for help, there will be no response in maximum case. For security reasons, it is not possible for facebook to address every password forgot accounts requests.
How to use Facebook Trusted Contacts ?
To make this simple and effective, facebook has introduced some better security feature in the name of Trusted Contacts. But beware, that if your friends whom you have added in the Trusted Contacts list want to play a prank with you, then no doubt, you will go crazy and it may lead to unwanted issues as well. So choose your Facebook Trusted Contacts carefully.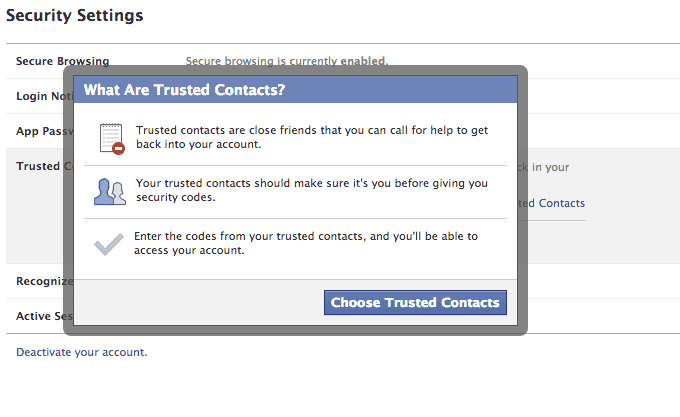 In order to setup facebook trusted contacts, you have to choose minimum 3 friends and maximum of 5 friends from your facebook contacts. Once done, you can use any three of the contacts to reset facebook account password if you have forgotten your login password or some one hacked your account, you can ask your friends to generate a security code from "http://facebook.com/recover" page. Once three of them sent you the security code generated by facebook recover page, you can proceed with password reset page and get your account back successfully.
In the official facebook announcement about this new security feature, they did mention about the important points you should remember before enabling this feature.
Choose people you trust, like friends you'd give a spare key to your house.
Choose people you can reach without using Facebook, ideally over the phone or in person, since you'll need to contact them when you can't log in.
Choose more people to help you. The more friends you choose, the more people who can help you when you need it.
This feature is like, giving the complete control of your facebook account password managing task to you and the people whom you trust. So make sure you have a real trusted contacts in place to help you out when you are unable to access your fb account and not some prank loving friend or friends in the list.
There is no doubt that facebook trusted contacts in one good security addition by facebook. Do share your views in the comment box below. Thanks for reading and have a wonderful day.