Google+ developer preview launched recently to showcase the Facebook alternative. Now worlds no 1 social networking site Facebook has its real opponent while many have failed in the battle of social networking. This flawless winner now has to take quick steps to prevent loosing some huge amount of users when Google Plus launch Publicly to all users.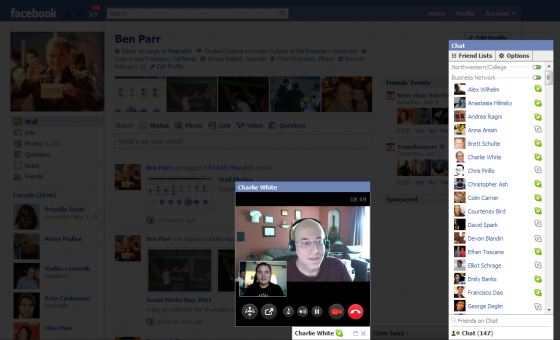 Google Plus is not just a facebook killer. It also targets some more famous services to hunt down. Skype and Twitter are the two important among those. Google+ is kind of an upgrade to existing social networking. Rather texts, images and links, the communication becomes effective with Google Hangout and few other features. We expect many more features to be announced by Google+ in coming days.
Facebook Video Chat
Facebook and Skype has a strong relationship and this time they joined hand to provide Free video chat feature in facebook. So that you can skype call your facebook friends simply from your facebook chat panel. This one really sounds interesting where it cuts the usage of multiple applications in the system.
Facebook may announce this new service by next week and this is unofficial confirmation leaked on net.
Whats your opinion about this integration ? Do you think this the best step that Facebook has taken ? Please let us know via comments. Thank you.
via [Mashable]