Google slowly making its moves to let more people use Google+, its social networking website. They also merge several services to Google+, so that existing users will also visit the social networking website by Google. One thing i really liked about Google+ is .gif support, which works great for funny clips and other interesting animations. If you follow or circled some good number of active Google+ users, then your news feed will show some interesting and funny .gif images every time you login. Not just that, Google+ also supports high resolution photo upload to user album.
You can upload and see the photos in high resolution (2048px) without loosing the picture quality for any type of image compression techniques.
Facebook does such compression all the time, and that's the reason you notice loss of quality in your upload photos and videos. Still facebook has this huge crowd that google+ is still working hard. Slowly but steadily google is improving in several areas to let people get familiar with this social networking platform.
Google+ Auto Backup Photos
Google has merged Picasa with its social networking service recently, and they have updated the Picasa software for Mac and Windows with new feature addition. Its called Google+ Auto Backup which automatically upload any photo (in high resolution) stored in the Google+ Auto Backup directory. It also works in the other way, if you paste or upload any new files to your Google+ album then it automatically downloads that photos or media to your computer, which has latest picasa software installed and configured.
Both way syncing allows you to not manually move or download any photos and media files from your google+ storage. In this way you dont have to worry about loosing any of your important pictures that you took in your camera and stored in your local computer hard drive. All your gallery collections can be uploaded and stored secure in google servers.
How to install Google+ Auto Backup in PC ?
Step 1: Download latest picasa software from picasa.google.com
Step 2: Install the software in your Windows PC or Laptop and launch the software.
Step 3: After configuring picasa settings, you will see a prompt that says "Google+ Auto Backup" to setup auto backup in your windows PC.
Step 4: Sign in with your Google account details to begin auto uploading the files from your selected local hard drive directory. Also this software syncs the files on both ways by downloading any new photos and media files you upload.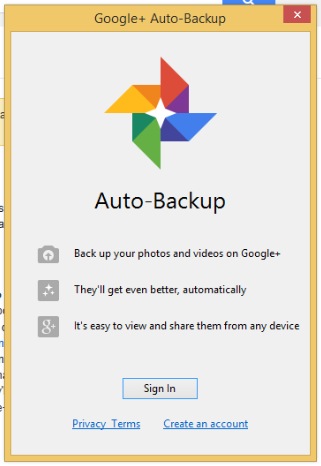 New Google Picasa software update also allows you to tag people in your circles from Google+. New Photo editing feature lets you add some cool effects to your photos. Side by side editing feature lets you compare and edit the photos you have uploaded. It also keeps several versions of your edited photo to rollback if required. Picasa 3.9 update is overall an essential update and its launched at correct time. Google is trying to make the backup storage tasks for media files into one location and picasa will be really helpful. Lets see how we do this one Mac OS X.
How to install Google+ Auto Backup in Mac OS X ?
I am using OS X Mavericks and the steps for installed Google+ auto backup is very similar to any others apps that you install on mac computers.
Step 1: Go to picasa.google.com and download the mac os x version of latest Picasa app.
Step 2: Once you have downloaded Picasa 3.9 (45.6 MB) double click on the .dmg file and you will see two icons on the installation window.
Click on Google+ Auto Backup and configure the app to start running backup process. If you have Google Drive app running on your mac then it will prompt you to reconfigure and start backing up all your applications and media files into one place.
Step 3: In the auto backup wizard signin with your google account to begin auto backup of your photos, videos and files.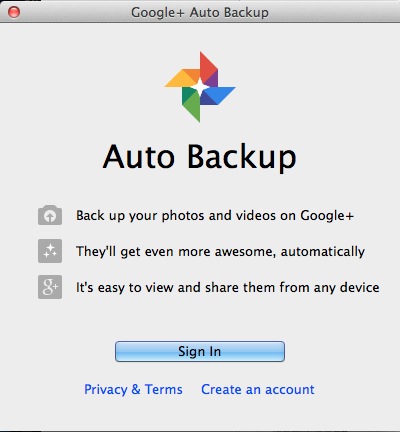 Step 4: As the final step, you will be asked to select which type of files and folders you want to backup automatically. Use the check box to select the folders which you want to configure for auto backup feature. You can choose between two options and they are storing your files in Full Size or Standard Size with Unlimited storage at 2048px resolution of your photos.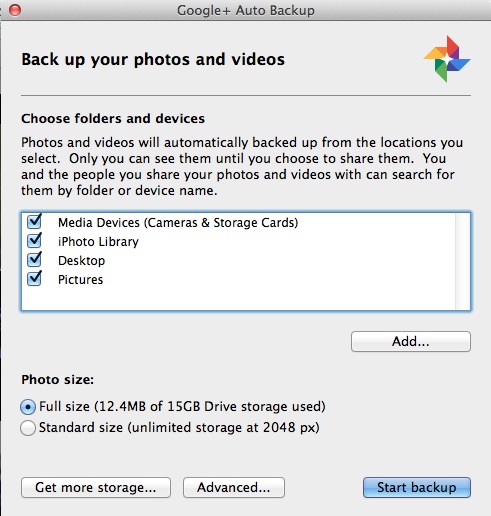 You can always buy some extra storage to use it as a primary place to store all your backup files. Google gives free 15 GB Cloud Storage that is shared across all your Google services usage (GMail, Google Drive and Google+ Photos). They had yearly plans, but recently they changed them to monthly plans, still its totally worth to upgrade your Google Storage when you have more usage than the free storage of 15 GB.
Once you have completed setup of Google+ Auto Backup setup wizard, you will see a webpage that gives you some highlight of how this process going to happen and what type of file formats are supported. visiting photos.google.com is one quick and easy way to browse all the images you have uploaded to your Google+ account.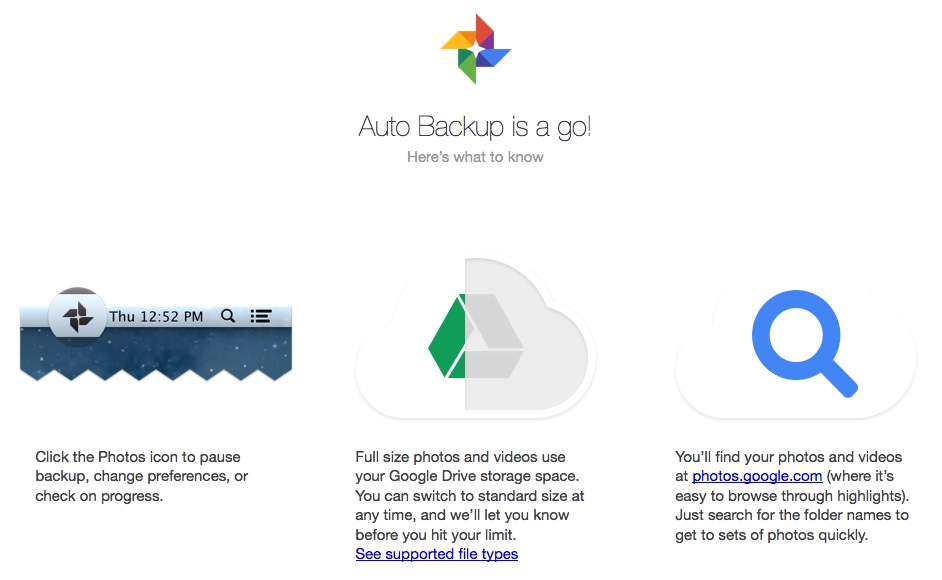 You have successfully configured Google+ Auto Backup on Mac OS X. Simply drag and drop Photos, Videos and Media files to the selected folders and it will be automatically uploaded to your Google Cloud Storage. You will never have to worry about loosing your important office documents (.docx, .xlsx, .pdf), photos and video files.
Thanks for reading and if you find this post useful, please dont forget to share it on Twitter, Facebook and Google+. Have a wonderful day.