novaPDF Professional Review with 15 Free Licenses for lucky winners. Let me give a quick overview about novaPDF software and what it can actually do to help you make the PDF documents creating, editing, publishing and much more. novaPDF is one of the best pdf creator software available today. It is not just a PDF Creator for Windows PC. It can do more when you try the professional version of novaPDF software. Free novaPDF software version is limited with features and for little extra money you can get a complete PDF software which can be very supportive in your Productive tasks.
Also read about, Markzware Reviews and 20% Coupon Code to know about the Designers and Printing Professionals Utilities that saves huge money for your Company.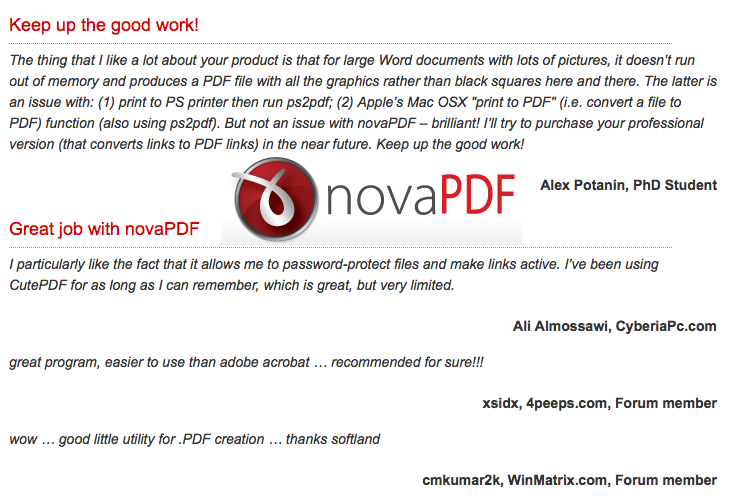 novaPDF is an excellent PDF software for both individual and business users who want to Create PDF Documents and Share them to Collaborate with the team members. In few mouse clicks, you can get your company reports, contracts, workflows, agreements, marketing plans, spreadsheets, forms, products list, price list, charts, emails and any other printable documents converter as PDF file format.
novaPDF is one easy to use pdf software for windows operating system that enables us to exchange electronic documents easier than never before.
novaPDF Review
You dont need multiple software to be installed in your computer to do these tasks. Now with novaPDF you can do all of them with one software installation. novaPDF is almost an All in one solution for your PDF documents. Exchange PDF documents with your team members in network independently without any application limitations. Your final PDF file can be viewed on any computer with Linux, Mac OS X, Tablets, Smartphones with the pre installed PDF Viewer or Reader software.
[youtube width="560″ height="344″]http://www.youtube.com/watch?v=BWAUQ-10OJI[/youtube]
novaPDF comes in three different versions under Two editions. Desktop Edition and Server Edition are the two editions and you can choose Professional, Desktop and Lite version based on your requirement. Desktop edition of novaPDF basically the most advanced pdf software besides creating PDF Files. It also lets you add PDF bookmarks, watermarks, overlays, digital signature and secure them with an Advanced Encryption such as AES Encryption. You can also create PDF links and automatically save and email the PDF file to anyone instantly. There are much more features
novaPDF Server Edition has all the essential features of the Desktop edition plus Network / Server specific functionality. That means, you can share it easily in network PDF Printer printing machine or Remote Desktop Connection using public printing profiles. This feature can make the network printing more easy and reduces the time that you spend in sharing and printing after finishing up your PDF document creation process. Create a PDF and Print it via Network from wherever you are in the Network. This feature is an ultimate one and recommended for medium and large businesses that needs PDF Server to let Managers, Employees, Team members to share and print the PDF within the corporate or office computer network.
novaPDF Free Licenses
Today we are going to giveaway this ultimate pdf software for 15 lucky winners. It takes only couple of steps to participate and win a free novaPDF software license. Create PDF in minutes and enjoy all the features that Desktop Professional edition offers. We will be randomly selecting the winners on 8th day once this contest over and we will be sending all the winners a free software license of novaPDF Desktop Professional edition.
The contest starts from today (26th November 2012) and ends on (5th, December 2012). We will declare the results with complete winners details by 06th, December 2012. You may Tweet this page once a day to get more entries which will increase the chances of winning a free license.
Thanks for reading and participating in our giveaway. You may consider subscribing to our exclusive newsletter to know about Software License and gadgets giveaways from DailyTUT faster than others. Have a wonderful day !