Useful iPad Safari Tricks will help you Boost Productivity and take it to next level. Try these simple suggestions on your Apple iPad Safari Browser. Get the most out of it. Try these Useful iPad Safari Tips and Tricks and Don't just use Safari like a normal web browser. You can do more than that.
Apple iPad's sale is dominating the overall tablet market. Most users every day requirement of a computer work is getting done with iPad seamlessly. From Web Browsing, Emails, Watching Youtube Videos, Netflix, Prime Videos or any streaming services and Word Processing are done very well in iPad's. Here are some of Best Movie Recaps Youtube Channels, you may like to check out.
People choose iPad for convenience and get the job done. It is Productive when we know and use the right set of Apps.
Useful iPad Safari Tips and Tricks to Boost Productivity.
Apple adds features like multitasking , slide over or Split View, and you can even drag and drop items between apps using your finger or a touchpad. It goes well with the thought flow of a user and learning the methods to work with iPad and iPad Apps are lot easier as well.
Also Read, Best Screen Recording Apps for iPhone and iPad
Customize your iPad Safari Start Page
What if I told you can customize the overall Surfing experience by customising your iPad Safari start page? Interesting isn't it? On your iPad run iPadOS 15 or later. Apple gives you the option to upload your own background image or choose from a selection of pre-set ones. The procedures are easy, you must follow with iOS 15 in order to change the background picture of Safari's start page.
Tap Backdrop Image to get a background image. Use one of the photos you see, or select an image from your Photos by tapping the Plus button. And tap select. That's it, you have changed it successfully.
View a Link Preview
The way Safari displays the destination of a link has been altered by iOS 13 and iPadOS. Here's how an iPhone or iPad running iOS 13 or iPadOS can see where a website URL will send you.
For an action sheet to appear on iOS versions 12 and earlier, you just had to press and hold a hyperlink for a few seconds until the destination URL was visible at the top. The action sheet by default shows a real-time preview of the destination URL in iOS 13 and iPadOS.
To access the feature open a webpage, long-press a link, then touch Tap to see a preview.
Also Read, FREE Screen Sharing Apps for iPhone and iPad
Safari Extensions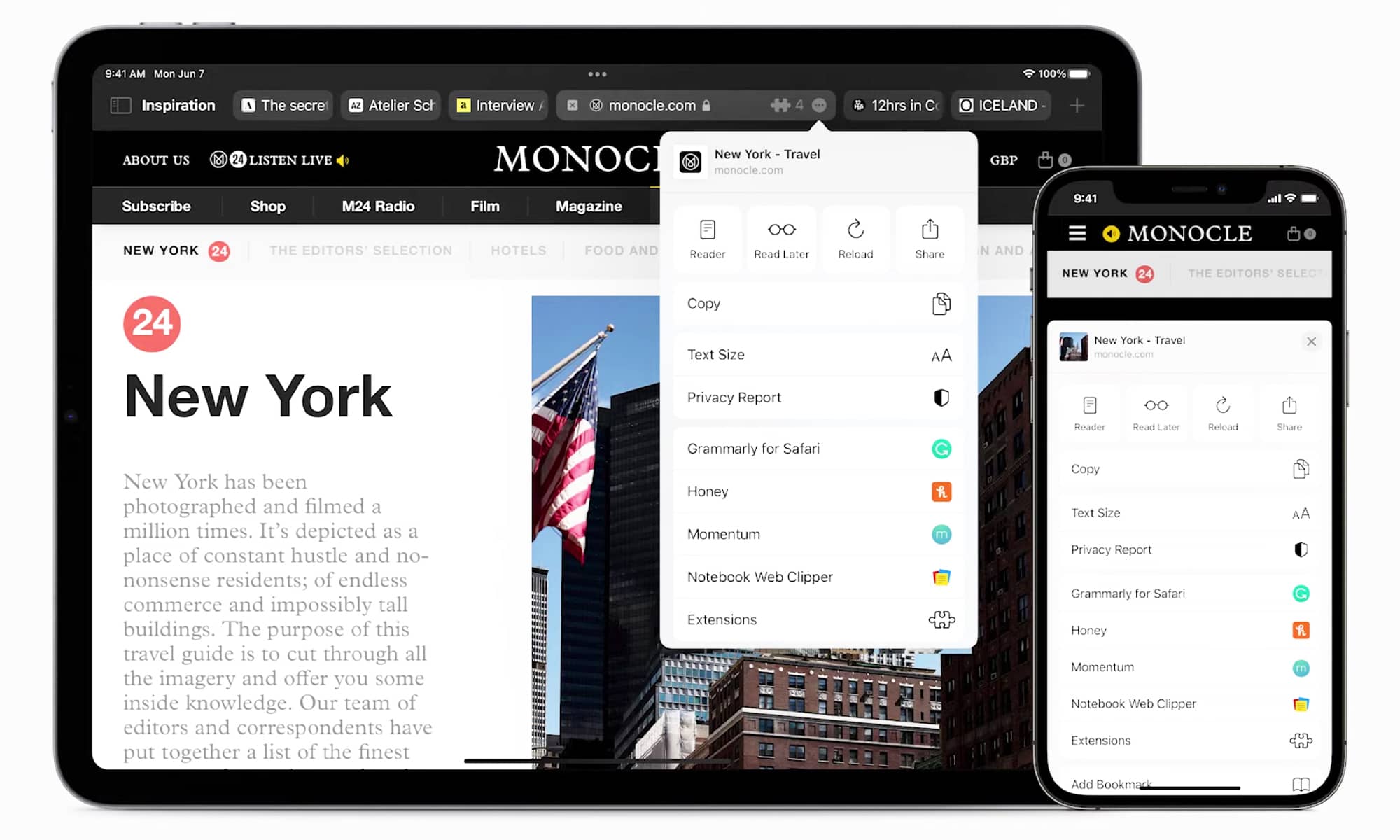 You may add extensions to the Safari app on your iPad to change how your browser functions. For instance, extensions may be used to filter material on websites, locate coupons when shopping, and more.
To enable it Tap Extensions after going to Settings > Safari. To browse through extensions on the App Store, tap More Extensions. When you locate the one you desire, press the price (or Get it if it's a free app), then adhere to the onscreen directions.
Find Recently Closed Tabs on iPad Safari
We occasionally unintentionally close the websites we are reading or working on. In these situations, we just beg for the recent tabs option, but since it is hidden in Safari, you won't find it.
Consequently, open the tab that was just closed in Safari, hit the tabs icon, and long-press the + symbol. Select the website you wish to open now. To open recently closed parts in addition to this choice, select the history section.
To view the list of recently closed tabs, long tap the Plus button in the window's top right corner.
Also Read, Best Music Player Apps for iPhone and iPad
Quick Website Search in Safari
When Safari learns how a site's built-in search operates, it generates a shortcut so you can quickly get the material without even visiting the site. In Safari's address bar, type the site's name followed by the search keyword. In the recommendations box, it will offer ideas like Search dailytut.com for iPad tutorials. To get fast search results, simply click it.
I love this feature because it saves me a lot of time instead of the traditional way of internet surfing.
These are the Best Useful iPad Safari Tips and Tricks to Boost Productivity that can take your productivity to the next level and also save you plenty of time. If you find this article useful, kindly share it with your iPad friends who are looking for iPad features while they browse. Have a wonderful day.