Once you done with installation of Virtual Box in your computer, let me guide you about step by step installation of Windows operating system in your new virtual drive.
Part 1 : Installation of Virtual Box, Setting up a Virtual Machine and Virtual Hard Disk.

Part 2: Installing Windows 7 and Some Important Features of Virtualbox.
You may wonder why I'm dealing with basic options after the first part of the Guide. All these options gain their importance only after setting up VM (Virtual Machine) and VHD (Virtual Hard Disk). Virtual Box Basically consists, Four Options
1. New – To Create New Virtual Machines and Virtual Hard disk
2. Settings – Settings of the Virtual Machines can viewed and modified here.
3. Start – To Start the Virtual Machine
4. Discard – To Discard the Virtual Machine
1.Installing Windows 7 on your Virtual Machine
Now after setting up your VM, you have to install an Operating System. For installing an operating system you can use a Virtual Image of the Operating System Disk (.iso format) or else you can use a disk.


1. Now all you have to do is select your Virtual Machine ("playbuck") and click on the settings option available in the top left hand side.
2. Now, Select "Empty" under the IDE Controller storage tree and Click on the CD image which will be available in the attributes option of your right hand side as pointed in the above screen shot.
3. Select your option, whether you want to use a CD/DVD or Disk Image. In case of Disk image input the .iso file path.
4. Now, everything is set. You are ready to start your Virtual Machine.
Select the VM again and click the start button available at the left hand side top. Your Virtual Machine will start
Capturing Input from Keyboard and Mouse
By Default your host key will be assigned as "Right Ctrl", which will help you to find out the capture status of your keyboard and mouse. Keyboard will be usually in auto capture mode and when you press Right Ctrl or else click into the virtual box your mouse capture will get activated.
Finally, your Installation will be complete in minutes (depends on your system configuration)
Using Shared Folders Option in Virtual Box
Shared Folders acts as a common folder between your PC and the Virtual Machine, in simple terms you can transport your files easily to your virtual machine using this folder.
1. Go to the Settings of your Virtual Machine, Click on Add Folder icon as indicated in the screen shot and set the name and location of your shared folder and Don't forget to select Auto mount option.
Auto mount option will enable your shared folder to appear in your removable devices list.
2. Now you will have to install the Guest Additions, in order to enable the shared folder feature. After starting up your Virtual Machine Go to the "Devices" Menu > and install Guest Additions.
Note: In order to install this Guest Additions, you should keep atleast one of your disk empty in IDE Controller storage tree. Because it will make use of a .iso file to install the feature.
3. Now you can easily transport your files between your PC and Virtual Machine.
Snapshots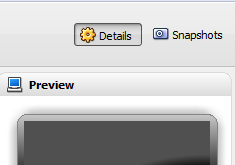 This feature will help you monitor the current state of your Virtual Machine which is currently running. We are looking forward to tune up more to get best titles to give you best reading experience.
You may follow us on Twitter or like us at Facebook to get more news about Open Source, Howto's and Tutorials.