Aobo Mac OS X Keylogger records every keystrokes typed on Mac OS X computer. You can use Aobo mac keylogger software on Macbook Pro, Macbook Air and iMac running OS X. It has some advanced options to remotely receive all the key strokes recorded. If you are looking for best utility to monitor your kids, employees internet activity, computer activity silently, then Aobo Keylogger for Mac OS X is the best tool for you. This application can send you the keystrokes log files to your Email or you may ask it to upload it to FTP server that you can configure.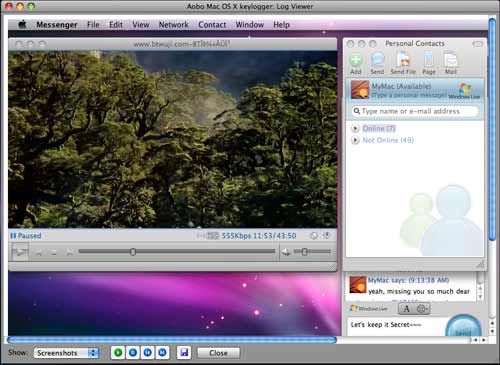 Let me highlight aobo mac keylogger features here that will help you to decide the best keylogger software. Aobo keylogger is currently compatible with Mac OS X Tiger, Leopard, Snow Leopard, Lion and Mountain Lion. As many of us updated to the latest free OS X Mavericks, aobo team is working to bring OS X Mavericks compatibility soon.
Aobo Keylogger for Mac OS X
Aobo Keylogger for Mac OS X is one universal build for both Intel and Power PC mac computers. iMac, Mac mini, Macbook Pro and Macbook Air are currently well supported by aobo. Recording all the keystrokes entered in mac wireless keyboard silently and sending you that log file in the way you choose (email or ftp) helps you to monitor effectively. Aobo keylogger for mac is a perfect, stealthy and undetectable by other security softwares that are found in Macs. You can configure aobo keylogger to automatically delete old log files (including keystrokes and screenshots taken) to prevent leaving any tracks or traces of monitoring.
Aobo Keylogger also works on multiple user accounts on single mac computer. You can enable password protection to prevent the log file being accessed by people other than you. You can pause screenshots capturing when no use activity detected, which saves some good storage space as well. You can customize the hot key function to easily and quickly access aobo mac keylogger and it will be accessible only by you.
How Aobo Keylogger Works ?
It monitors every single keystrokes made in mac computer. Aobo keylogger for mac records websites visited in Safari, Firefox, Google Chrome web browser. Not just that, there are plenty of other easy to use and intelligent features included in aobo software.
Spy and Record all instant messenger chats on mac.
Track the location of your Mac computer by IP Address.
You can record iChat, Skype, Yahoo, MSN Chat, AIM Chat, ICQ and Adium Chat messages on mac.
Record and monitor facebook chat conversations on mac as well.
You can record desktop screenshots with a preset interval and the images will be compressed and stored.
Keystroke and Screenshots are recorded in virtual machine windows applications (parallels desktops, vmware fusion application etc.,)
You can use your Mobile phone, Tablet or PC to read the received log files.
Once the keystrokes and screenshots gathered, at a preset time interval the aobo mac keylogger app uses the internet connection to send you an email. Secretly send you the logs with all the details you have configured while setting it up. You may also export the logs to PDF or HTML file formats for easy reading and accessing in your devices.
Aobo Keylogger Coupon
Aobo Mac OS X Keylogger has two versions Standard and Professional edition. Also each has two types of licenses Personal and Family license. In standard edition you cannot log passwords entered in webpages. But in professional edition you can see the passwords entered by the user in webpages or email logins. Any license you purchase comes with Free lifetime support.
Aobo Keylogger Standard Edition
Single License (1 PC)
Original Price: $79.95
Discount Price: $71.95
Download Aobo Keylogger for mac
Family License (3 PCs)
Original Price: $109.95
Discount Price: $98.95
Download Aobo Keylogger for mac
Aobo Keylogger Professional Edition
Single License (1 PC)
Original Price: $149.95
Discount Price: $143.95
Download Aobo Keylogger for mac
Original Price: $199.95
Discount Price: $179.95
Download Aobo Keylogger for mac
Thanks for considering aobo keylogger for mac. After trying this app, let us know in the comment box below, how it is. Have a wonderful productive day. You may share this post with your friends and followers across facebook, twitter and google+.