Apple iPad is one of the world best Tablet without a doubt. After Apple has launched its iPad, many companies like Samsung, Motorola, Sony, etc., were started developing their own Tablets. But they couldn't compete with the quality and the perfection of iPad in a short time. The touch sensitivity, retina display, extremely fast processors and creative applications are the strength of iPad. You may also like to read some of my previous titles related to this article. Track 8 , Jolicloud, Facebook Messenger and Team Viewer for iPad are some of them which you may find interesting. These apps have got something different and gives a new experience to your iPad.
iPad is a best tablet for drawing. You can bring out your creativity with your fingers. The Retina Display and multi-touch features of iPad will give a best output for your creativity. There are plenty of applications available to draw in your iPad. I have hand picked few applications which are simple to use and gives a best platform to show your creativity.
Art Rage
Art Rage is a very simple and powerful painting simulation for iPad. It has a wide range of natural painting and sketching tools for all levels of users. The application can identify how much paint has been applied to your drawing and it will blend the colors according to that. You have different types of brushes, Chalks, Crayons, Sketches and Patterns are available in Art Rage to express your creativity. You can create layers in this application, which helps you to edit the objects separately. It will add layers to your painting without damaging or moving other layers. You can import photos and convert them into oil paintings and add textures to them. The best part of the app is you can record your drawing as video like screen recording and export it to your gallery.
Paper by Fifty Three
Paper is one of the best creative apps for iPad. The application is available for free but the free version comes like a white paper you have to do some in app purchases to use all the features of this app. Using Paper you can draw, sketch, take notes, outline and color. It is a best app to boost your productivity with beauty. Different sizes of brushes, pencils, pens and crayons were available to make your creativity beautiful. The app suits well with iPad's new retina display and gives a brilliant output of your art. You can take notes and draw diagrams and easily export it your gallery.
You can share them easily with Email, Facebook, Twitter, etc. It is a must have app for your iPad.
Artist's Touch
Artist's Touch is a unique painting application for iPad. It works based on "photo-paint" algorithm which allows anyone to bring out their creativity irrespective of their skills. It is a very simple application, even a layman can understand it easily. In artist's touch you have Oil paints, Watercolor, Airbrush, Scratchboard, Charcoal effects, etc. to use it in your painting. It has photo paint tinting feature which tints your photo in any medium like oil, watercolor, etc. The brush splatter available in Artist's touch works 5x faster than before. It supports multi-touch and the new upgrade offers more zoom into your picture.
The important feature of the application is, you can use any image as a blueprint and practice drawing that image. This is one of the best feature for learners.
Sketchbook Express
Sketchbook Express is one of the best drawing application from Autodesk. It has professional graded tools and brushes to create stunning pictures from your iPad. It supports resolution of 1024 x 768 in iPad 1 and iPad 2 and supports 2048 x 1536 with Retina Display in 3rd generation iPad. With iPad multi-touch feature it supports 2500% zoom of your picture. You have three finger swipe gestures and tap for quick access. High quality brushes and preset tools are available to create beautiful pictures. It supports iCloud so that you can backup your pictures in cloud storage. Also you can share pictures instantly through the mail. You can add pictures from photo gallery as layers and edit instantly. It is a complete professional app for drawing in your iPad.
Procreate
Procreate is a best app for professionals. It is studio-grade sketchbook for iPad. It has 45 professional brushes and 16 HD layers to create extraordinary art from your iPad. It saves each and every stroke of your art and has 100 undo/redo states to keep you safe. It has a painting engine called silica which is specially designed for iPad. It completely uses the power of iPad's GPU and gives stunning effects in your art. It uses deep 48-bit color painting which creates a smudge free art without any lag in the application.
It has most advanced layering system which can create up to 16 layers. You can edit PSD files, PNG and JPEG images. Also you can export your pictures to your gallery or share with Twitter, iTunes or send them through the mail.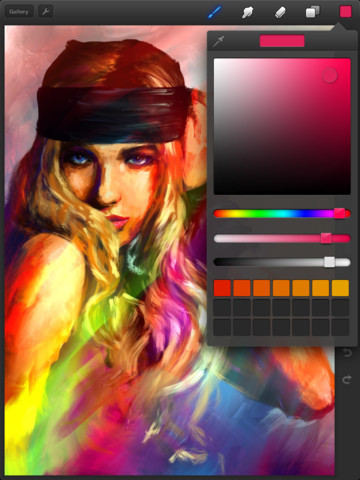 These are the five best drawing applications for iPad which gives a best output of your creativity. iPad's multi-touch feature and new retina display is best for drawings. The above apps is a combination of apps for beginners as well as professionals. The first three apps are very simple and can be used by everyone to create beautiful pictures. The last two are meant for professionals which involves lots of features and quite costly too. So you can choose the applications of your choice and try that in your iPad. Don't forget to share your experience with us in the comment box.
Thanks for reading, you may now share this post with your friends and followers across social networks.