iPhone is one of the most secure mobile operating system in the world. Even the inbuilt system is Secure, Threats arise when you connect to the Internet and install Third Party Apps on iPhone. Increase in usage of iPhone made hackers to develop lots of malicious apps to steal the user data. People have their bank account details, credit card details and passwords stored in iPhone.
When they connect to the internet or install any harmful applications there are possibilities for stealing these sensitive details. So today I came with a list of Essential iPhone Security Apps to protect the user's Privacy and Data.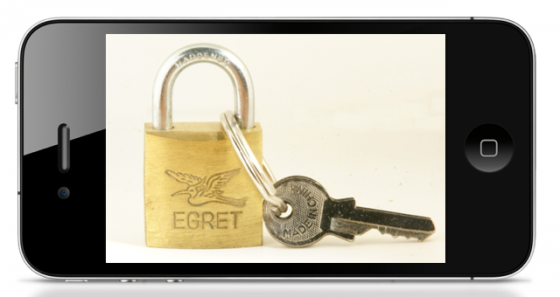 I am listing some best apps to protect iPhone from Theft, Stealing other sensitive data and to alert you before installing malware applications. Apart from installing these security apps you have to enable some basic security options in your iPhone. Like enabling auto lock and passcode lock. Don't paste your passwords and confidential information in notes app on iPhone. These are some security tips to protect your data. Let's have a look at the apps which adds security to your iPhone.
Webroot – Secure Web browser
As I said before, the threat arises when you connect your mobile phone to the internet. If you receive a Phishing link in your email and if you open it from your iPhone's browser it may harm the entire system. Even though the iPhone's internal system is secured if you force your browser to download a file or an app it will surely create a problem. So in order to overcome all these things there is an app called Webroot, a secured web browser for your iPhone. If it is a Phishing link or about to download any malicious content it will block that automatically.
Also it will save your passwords securely in your browser with a master password which is very easy to access when you surf through the web.
Find My iPhone
The name itself defines for what the application is meant for. It is to find your iPhone when it is lost or stolen by someone. It is a very popular app among the iPhone users which is available for free. It uses the GPS system of an other iOS device to find your iPhone or iPad. If you lost or kept your device somewhere in your home, from an another iOS device go to Find My iPhone and search using the  GPS system. If you have kept somewhere in your home, you can make a sound at full volume even you kept the device in silence. You can track your lost iPhone or iPad from any iOS device like iPhone, iPad or iPod Touch.
Also you can remotely wipe all the data from your device from online. This will save all your confidential data being misused. You can make your iPhone to display a message to return your iPhone.
Look Out
Look Out is a must have security app for your iPhone. One disappointing factor in Find My iPhone app is you have to search for an another iOS device to track your lost device. But Look Out is a complete combo of all the essential security features for your iPhone. You can backup all the important information using this application. Also you can access this data from anywhere in the world. Even if you lost your iPhone or iPad you can remotely take the backup and wipe all the data. It is a best app to save your data. Not only backup and tracking your device it warns you when something goes wrong like connecting on an in secured WiFi, downloading Malicious App (in Jailbroken Phones), etc.
You can create a list of numbers to call if your device is found by someone else. You can manage your lost device from mylookout.com and access all your data remotely.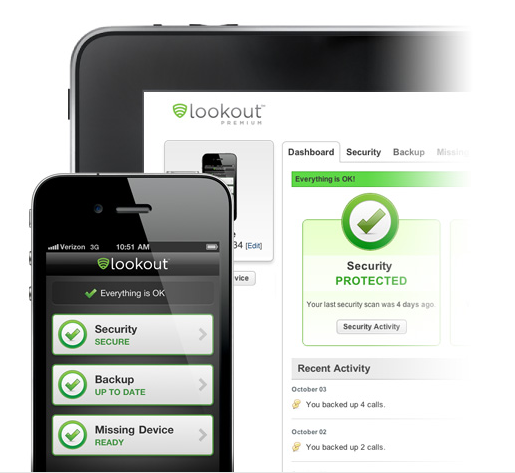 1Password
1Password is a best password manager app for iPhone. It will keep all your passwords safe with a master lock. It is available for iPhone, iPad and iPod Touch. If you need to remember lots of usernames and passwords for different online accounts then 1password is a best choice.
It is safe as well as easy to use. All you have to do is just login into the application and surf through the web. It will automatically fill the username and password for that particular website with just a single tap. It stores not only the passwords, all the confidential information like credit card and membership details. You can sync this app with Dropbox and use it with your computer. You have a two layer defense to protect all your confidential information. First it will ask for an unlock and a strong master password. So your information is completely secure.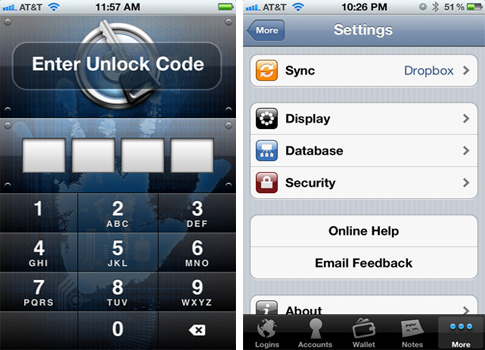 You can find some discounts for agilebits 1Password 5 for Mac OS X and Windows at our coupons section. Currently we have limited time $7 off which you can get it from 1Password 5 Discount Coupon Code page.
Safe Gmail
Safe Gmail lets you protect your Gmail account from others. If you don't want other people to look into your personal or business emails you can configure your Gmail account in the Safe Gmail app. You can configure up to five Gmail accounts in this app. It will lock all the accounts with a passcode lock. You don't need to enter a password every time you login to your Gmail account. Just enter the passcode and start using your account. It supports 2-step verification feature of Gmail.
The application is very simple and you can easily switch between the configured accounts. This app opens your Gmail account in mobile view by default. It is a safe app to use your Gmail account securely.
These are the five best security apps to protect your data as well as your iPhone. This will surely help you to maintain your privacy and avoid data theft from your iPhone. Try the necessary apps in your iPhone or iPad and share your experience with us in the comment box.
Thanks for reading and you may now share this post with your friends and followers to let them also give these apps a shot.