Are you experiencing frequent Call Failed Error messages on your iPhone? We are going to try some troubleshooting steps today to fix the problem. There are several reasons why you are getting call frequently failed on your iPhone.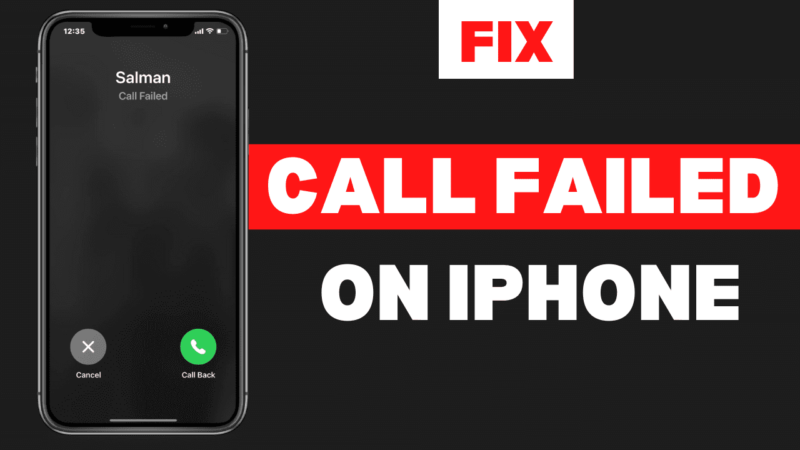 I was frustrated after trying to make an important phone call and keep on seeing "Call Failed" Error messages on my iPhone. The expensive iPhone I bought is not even allowing me to make a phone call when I need the most.
In most cases, it may be a software bug, network issue, or sim card problem. The issue can be anything, but the fixes are common for call-failed scenarios.
Also Read, WhatsApp Inc, Google LLC What are these in my iPhone Storage?
Before Fixing Call Failed on iPhone Problem
Another important thing is, Call your mobile SIM provider's customer care and check whether any temporary tower maintenance or coverage issues are present in your area. If they say Yes, then giving a few hours will usually fix call failed on iPhone problem. Otherwise, you may proceed to follow these troubleshooting steps.
Fix "Call Failed" on iPhone
iPhone Call Failed Error message can be fixed in a few easy-to-follow troubleshooting steps. Do let me know in the comments section which method worked for you.
Turn off and Turn on Airplane Mode
After you face the "Call Failed" issue on your iPhone, the immediate step is to turn ON and OFF Airplane mode. If the problem is a temporary bug or issue related to iOS software, turning this Airplane mode ON and OFF will immediately Fix the problem.
Also Read, Fix "Set Automatically" Greyed Out in Date and Time Settings
If you still see Call Failed on your iPhone while making a call, proceed to follow the next step.
Dial *#31#
By dialing *#31# On your iPhone, you can disable your outgoing anonymity status and view whether you have disabled your iPhone caller ID.
If you hide your phone number from making calls, you will face a "Call Failed" error when making or receiving calls. 
If this isn't working out, check once by calling your Mobile Network Customer care. They should be able to deactivate or fix iPhone call failed problems related to your number on the server side. If there is any Blocking enabled or any issues present.
Also Read, Transfer WhatsApp Business Chats from Android to iPhone [100% Working]
Check-in Blocked Contacts
Accidentally if you blocked the contact on your iPhone, you would not be able to make or receive calls from that particular number. So check whether you have blocked the contact on your iPhone.
To check blocked contacts,
Go to Settings app > Navigate to Phone > Tap on Blocked Contacts and ensure that the number you cannot make calls to is not in the blocked list.
Restart your iPhone
Restarting your iPhone will be able to fix most of the software bugs and issues; turn on airplane mode and restart your iPhone after turning it on and try making calls.
For iPhone with face ID, press and hold the volume down button, and simultaneously power the on/off button to see the slide to power off feature on the screen. 
If you use an iPhone with Touch ID, press the power on/off button to restart your iPhone.
Remove and Reinsert your sim card.
You must remove and reinsert your sim card properly if it is a physical issue. Every model of the iPhone has a sim card slot on the right side; try using an ejaculator to remove and reinsert your sim card.
Also Read, How to Transfer Music and Playlist on iPhone?
Reset your network settings
Try resetting your network settings to fix your iPhone's "Call Failed" issue. Resetting your network will erase all WiFi passwords, preferred networks, and Bluetooth connections.
To rest network on your iPhone,
Go to the settings app on your iPhone
Step 1: Navigate to General
Step 2: Scroll Down to Reset
Step 3: Tap Reset network settings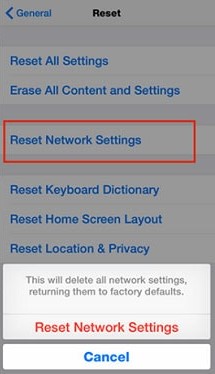 By utilizing these 6 easy steps, you can fix "Call Failed" on your iPhone. Only if you still experience call failed problem on iPhone, then it is must to visit apple service center to run diagnosis to identify any hardware problem in your iPhone.
If you find this post helpful, share it with your friends on Twitter and Facebook. You can search our blog for useful iPhone and iPad tips and tricks.