I regularly "Reset my safari" or "Clear Recent History" in my web browser, once i finished my web browsing. That cleans up all my browsing activity from the moment i launched my web browser. That is it ? absolutely not. There are still more chances of being tracked, monitored or leave some traces of your browsing data somewhere inside your Mac OS X. Flash cookies or Super cookies which are stored outside your browser cookies folder can one best place to get more data about the websites you have visited, browser, operating system version, IP address and more about you and your internet activity.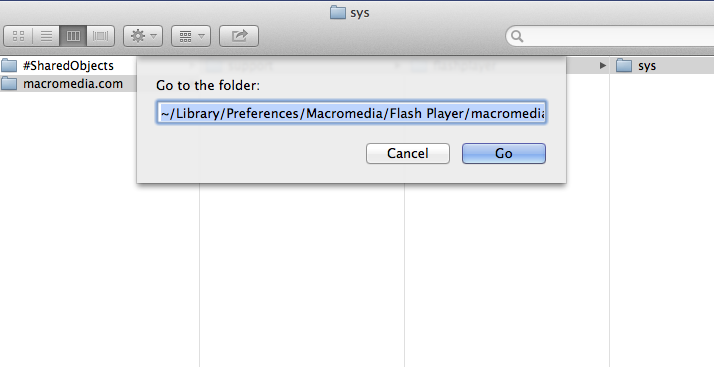 Privacy matters a lot. Why leave traces when you can clean them up completely ? It is important to clean mac to keep the performance top notch and protect your privacy as well. First, i like to recommend a manual way to remove flash cookies on mac. It requires just a couple of steps actually, so you dont need to remember a lot of steps everytime when you need to clean flash cookies on mac.
Delete Flash Cookies
Step 1: Open "Finder" and navigate to the control options and select "Go".
Step 2: Click on "Go to Folder" and copy, paste the following link in the text box
~/Library/Preferences/Macromedia/Flash Player/#SharedObjects
Select all the files and folder and move them to Trash.
Step 3: Again click on "Go to Folder" and copy, paste the following link in the text box.
~/Library/Preferences/Macromedia/Flash Player/macromedia.com/support/flashplayer/sys
Select all the files and folders and delete them by moving to Trash. That is it. You can do this step whenever you like to clean or delete your browsing activity completely after using the browser default cleaning feature. The default browser based clear history feature can only delete your History, Browser stored website cookies and so on. But flash cookies are stored outside your web browser and not visible to your browser.
What are Flash Cookies ?
Flash Cookies on Windows or Mac are the new way of tracking your internet activity that stores lot more information about you than any other default cookies actually stored by web browser or other scripts, softwares that you use. The default web browser cookies can store only 4 Kilobytes of data as the maximum data in it. But Flash Cookies can store up to 100 Kilobytes of data.
Each time you visit a website that has Adobe Flash content embedded in it, then your Flash Cookie generated and stored in a secret folder as mentioned above in the steps. So it is important to search and delete flash cookies to make sure there is no traces of your internet activity actually present in the computer.
Software to Delete Flash Cookies
You can delete flash cookies using a third party software and we always have one such best software here as a recommendation to you. Mackeeper for Mac OS X and PCKeeper for Windows PC users. They are one of the best when it comes to cleaning your Mac OS X Lion and Mountain Lion. You may read mackeeper review before purchasing it for your OS X. For keeping your PC clean and performance boosted, go for PC Keeper which is a very effective software to clean and protect your Windows PC from Internet attacks and Threats as well.
Mackeeper do comes with Internet Security feature added, which makes it as one of the best app for cleaning your Mac OS X. It is combined with plenty of utilities that you can use to make several tasks easier. Shredder, Files Duplicate Finder, Fast Cleanup, Anti Theft protection and so many.
Thanks for reading and you may now share this post with your friends. You may consider to like our Facebook Page or follow us at Twitter to get more Tutorials and Software Reviews delivered to your mail box. Have a great day.