You cannot transfer music, movies and do backup of your iPhone, iPad, iPod Touch without iTunes software. Apple made iTunes as a powerful software still, the troubles some times makes us feel really bad. One of such problem is "Could not backup iPhone, Backup was corrupt" error. Following this simple steps can now fix that problem when you take backup of your iOS device. Backup is so important to make sure you dont loose your important data from your iPhone, iPod or iPad.
You must backup your iPhone or iPad at regular intervals to avoid loosing any data. It is one good security practice of all time.
We forget to backup our iOS device and computers many times, that is why it is better to setup automatic backup option in iTunes that works every time you connect your iOS device with your computer. This iTunes Could not backup error may appear on both Windows and Mac OS X computers. Following step by step solution can help you fix the problem and allows you to take backup without any problem.
iTunes Could Not Backup iPhone Error Fix
Well, the problem is, sometimes corrupted backup file may left in iTunes backup folder and that may result in an error when you try to backup your iOS device. You can fix it easily by following the steps given below.
iTunes Error for Windows PC
Lets start with Windows Computer. If you have installed iTunes in your Windows PC Desktop or Laptop then this steps will help you to fix the iTunes Could Not Backup iPhone error.
Step 1: Exit iTunes Software completely.
Step 2: Go to Explorer Folder Options and set it to "Show hidden files and folders". Refer the tutorial here from windows website.
Step 3: Navigate to "C:UsersYour_UsernameAppDataRoamingApple ComputersMobileSyncBackup" folder.
Step 4: Delete or Move the files from "backup" directory somewhere else.
Sometimes the files and folders may go above gigabyte, and it depends on previous backup taken from your iPhone, iPod or iPad.
iTunes Error for Mac OS X
The following step by step tutorial will help you to fix iTunes Could not backup error in OS X. I have tested this one with OS X Mountain Lion running iTunes 11.0.3 (latest release). So if you are running older iTunes version, then there might be little change the backup folder path.
Step 1: Close and Exit iTunes Software in your Mac.
Step 2: Open "Go to Folder" from Desktop and Enter "~/Library/Application Support/MobileSync/Backup" to navigate directly to the iTunes Backup folder. Refer the screenshot below if you have any doubt.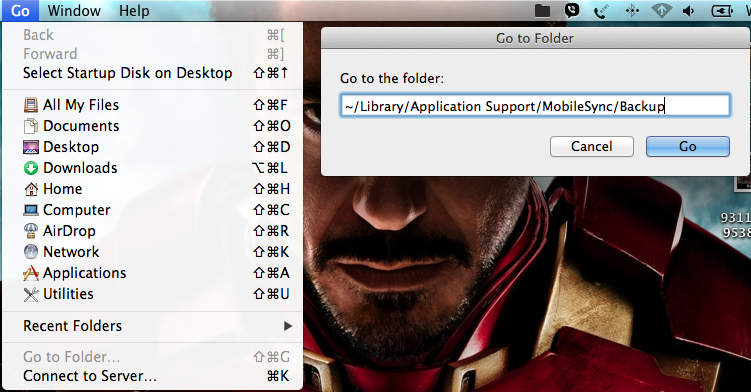 Step 3: Delete or Move all the files from the "Backup" directory.
That is all. Try taking a backup now from iTunes software and it must work just fine. Apple support community is one place where you can find many solutions for your iTunes Software, OS X related problems. Sometimes we dont get correct reply for our queries as the expert who try to answer your question may not able to recreate the problem to figure out a working solution. Still, it is one of the best place to get support for your Apple software and hardware products.
You may post your questions in the comment box below or use our DailyTUT Answers Forum for all your Apple related doubts and queries. Thanks for reading and have a wonderful day !