Apple Mac OS is one of the stable and secure operating system available today. You have plenty of built-in security options to keep your privacy and data secured. Your computer security matters a lot, when you and your family members use it in your every day routine for checking and sending emails, surfing the internet, watching movies and other documents, spreadsheet related works. Managing individual accounts for your family is a good practice and Mac OS lets you do that with its best account management feature.
No need to have a fear about Personal Data being accessed by others or any other privacy intrusions and important data being deleted. Apple has improved the multiple accounts management feature in OS X Mountain Lion. After the recent Mountain Lion update, you can now integrate Facebook, Twitter, iMessage and Notes with your Mac. Guest User Account is one intelligent feature that lets you easily manage any Guest Logins with auto deleting of their surfing and other temporary files once they are done with the internet access in your computer.
You dont have to manually delete or customize the login to prevent access to your private files and others users data. By default it is well protected and you can let anyone access your computer without any thoughts of security issues.
Guest user accounts let others to use your Mac Temporarily. It will give a very limited access towards the user and you can have the complete control over the guest user account on your Mac. Even if you are not there and someone is using your Mac, they can log in only through Guest account, not on yours. By default guest user account will give access towards only the Internet. The user who log in through guest account cannot access any applications or data installed in your system and once they log out of that account all their personal logs will be deleted automatically. Let me highlight few points that shows how to create, manage and disable guest user account.
HOW TO: Enable Guest Account on Mac ?
By default guest account will be automatically enabled, if it is disabled in your Mac follow these steps to enable it. Go to System preferences and in the "System" category you will find Users & Groups. Click that to see and manage all the user accounts on your Mac. To make changes first you need to click the lock at the left bottom of the screen and enter your password. Once you did that, click the Guest User option on the left panel and you will get an option as shown in the screenshot. Click Allow guests to log in to this computer option on the window. This will enable the guest account on your Mac.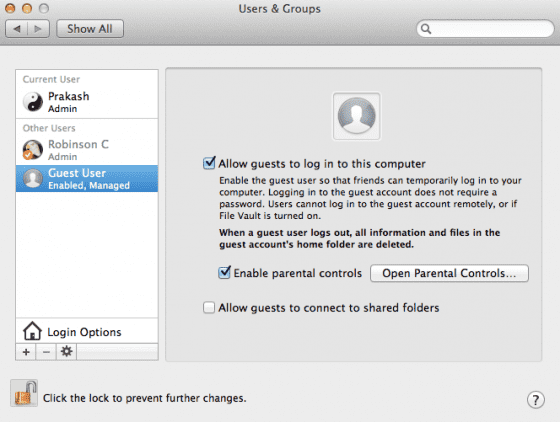 HOW TO: Use Parental Controls on a Mac to Manage Guest Account ?
As I said before, by default guest account will give access only towards the safari to use Internet. If you want to access towards some of the applications on your Mac also on some of your data, you can do that in Parental Controls. In Mac, parental controls is an effective system management application, which helps you to take control over all the functions on your Mac. You can manage applications, Internet usage, mails, games and game center access in your guest account easily through parental controls. You can refer to this tutorial to know about parental controls.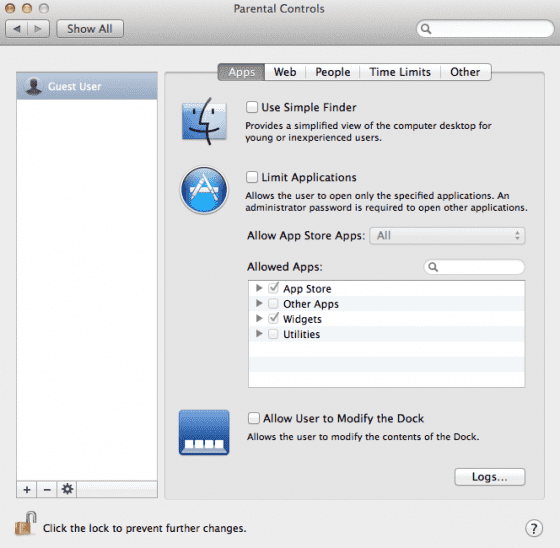 HOW TO: Disable Guest Account in Mac ?
If you feel guest account on your Mac is annoying and want to disable that completely, you can do that from the same Users & Groups option in the System preferences. Once you open the Users & Groups window, you need to unlock the options by clicking the lock icon at the left bottom of the window. One you did that, click Guest User option on the left panel of the window. Then remove the check mark from "Allow Guests to log in to this Computer". This will automatically disable the guest account from your Mac and you will not see the Guest User option in the log in screen. Don't forget to lock the changes, by clicking the lock icon before closing the window.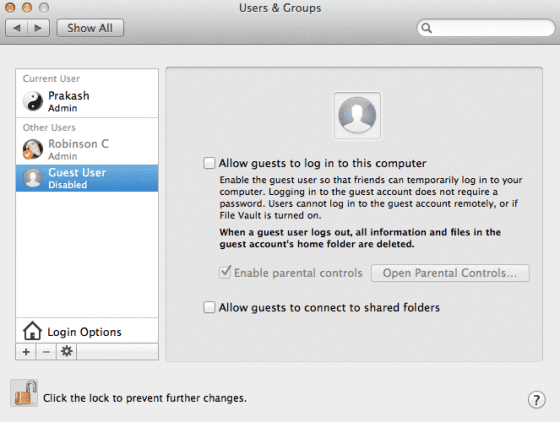 These are the steps to Enable, Manage and disable guest account on your Mac OS X. Try this on your Mac and share your experience with us in the comments. Do let us know if you have any doubts or questions regarding this article in the comment box. Thanks for reading. Have a great day.