When first iPad was introduced, it was the best replacement for netbooks. Many people have said that the first iPad was lagging many features like front camera, etc. So the iPad 2 was released with a front and rear camera as well as faster processors than its predecessor. iPad 2 is rated as one of the best tablet and being used by most of the people around the world. The third generation iPads were released by Apple few months back. It is an absolutely stunning tablet with 5MP iSite Rear Camera, Retina Display, 4G lite support and extremely fast A5x processors.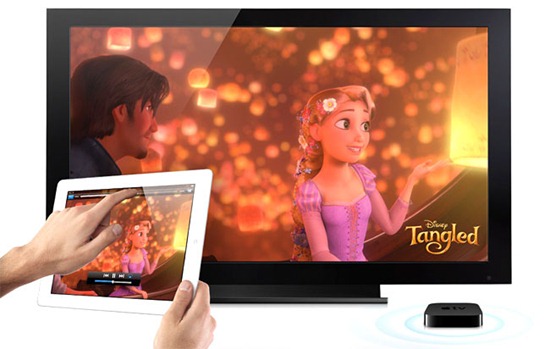 Even before the launch of 3rd generation iPad's, iPad 2 was the best tablet device for Gaming, Reading, Music and Videos. The clarity is pretty good when compared to other tablets in the market. Now with retina display support in 3rd generation iPad's the clarity is terrific. Especially for movie lovers iPad 3 is a must have Gadget. The retina display support makes you completely engaged with the iPad. Recently I wrote about the E-Learning apps for iPad. Today I came with a list of apps for movie lovers, to stay updated with the movie news, watch movies and TV shows right from your iPad.
IMDB Movies & TV
IMDB is a very famous website for information about movies around the world. The application is now available for your iPhone and iPad. IMDB is the Internet Movie Database. IT has the huge collection of information about movies, celebrities, etc. You can watch trailers of the new movies, get to know the movie release dates, upcoming movies of a celebrity, etc. Also you can search top movies based on a particular year, ratings, celebrities, etc. It doesn't end with the movies also you can find all the information about TV shows. You can see the yesterday's recap right from your iPad using this application.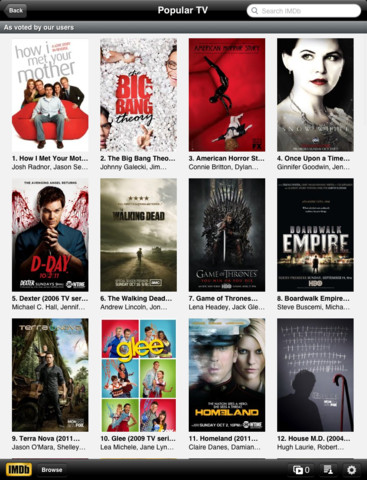 Get Glue
Get Glue is a social networking application for Movies, TV Shows, Music and Reading books. It has a huge collection of movie stuffs to keep you engaged with your iPad. You can check-in and see things shared by your nearby friends. Also you can add your friends into the get glue network. The more time you check-in and earn points you will get free stuffs like stickers, etc. You can check the ratings of a movie or TV show right from Get Glue. Also get to know what your friends are listening and reading to. It will show you the movies, music and tv shows most watched by your friends. You have 60 seconds overview of all the movies and TV shows in Get Glue. Currently more 600,000 users are active in this social network. So that you can easily find your favorite stuff and enjoy with your iPad.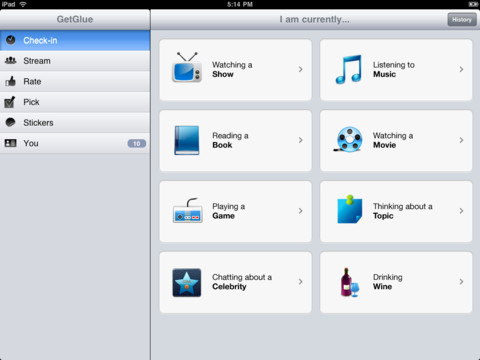 Movies HD
Movies HD is a Movie and TV shows application designed for iPad. The separate application is available for iPhone and iPod Touch. It allows you to quickly add movies, tv shows into your library and watch from your iPad. The best part of the application is you can lend movies to your friends. It will make a note of your friend's name when you give the movie so that  you can keep track of it. Movies HD works great with Movielicious application for Mac. So that you can stream your videos from iPad. In turn you can play videos from your PC or Mac to your iPad or iPhone using AirPlay technique. It is completely customizable and it has a shelf view to organize your movies. View the complete tutorial of Movies HD here.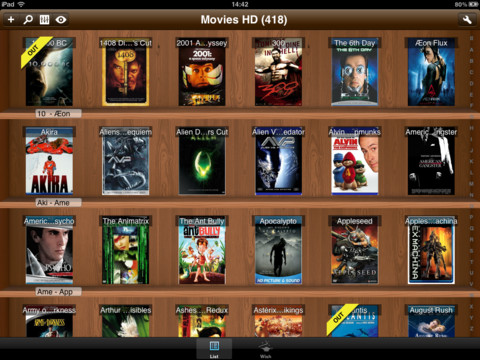 Movies by Flixster, with Rotten Tomatoes
Movies by Flixster is yet another best movie application for your iPad. You can see all the latest movies, critic reviews by the rotten tomatoes, trailers and all the famous TV shows. You can look up the showtimes for nearby theaters and buy tickets using this application. You can watch high quality trailers using this application. Also this will give you an option to download and stream HD movies right from your iPad. Create a want to see list in your account and download your favorite movies or tv shows when it is available. Using this application you can view and manage your Netflix queue. The must have application for movie lovers.
You may also like to read, iSkysoft Video Converter for Windows and Mac with 20% Discount Coupon Codes to convert and upload your favorite movies, music videos to your iPhone, iPad and Android Smartphone.
OPlayer HD
OPlayer HD is a best HD Video player for iPad. It supports most of the video and audio formats also you can add subtitle files to your video. You can easily sync movies from your PC or Mac via USB. The most exciting part of the application is, you can stream videos from your PC browsers like Firefox/Chrome/IE to your iPad. Upload and download movies via FTP Clients like Filezilla, Cyberduck, etc. It supports Dropbox and gives you complete customization options. Create your own playlist and password protect all your folders in the application. Watch movies in lock screen mode and stream movies to your TV right from the application. All your movies and audio files are added to iTunes and iCloud easily.
These are the five best applications for movie lovers. Install your favorite applications from the list and enjoy all your favorite movies in your iPad. Also share your experience with us in the comment box.
 Thanks for reading and you may now share this post with your friends and followers to let them also give these apps a try.