Facebook is the most used social media in recent days. This is not just because of the simple and productive nature of this medium but also the openness. Facebook gives a lot to the beginners in an intention to grow more people. As a result the recent user count in facebook is 750 million. There is a well know saying that you will get closer to strangers even closer than those who are very close to you already. Facebook is an very good instance for that because in this media you are going to expand your friend circle even bigger, knowing each other and improvising your network.
If you did search in google for most famous facebook profile, facebook celebrity profiles, facebook celebrity pages then you have come to right place to find some great celebrities to follow by clicking Like at their Facebook page.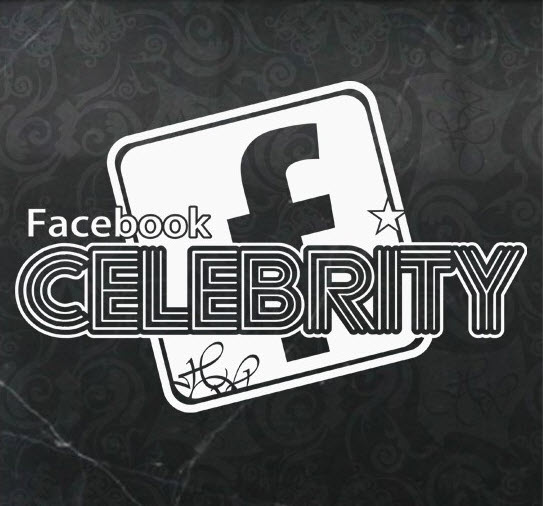 So all these things for a normal person would suit a lot but what if you are a celebrity? This is the biggest gift inside facebook because it creates a very close contact between the celebrity and his fans. The actions are getting so simple for any celebrity to collect reviews and share their thoughts with their fans and also sometimes easier to collect suggestions through public polls using facebook.
This post will be helping you to find some active celebrity pages in facebook so you too can like them and keep in touch with your star's activities.
Mark Zuckerberg
Founder of Facebook, Most influential person of the year, Entrepreneur and World Youngest Billionaire whats more. We have listed Zuckerberg as the first personality to portray his excellence. And next you can have a very active conversation regarding updates on his page. In recent days a lot of customization works going on in facebook regarding which you can post your review on his page. (Mark Zuckerberg's page)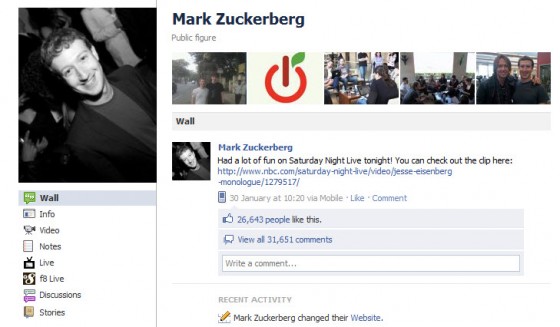 Selena Gomez
Selena is a young actress, artist, singer and running a music band. So a simple profile carrier and rocking the world with her breezy voice. Selena is co founder of the Pop Band Selena Gomez & the scene. She have appeared in many feature films and Television shows. She's an active user of facebook and updates her day to day activities and her leisure hours. (Selena Gomez Page)
Barack Obama
Barack Obama is another eminent personality who's using facebook regularly. Being a President, Barack Obama uses Facebook for a cause like organizing the public opinion and addressing his thoughts through this medium. He's reporting all official decisions he made through his page so that even every individual is quite familiar in knowing those for the most confidential person in power. Very recently he have reported for the Hurricane damage in his page. (Barack Obama's Page)
Vin Diesel
Vin Diesel is a famous Hollywood Artist, Writer, and Producer. He's successful actor and a producer for many Hollywood blockbuster movies like Fast and Furious, XXX, Hitman and A Man apart. He is an active person on facebook and one who shares about his next projects and current updates. (Vin Diesel's page)
Megan fox
Megan fox is an American Actress and model. She started her carrier in 2001 as a television artist and slowly made her impact with her dashing beauty inside movies. Her first breakthrough is on Transformers. She stole all the young fans round the world with her bold and beautiful performance. She's an active facebook user with a lot of interesting details about her and keep on updating her wall bout frequent happenings. (Megan Fox's Page)
Demi Moore
Demi moore is another best actress from Hollywood stands and she a great personality on welfare and social activism. During 90's she is the most paid actress in Hollywood once after her brilliant performance in the movie Ghost. Because of her active re-formal movements around the world she have got a big fans count and he uses that in her facebook page. (Demi Moore's Page)
Will Smith
He's not just an Actor but he's the most powerful person in Hollywood, says the Newsweek magazine. Yes he is, Will smith is a superstar in Hollywood who majorly concentrates in Acting profession, also a producer and rapper. He is a brilliant rap singer who moved to films and made a record of 8 films continuously made $100 million and in that 5 took over $500 million globally. Will Smith is another hero who is showing concern interest on his facebook page to be connected to his fans round the world. (Will Smith's Page)
Emma Watson
Emma Watson is better known as "Hermoine" by most of the people around the world. Its name of the character she played in Harry Potter series which have drawn a universal recognition for her. Emma Watson is a British actress who started playing role of Hermoine in Harry Potter at her age of 9. And now she have successfully completed the final part of the series and started concentrating on other projects. She is quite active star in Facebook and make some conversation sort of updates in it. (Emma Watson's Page)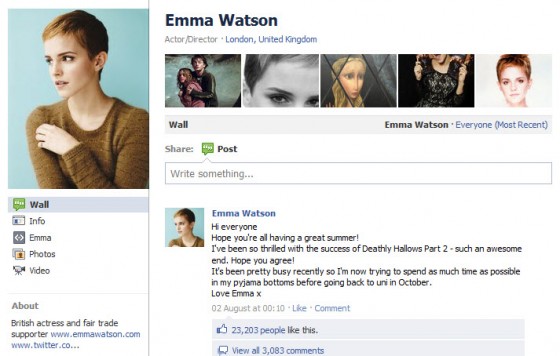 Lady Gaga
Lady gaga is a popular American Singer and song writer. She got into fame light by the year 2005 and she started rocking the pop world to the core. She is well known for her boldness on screen and off screen too. Lady Gaga's Judas, The Edge of Glory, Born this way are the chartbusters in her career. He custom facebook page serves most users with some backlinks to her albums and interactive pages. (Lady Gaga's Page)
Rihanna
Rihanna is a Barbadian Singer who migrated to America for any jobs in Recording field. She started her career in Barbados as R&D recording artist. She's a specialist in handling beats and voices and this is another reason for her intrusion inside Musical industry as a singe. Her vocal tracks for training sessions is been impressed many around there and it made a way for her passion too. Rihanna's chartbuster's are Good Girl Gone Bad, Umbrella, Take a Bow and Don't stop the music. (Rihanna's Page)
Arnold Schwarzenegger
You cant limit the profession of Arnold in a single line. His interest goes on in way on which he played as an professional bodybuilder, actor, director, businessman, and also a politician. His political career is as the 38th Governor of California from 2003-2011. Arnold came to limelight with his blockbuster movie Terminator which brought millions of fans around the world. (Arnold's Page)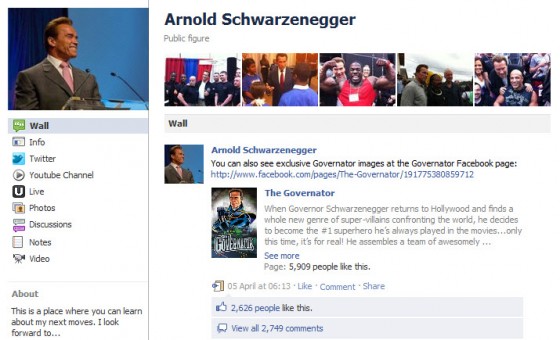 Ar Rahman
Music Director from Southern part of India and made his music to play around the world. Rahman started his career as a Keyboardist and emerged as a music director. He composed for an Indian-British movie "Slumdog Millionaire" which made his entry into Hollywood. He composed for an Hollywood movie "Couples Retreat" and he got BMI London award for the best score. Rahman's Facebook page is very interactive and active as he uses it to collect his music feedback and information about upcoming projects. (Ar Rahman's Page)

Sharuk khan
Sharuk Khan is an Indian actor, producer and a television presenter. He started his career in a television show and then slowly entered Bollywood film industry and in 20 years he made a big swipe through a created his own space not just with Indian facebook fans but a universal acclaim towards his acting skills. He's called as king Khan and Badshah of Bollywood film industry. His movies like Don, Chak de India were nominated at Berlin Film Festival. (Sharuk Khan's Page)
Aamir Khan
Aamir khan is the first Indian star to have millions of fans in Facebook and he deserves that for his brilliant acting skills. Aamir is also a successful producer and his production industry carries his name through. The best ever film in his careers is Lagaan which have won universal appeal for his movies and been presented in Toronto International Film festival. (Aamir Khan's Page)
David Beckham
This is the first time started from David Beckham a sport star too can enter the modeling industry. Apart from a successful football player he's also a brand model of fashion industry. Beckham is an active facebook user and he shares his day to day activities, performance in recent matches, training sessions and his party crashes with his fans. (David Beckham's page)
Cristiano Ronaldo
Hope all sports freaks know this name and he's on of the top class football payer in recent times. He's also acclaimed the most expensive player when he migrated from Manchester United to Real Madrid. Cristiano Ronaldo also followed Beckham and starred in some fashion magazines and also started his modeling career as a part. Cristiano shares some of his training schedules and his teams success stories with his fans on facebook. (Cristiano Ronaldo's Page)
Justin Bieber
Justin Bieber was a Canadian singer, songwriter and actor. He got his singing skills spread through YouTube and one day he's been discovered by a closer circle to Usher and there comes the golden opportunity. Justin Bieber started carrying his singing skills on screen and the world loves watching him. Some of his best albums are My world, Baby, and Justin Bieber's: Never say Never. He uses to have a good track record after been established singer from 2008. Justin's facebook page is active and he uses to inform his visits and concert details with his fans. (Justin Bieber's Page)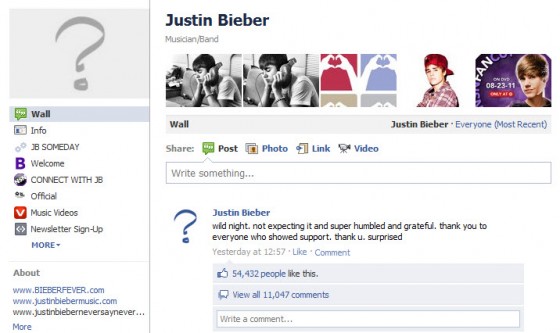 Linkin park
Linkin Park is a American Rock Musical band started in 1996 and they started rocking the world with their music on their Hybrid Theory album. Starting from that Linkin park troop started increasing the fans count and there by it got a global appeal by all the music lovers. They have started Extensive touring and charity work around the world so they started receiving best reviews for being themselves. MTV2 acclaimed them as the 6th best music troop in musical era. (Linkin Park's page)
The Beatles
This is an American Rock band founded in 1960's and this is been started as a school band. Beatles is officially started by 4 high school boys, and it continued for this long time. A very oldest band which is getting the popularity and fans still now then that will be "The Beatles" troop. Even after their breakup in later 90's they are still treated as the successful troop and individual vocals for 20th century. (The Beatles Page)
Lindsay Lohan
Lohan is a popular American Actress, Pop Singer and model. She made her debut in Disney pictures at the age of eleven. Then her popular movies list flow go as Freeky Friday, Mean Girls, Herbie etc., Her upcoming movie are Machete and Underground comedy. She also concentrates in Television presenting and some show. She also presented a show in BBC regarding human trafficking in India a documentary work. (Lindsay Lohan's Page)
I hope you have found your celebrity out of these great famous artists we have listed. Please do share this further with your friends and followers at Facebook, Twitter and Google+.