iPad is one of the well known device for Gaming and Entertainment. The stunning clarity and graphics has attracted many users around the world. iPad is also an excellent device for reading books. The retina display and multi-touch features will make you love reading in your iPad. There are plenty of applications were available for iPad to read books, blogs and watch videos. Combining all these features apple has introduced an application called iBooks which is meant for learning through iPad.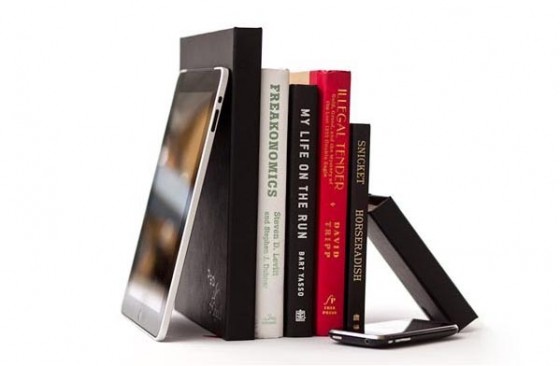 The caption of iBook says "The device that changed everything is now changing the classroom" That's really true, because the iBook is a complete app for E-learning. You can save your textbooks, take notes, edit them using iBook in your iPad. Apart from the iBook, there are few other applications which give a better reading experience in your iPad. Previously we have written about the best RSS Feeds and Magazine reader apps for iPad.
Here we have a list of E-learning apps for iPad which reinvents the way of your learning.
iAnnotate PDF
iAnnotate PDF a very famous E-Learning app for your iPad. The application's interface is very simple and easily customizable. It will be very comfortable to manage and share your documents. You can edit, rewrite, take notes, highlight points, etc., using this app. There is a wide range of tools like a pen, highlighter, typewriter, voice recording, and date stamp functions to improve your reading experience. You can have your own private library and categorize them for easy access. The search feature of the app will give you the refined search results in the document and in the library.
You can open multiple document tabs and navigate between them easily. You can easily organize your pages, annotations and secure your works with a password. It offers cloud storage, so that you can access your documents securely from anywhere in the world.
MindMeister
MindMeister is a unique application for iPad which gives plenty of options for learning. You can create, edit and manage your mind maps using MindMeister. It will let you create an outline of the entire notes with diagrams for easy understanding. You can create any number of mind maps for your content. The mind maps are a logical diagram which helps you to learn, understand and recall things easily. The multi-touch support of iPad gives a breakthrough experience in creating and editing your mind maps. You can easily add notes to the mind maps which helps you to recall the purpose of it.
You can add images and highlight points in the nodes easily. You can manage your maps and quickly insert ideas anywhere in the node. Also  you can share your nodes and sync with cloud storage easily.
Evernote
Evernote is one of the best applications I have ever used. I'm a great fan of Evernote. The interface is pretty good and the concept is stunning. It is the application really meant for taking notes. But using this application you can save your text books and use it anywhere. You can take notes in class and sync with cloud storage and open it anywhere you need. You can insert  text, audio note, pictures into a single note. It is a best app to save your notes. It is available for various platforms like Mac, iPhone, iPod Touch, and web. You can access all your synced  notes in offline.
This helps you to get in touch with your data even you are in offline. The interface, the font, the way it showcases your notes everything is beautiful. Especially the app in iPad looks pretty awesome and gives an organized environment for your notes. It is a must have app in your iDevices.
Blackboard Mobile Learn
Blackboard Mobile Learn is a best E-Learning App for your iPad. It can be used by both teachers and students to keep track of all their syllabi and assignments. You can create separate notes for every activity and categorize them for easy access. In a single note you can add text, diagrams, record audio, insert videos and much more. You can create Subcategories and change your view of notes based on date, type and the time modified. You can set notification for the deadlines of your assignments and projects. You can use this app as a reminder for your course activities.
Similar to other e-learning applications you can share them with your friends and sync with cloud storage applications. You can open multiple notes at the same time and edit them instantly. It supports various types of files formats like .doc, .pdf, .ppt, etc. Also you can export and share your notes with any of the supported formats.
[youtube width="560″ height="350″]http://www.youtube.com/watch?v=NZuMOdHad2Y[/youtube]
Kindle
Kindle is one of the famous ebook reader from Amazon. Now it is available as an application for your iPad. Next to iPad, Kindle is rated  as one of the best ebook readers all over the world. The kindle application also has the same quality and a must have app for book readers. It is also a best application for e-learning too. The application has built-in 800,000 books and 400 magazines. Either you can choose from that collection or you can add books manually. The application is completely redesigned for iPad. You can use Amazon cloud storage to store your text books and categorize them.
You have a send-to-kindle email address, if you send your PDF files to that mail id it will be automatically added to your Kindle application. Also you can easily customize the background color, font size and colors in the application. You have an inbuilt dictionary to clarify your doubts. It is one of the must have and best e-learning app for your iPad.
These are the five best e-learning applications for your iPad. It will increase your productivity and fun towards learning. Also it will give you a best learning environment in your iPad. Try all the apps in your iPad and let us know if we have missed any of your favorite e-learning apps.
You may now share this post with your friends and followers to let them also give this a shot. Happy learning.