Just bought an iPhone or iPad with so much excitement to play your favorite Game? Noticing Frame Drop while Gaming? Some things to know and How to fix the iPhone Frame Drop problem. Gaming on iPhone is a delight. Developers are constantly working hard to utilize the full potential of GPU power inside the iPhone iPad to get you the best experience.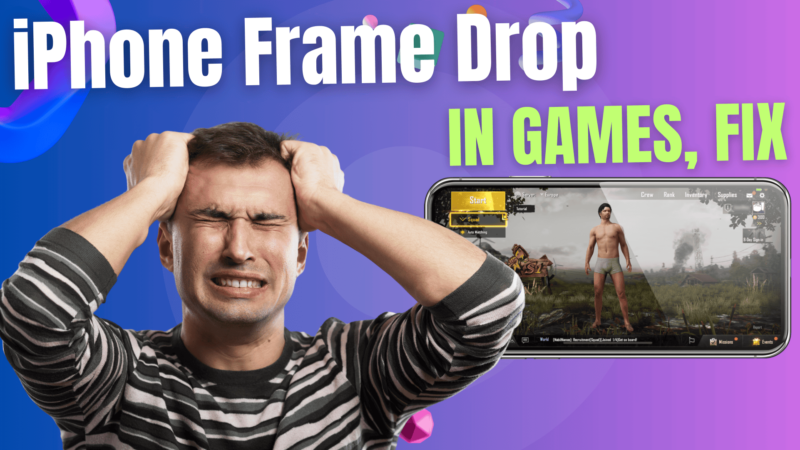 Still, users encounter frame drops while playing Games on iPhones and iPads.
I have tried some of the following troubleshooting steps and can confirm it works in some cases. So, let me start with the basic things you should know before trying the following fixes.
iPhone Frame Drop Problem while Gaming Fix
Is the Game Banned in your Country?
If you are trying to play a game banned in your country, then there is a high chance you experience frame drop while playing. Game Developers deploy servers in local regions to let us play the game without frame drops and connect quickly to the Game Servers.
For example, Pubg Frame Drop is so common, not just due to high traffic sometimes, but the game is also banned in a few countries.
Also Read, iPhone 15 Pro OLED Screen Burn In Problems, What to do?
When you use a VPN or connect to the next available PubG Game server not in your country, it is possible to see such Frame Drops. That is normal. Even if we have good high-speed internet connectivity, we may experience such problems.
So make sure you are playing games that are not banned in your country or region.
Do Understand iPhone Frame Drop while Gaming for such banned games cannot be fixed with any troubleshooting steps I will suggest, or even the game developers cannot help to fix it.
Let's Start,
Insufficient Storage and iPhone Frame Drop Problem
During gameplay on iPhone and iPad, it is possible to experience frame drop when your device storage is full. I suggest freeing up at least 10GB or more for a smooth gameplay experience and overall device performance.
During gameplay, temporary data, cache, and other system-related optimization may require extra free storage space.
So try to optimize your storage and move important photos and videos to the cloud or local storage using a computer. That will help you manage your iPhone storage very well.
Also Read, Games Similar to PUBG for iPhone and iPad
Any Pending Game Updates?
Check Appstore for any pending updates for the Game. It is very much possible that game developers sometimes release a buggy version without their knowledge, which could cause Frame Drop during gameplay.
So, always update the game and its files to avoid such problems.
If you notice frame drop only after updating a game, the latest update has bugs causing such a problem.
You must contact the help and support section within the game settings to inform the developer about the Poor Gameplay experience. When you submit your feedback within the game help and support page, your device information and other required diagnostics data are also collected.
That helps Game Developers to figure out where the problem is and to fix it quickly.
Also Read, 30 Non Stop Entertaining HD Games for iPad
You will receive an update with Fix for iPhone Frame Drop while Gaming soon. Each game update brings updates to fix bugs and overheating problems on iPhone, Enhance file rendering, and improve performance.
Is your iPhone Updated to the latest iOS Software?
Sometimes, iOS or iPadOS has bugs that result in iPhone Frame Drop or iPad Frame Drop while Gaming. As a basic troubleshooting step, you must update iOS to the latest version. System software not allowing apps to use the Apple Processor, M chips to be specific, and similar bugs were also fixed with software updates.
Download and Update to the latest iOS system software.
Then launch the game following the above suggestions and check how the gameplay works. Initially, when Apple M Chips launched, I had plenty of rendering issues with Pubg gameplay. It took almost 3 to 4 months to see updates from both Apple and PubG to address the problems and experience smooth gameplay.
Did you Restart your iPhone and iPad?
I know it sounds so basic, but trust me, a simple Restart helped a few times, as a surprise in my case. When all the above steps are cleared, restart and check whether the frame drop problem is fixed.
Restart does wonders and fixes any temporary bugs causing frame drops on the iPhone.
Also Read, iOS 16 Lock Screen Wallpapers to Download for your iPhone
Let me know which of the above solutions worked for you. Just a reminder one more time. Freefire, PubG Games, or any other Banned games are exceptions here. The above steps won't be helpful in such cases.
Thanks for reading, and you may share this post about the iPhone Frame Drop Problem while Gaming and How to Fix? with your friends. Have a wonderful day.