Next Generation Macbook Air 2015 model will be a 12 inch super thin powerful mac computer ever released in Macbook Air line up. 9to5mac posted few pictures and details about the upcoming macbook air 12 inch model with hardware specification details leaked from sources within apple. Based on the in-depth details obtained by the author, the team have rendered some sample photos to see how the next generation 2015 macbook air model will look like.
Check out some of the stunning 3D designs of Macbook Air 12 Inch 2015 model here.
The image rendering came really well and the macbook air 2015 model looks absolutely stunning. It was rumored that apple may discontinue the 11 inch macbook air and 13 inch macbook air models in 2015 and bring totally redesigned 12 inch macbook air for sale. There are no reports to confirm that news right now, but based on the leaked specification the all new macbook air will get a 12 inch display with better screen resolution that current macbook air models.
Macbook Air 12 inch 2015 model
Lets see a quick look at what are the differences expected in the new upcoming 2015 macbook air model.
Macbook Air 2015 model will have edge-to-edge keyboard with slight change in keys size.
Trackpad will get a refresh in functionality that will remove click effect present in current macbook models.
Next Gen Macbook Air will get new speakers that delivers better sound quality.
Apple will use Intel's Broadwell Chipset in its new macbook air models.
Apple may start using USB Type-C Connector which is smaller, faster than current USB 3.0 port.
USB Type-C has the ability to power computers, so apple may use just single USB port to charge and for data transfer purposes.
New Dual Microphones and a headphone jack will be available.
The change in internal components helps apple to make macbook air super thin than current generation macbook air models.
Apple will launch new macbook air 2015 model in "Silver" and "Space Gray" colors.
Macbook Air 12 Inch Release Date?
Well, there is no specific date mentioned, but it is expected to be released in mid 2015 by Apple Inc.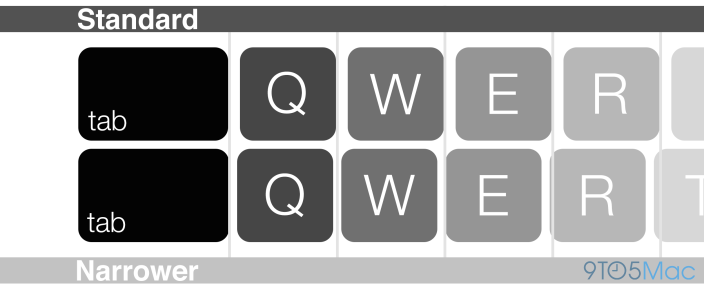 —
—
—
Image Credits: 9to5mac
Conclusion
Apple ditched CD/DVD Drive on Macbook Air when it first introduced and leaving just USB ports and cloud storage as the file transfer option for users. When it introduced Retina Macbook Pro models, the same happened. People prefer macbook air models to use OS X with a physical keyboard and mainly for portability reasons. iPad Air 2 just got a lot thinner and lighter, still the type of work that we do with our mobile devices decide which one to buy. Its been very long time since macbook air upgraded in design area, and i think its the perfect time for apple to launch a completely redesigned macbook air in this 2015. Removing Magsafe connector and replacing it with USB Type-C Connector is a good move, but giving two such ports will be excellent for connectivity. When the world still waits for cheaper and better Internet connectivity, apple forcing users to use their iCloud services (which is yet to be stable and perfect) which i think really a bad move by Apple.
Apple priced the latest iPad Air 2 models better and i hope the same happens to the new macbook air 2015 models as well. Buying Macbook Air right now is absolutely a bad choice right now and you can read the reasons "Why you Shouldn't buy Macbook Air Right Now?" that i wrote recently and make a wise decision.
So what do you think about the upcoming next gen macbook air? Are you getting one? Do share your views and suggestions in the comment box below. Thanks for reading and have a wonderful day.