Apple released macOS 12.3 and iPadOS 15.4 that brings the Universal Control feature to Mac and iPad. Let's Quickly see how to setup and use Universal Control on Mac and iPad. Once enabled, you can use the same keyboard and mouse to control up to three Macs and iPads seamlessly. Not just Keyboard and Mouse sharing, also you can drag and drop files between iPad and Mac Storage.
Even Though the feature is in beta it works perfectly across devices. Make sure to check the compatibility list before jumping in. If you have recently purchased Mac or iPad, then it will be working well. Else, make sure the following conditions met, to start using Universal Control on Mac and iPad.
Also Read, Best and Must have USB-C Accessories for New iPad Pro and Macbook Air
Universal Control Compatibility
Make sure, your Macbook Air, Pro, mac mini and iMac are ready to use the all new Universal Control feature. Check whether your iPad, iPad Pro, Air or mini is compatible with Universal Control from the following list.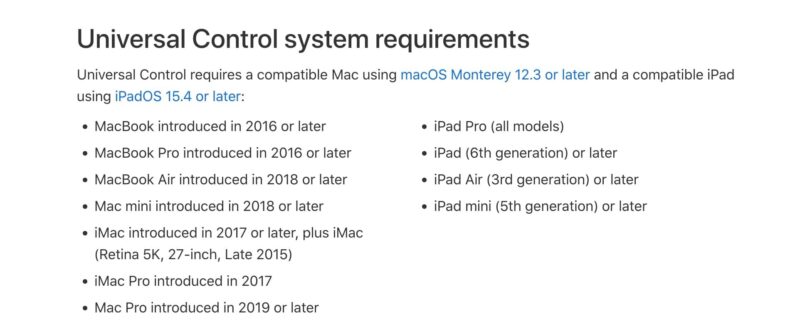 If, Universal Control not working in your Mac and iPad, then you may have to check these additional points as well.
Setup and Use Universal Control on Mac and iPad
Let's see the Step by Step Instruction to get you started.
Step 1: Launch System Preferences on your Mac from the Apple Menu Bar (System Preferences) and Select Displays in the preferences Panel.
Step 2: Click Universal Control and check all the boxes to enable the following ‌Universal Control‌ features.
You have no selected to Enable Universal Control on your Mac, automatically connect to your iPad, whenever it is nearby and selected to Push the edge of the display once connection established. These are the three options, you have to select from the Universal Control pop up window.
Also Read, Best Final Cut Pro X Alternatives for mac OS
Universal Control Not Working?
What If, Universal Control Not Working or Not Enabled? How to Fix It?
Step 1: Go to "Settings" on your iPad.
Step 2: Tap on General.
Step 3: Tap on AirPlay and HandOff.
Step 4: Enable Cursor and Keyboard.
That is all. Universal Control is working now
Note: Universal Control‌ is still in beta as of now, while I am writing this article. so there may be some discontinuity when using it. So far, I haven't experienced any problems with universal control. Just Incase, if you notice any hangs or apps crash, then it's recommended to restart your Mac and iPad once.
So, have you tried to Setup and Use Universal Control on Mac and iPad? Is it Working Good? Share your thoughts in the comments. Have a great day.