The themes listed here are not released this month. We are recommending this due to the clean, impressive layout it has and pretty much seo friendly to start with your new blog. WordPress is the worlds no 1 blogging platform. It has its own repository to download the approved Plugins and Themes to use with self hosted wordpress blogs. As the list grows every day, our monthly recommendation of plugins and themes can help you in minimizing the search for best plugins and themes. lets have a look at the 5 themes that your blog may wear for this june, 2010.
To Install in your Blog: Use the integrated theme installing feature available in your Blog Dashboard. Navigate to Appearance -> Add New Themes -> Search , to search with the name of the theme listed here.
Feature-packed theme with a solid design, built-in widgets and a intuitive theme settings interface from Digital Nature.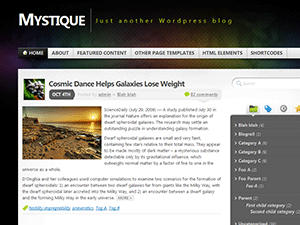 A theme for writers who want readers, not visitors, traffic, click-throughs, CPMs or what-have-you. Carefully crafted typography and generous use of whitespace lets your writing shine. Version 2 includes a dark theme option. The Erudite is a free, open source theme for writers . If you rely on superfluous visual design and/or content to distract your visitors from the shoddy state of your writing, move along.
Its a great looking 3 column wordpress theme.
If you are the one inspired by Apple website design and layout, then this theme is for you. The iBlogpro4 version has so many features to customize the home page, ofcourse its a paid version. IBlog is a free version by the IBlogPro development team and it has awesome readability and layout. Fast loading, customizable wordpress theme.
Urbane
This is a crisp rounded theme that comes with lots of features like built in drop-down menus, Feedburner settings (RSS and Subscribe by e-mail), Twitter, Tabs for Popular/Recent posts, Featured post section, 3 sections to pull posts from different categories on home page, auto generated thumbnails (for both home and the single entry page), threaded comments, widgetized sidebars and 3 widgetized sections on the bottom. On top of all this, Urbane comes with integrated theme options that let you specify categories to use on the home page, configure your feedburner/twitter settings and much more.
Digital Statement
While looking at this design i remember a successful blog named Labnol. A blogger from india, Amit Agarwal who made blogging as his profession and quit his full time job. He is an inspiration one for maximum indian bloggers. Following the footsteps of the much successful theme Statement, comes another free WordPress theme from Blog Oh! Blog called – "Digital Statement". This can also be called as Version 2.0 of the Statement theme because it takes all the code and converts it into a modern, more visually appealing, and with better functionality.
Do let me know which theme you like the most in this list and using it in your blog 🙂 have fun ! Happy blogging.