Joomla is a very popular Content Management System. We are happy to release our next Free Responsive Joomla Template "Blogpress" to start your joomla based blogging website. You may checkout our other Free Responsive Joomla Templates here. We designed Blogpress with bloggers in mind, who want to use Joomla as their platform without missing any of the core features offered by this open source software. Blogpress is fully Responsive Joomla Template that looks gorgeous on computers, tablets and smartphones without any compromise in its look and feel.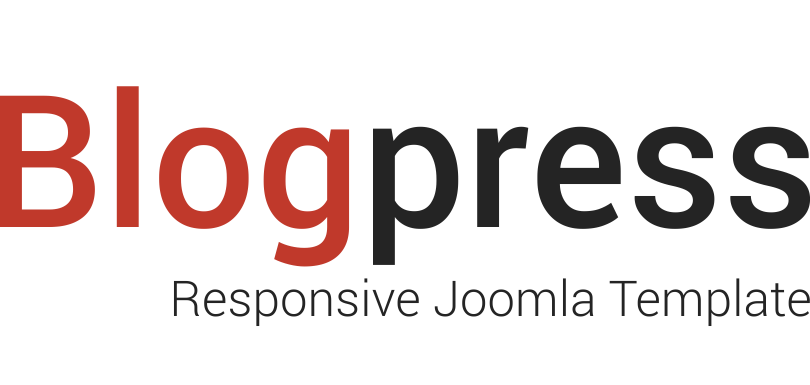 Your users will definitely enjoy reading your blog posts on their PCs and Tablets. Excellent font choice, perfect spacing, specific color choices across the template makes it look pretty and good looking. We optimized the Template CSS and Design overall to make it load faster on any web browsers, even in slow internet speed connection.
Blogpress Joomla Template
Blogpress has ready slots for Google Adsense, if you want to monetize your blog using Adsense. You may also customize the template to add advertisements in sidebar or within the content later on. Recent Articles at the sidebar gives good projection for letting viewers see what is new on the blog.
We built this template using T3 Framework, which is a popular Joomla Template Framework, that is so flexible and designer friendly. T3 Framework is an advanced framework for creating joomla templates. Responsive Design, HTML5 for Visualization Quality, Rich markup and Compatibility, Bootstrap, and very Search Engine Friendly design and code across Blogpress Template. Let me give some feature highlights of Blogpress Joomla Responsive Template.
Featured Slider
We also added featured slider module that you can customize the transition effects and position.
Recent Articles
Your readers will be able to checkout recent blog posts from you, when they have landed on any specific blog post from Search Engines and Social Media websites.
Social Media Integration
We have enabled popular social media websites like Facebook, Twitter, Pinterest, Google+ and some more in the footer to share a word about your website and its contents quickly and easily.
Disqus Comment System
Popular commenting system available for blogging platforms and other websites. Disqus Comment System allows your visitors to easily engage with your content by commenting and receiving replies, notifications as well. As i mentioned earlier, we thought to use a perfect and latest features in blogpress.
Search Engine Optimization (SEO)
Joomla by default is very good at SEO and we allow all of its capabilities to drive more traffic across the website. Dont forget to configure the SEO Settings inside Joomla and configure the necessary features to optimize the website very well for search engines. You may refer the moz article,
to optimize and get best search engine optimization result for your website. Alright, lets talk about installing Blogpress Template in your Joomla Website.
Quick Installation
Installing Blogpress Joomla Template takes less than 2 minutes. Quickstart package contains Joomla Software + Blogpress Template Files + T3 Framework. We also loaded it with sample data to help you with the customization process. If you are beginner with Joomla software, then this is the perfect package for you to install and complete website setup in minutes.
Manual Installation (without sample data)
If you are a website developer then you can download the template file for manual joomla template installation. You can install this template on your existing joomla software on your website. See the Live Demo of the Template and Download.
If you have any queries, feel free to ask them in the comments below. Subscribe to our Social Media feed to get updates. Thanks for checking out our new Blogpress, Fully Responsive Joomla Blogging Template. If you liked it, then dont hesitate to share a word with your friends and followers across Twitter, Facebook and Google+. It will be a good motivation for us to come up with more free responsive joomla templates. Have a wonderful day!