Mark Zuckerberg announced the all new Facebook Timeline during F8 Conference happened couple of weeks ago. We here have an exact and perfect theme for wordpress to transform your website totally into Facebook Timeline layout design. Which is quite stunning and has seemless Facebook commenting and Facebook Like integration as well.
Your users will love it when you use this Facebook Timeline theme for WordPress. You wont believe, that this awesome wordpress theme comes totally at free of cost.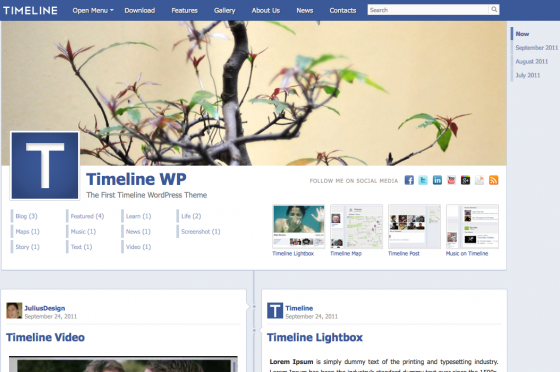 If you like to test out the actual Facebook Timeline Developer version then please visit the link. Timeline wordpress theme actually ideated and designed by JuliusDesign and this theme is based on the famous Twenty Eleven 1.2 powered by WordPress.
So this theme really has excellent SEO, Readability and Flexible options to configure to make your wordpress website look great. Dont wait, just get your facebook timeline theme for your weblog today.
[youtube width="550″ height="344″]http://www.youtube.com/watch?v=BOOGJsxibnA[/youtube]
You may also like to read: