WordPress has released an upgrade 3.2 today morning which takes the worlds no 1 blogging platform to one more step ahead. There are some changes the entire Dashboard Menu system and the default wordpress theme "Twenty Eleven" retouched and not doubt that you will love the new redesign of WordPress default theme Twenty Eleven.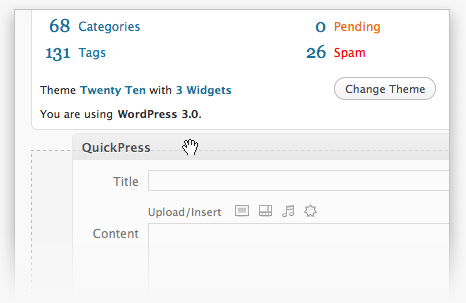 Lets read some important changes that WordPress 3.2 got from the developers view.
The focus for this release was making WordPress faster and lighter. The first thing you'll notice when you log in to 3.2 is a refreshed dashboard design that tightens the typography, design, and code behind the admin. (Rhapsody in Grey?) If you're starting a new blog, you'll also appreciate the fully HTML5 new Twenty Eleven theme, fulfilling our plan to replace the default theme every year. Start writing your first post in our redesigned post editor and venture to the full-screen button in the editing toolbar to enter the new distraction-free writing or zen mode, my personal favorite feature of the release.
All of the widgets, menus, buttons, and interface elements fade away to allow you to compose and edit your thoughts in a completely clean environment conducive to writing, but when your mouse strays to the top of the screen your most-used shortcuts are right there where you need them. (I like to press F11 to take my browser full-screen, getting rid of even the OS chrome.) via [wordpress blog]