Hostgator Black Friday deal for 2013 is here. You will save 75% flat off on your web hosting account purchase with this hostgator coupon code. Black Friday deals and offers are flooding Twitter, Facebook and other social networking websites. Offer announcements from many online shopping websites (amazon, ebay, best buy etc.,), software vendors, hardware manufacturers must have reached your email inbox by now. Hostgator Black Friday / Cyber Monday deals are always special and expected by thousands of website owners every year.
This is the best time to migrate your website from your old web hosting who frustrate you with very less uptime, has service issues and other quality issues. Give your web business a good lift with 99.99% guaranteed uptime. Once you created hostgator account, simply provide the old hosting login details to them via email (support@hostgator) from the email you have registered with hostgator and they will offer you free migration from your old hosting to new hostgator servers.
Hostgator 75% Coupon Code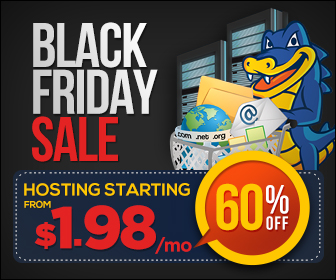 Every year hostgator surprises thousands of web masters with their huge offers and this happens just one time in an year. The hosting offer will be available only for limited time and you must hurry to take advantage of this one time in an year discount to save huge money on your web hosting bill. Black Friday Fire Sale from Hostgator this time gets you 75% discount from the actual web hosting plan price. Also, if you want to start a fresh new website, then you can book a domain name (.com, .net, .org) for just $1.95 / year.
Click the above button and it will automatically take you to the hostgator hosting plans page. Choose which web hosting plan you need based on your requirement. This offer is valid for very limited time. 75% OFF flash sales throughout the day and all weekend. Here are the times for the flash sales (all flash sales are the same offer – 75% off all new hosting packages and $1.95 domains).
Offer Starts: 29th November 2013 – Friday
Offer Ends: 2nd December 2013 – Monday
The flash sale will run for 1 hour (ends at 1AM Central Time) and then the site will switch over to 60% off all new hosting and $4.50 domains (still an incredible deal that beats out our other promotions this year)!
Flash sale times (all times are Central Time):
Friday 12AM – 1AM
Friday 9AM – 11AM
Friday 9PM – 11PM
Saturday 12PM – 1PM
Sunday 8PM – 9PM
Monday 12AM – 1AM
Monday 10AM – 12AM
Monday 10PM – 11:59PM
To avoid server overload in processing new registration hostgator has given this various time slot to make the account creation easier for buyers. Make use of this limited time hostgator blackfriday deal and save huge on your web hosting bills.
Hostgator Cyber Monday Offer
Hostgator is one of the world's largest web hosting company in the world. They have hosted more than 8,000,000 hosted domains. You can start your web hosting business with their Reseller Hosting plans. They will manage the servers, and you can make money by selling hosting packages to your clients. Their custom WHM panel and free billing software will help you to automate the billing tasks and run your hosting business easily.
Hostgator VPS Hosting and Dedicated Hosting
The Black Friday offers are also valid on their VPS and Dedicated hosting as well. You can save huge cash while purchasing any of their dedicated or vps hosting servers. For web application development and heavy computing resources, it is always best to go for VPS or Dedicated hosting environment. They offer Windows Hosting only under Dedicated servers.
I also like to include some honest suggestions when it comes to hostgator support. Due to increase in web hosting accounts, their chat support is becoming very slow. You got to wait for several minutes to get some technical assistance. I like to recommend you to consider sending them an email or create a ticket by visiting the billing section of hostgator. Also you can call them directly to get assistance with any hosting related you may face. This can save you time and money as well. We have plenty of Software Coupons, Promotional Offers and Amazon Discount Coupons for you. Dont miss them and start saving today.
Thanks for considering to try one of our recommended coupon codes. Please check MaxCDN Coupon Code to speed up your website instantly. SSD Powered high bandwidth offering servers can take the load from your regular hosting servers and serve the webpages faster to your visitors. The more faster you serve the pages, better SEO scores you get in Google. Pagespeed is one important criteria that web masters should consider these days. Have a wonderful and productive day.