WhatsApp rolled out a feature that allows Android users to connect with Google Drive and perform Backup of all their WhatsApp Chat History and Media content. Also, they pulled that feature with another update without any information today. If you haven't updated today then you can use WhatsApp Google Drive Backup feature on your Android phone if the version says 2.12.303. If your android phone is running older version of WhatsApp then you can download Whatsapp 2.12.303 apk and install it on your mobile to get Google Drive Backup feature.
Also Read, Best Android Mobiles with 3000 mAh Battery Capacity
There is no way to rollback if you have updated your WhatsApp version to 2.12.304. And make sure you have turned off the automatic backup feature of apps from play store on your Android phone.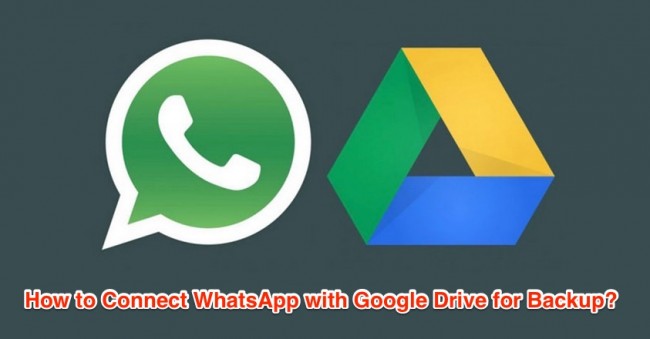 So, what are the contents that will be uploaded to your Google Drive cloud storage account? This new backup feature lets you backup all your chat logs, photos, voice messages and videos to your Google Drive account. It uses Google Drive API, which means older android versions running Froyo and above are also compatible.
How to Backup WhatsApp to Google Drive?
Alright, lets see how to backup whatsapp chat history, photos and videos to your Google Drive cloud storage account and Restore it when you lost or move to new android smartphone. As this feature now removed by WhatsApp we can expect it to be rolled out in upcoming version.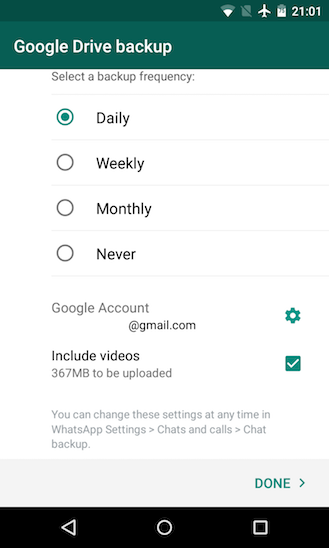 Step 1: Go to "Menu -> Settings -> Chats and Calls" after launching WhatsApp Application.
Step 2: Tap on "Chat Backup" to access the available backup options of your WhatsApp data.
Step 3: Select "Backup to Google Drive" under Google Drive Settings.
Step 4: You can configure the backup schedule, whether to upload videos or not and your google account settings.
Step 5: You may also force upload the backup after configuring the Backup Schedule and account settings.
That is all. It is super easy and you have successfully configured and uploaded whatsapp chat history and media contents to your Google Drive.
Also Read, How to Turn OFF WhatsApp Read Receipts feature?
How to Restore WhatsApp Backup from Google Drive?
Taking a backup helps you save the data from phone lost or any disasters. When you upgrade or purchase a new android mobile phone, you should be able to easily move in all your old phones data. WhatsApp Google Drive Backup feature lets you do that without any complex steps to follow.
Simply download and install whatsapp on your new android mobile and launch the app. When it prompts you for "Restore Backup" select Google Drive and authenticate with your google account if required. WhatsApp Backup will be located automatically from your Drive storage and you can initiate the Restore process.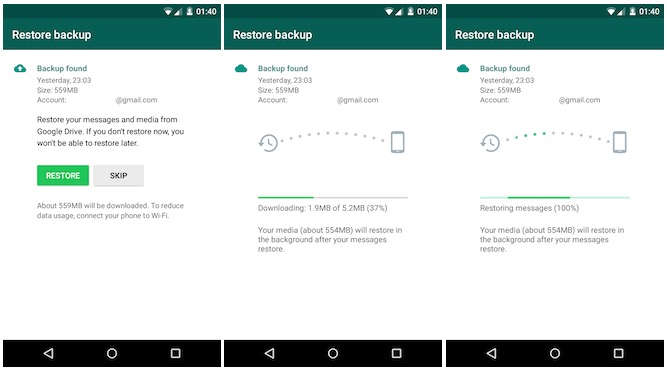 Image Credits: Android Police
As we mentioned earlier, if you have updated to latest version 2.12.304 which has no google drive backup support, then wait for some more days to let WhatsApp rollout this feature in upcoming version. We are not sure why whatsapp removed it with a quick update to Android users, but we expect that this useful backup feature will come very soon after addressing any issues and bugs.
You may also like to read about list of Best WhatsApp Messenger Alternatives to install on Android and iPhone. Thanks for reading and feel free to share this post with your friends and followers on Facebook, Twitter and Google+. Have a great day.