We hand picked few Best WhatsApp Messenger Alternatives Apps for you today. WhatsApp is a popular messaging app for iOS, Android, Windows Phone and Blackberry. It is also available for Nokia Symbian phones and that fills the gap of free messaging to most of the mobile and smartphones world wide. WhatsApp works super fast even at GPRS connectivity and mostly people use it in their basic smartphone without any hangs, slow speed issues. Facebook bought WhatsApp for $19 billion dollars this year and it is one of the biggest acquisition made in the history.
Also Read, How to Connect WhatsApp with Google Drive for Auto Backup?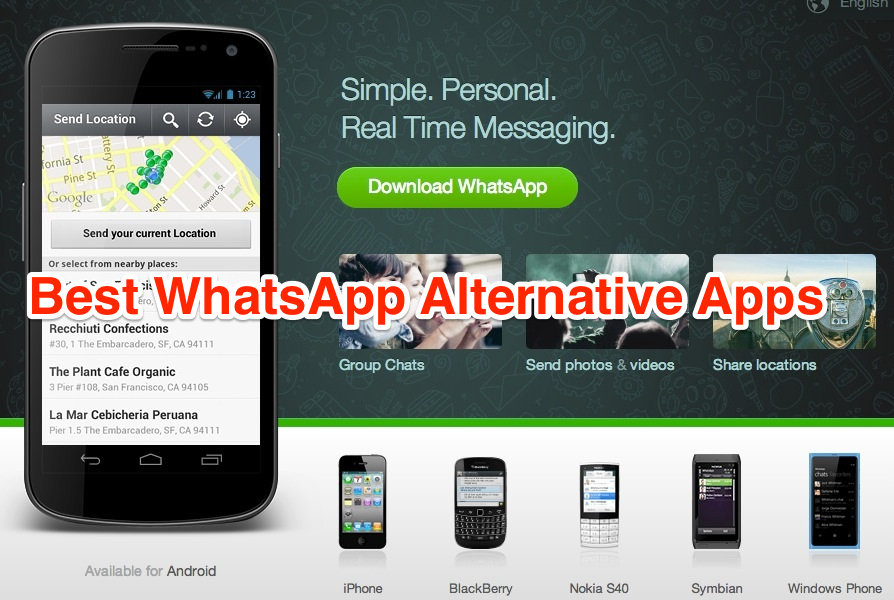 WhatsApp Downtime is very rare and they fix it quickly every time. But for the past couple of days WhatsApp goes down frequently and users world wide and upset about it. Many started to look for whatsapp alternative messaging apps for iPhone and Android. WhatsApp replaced the default messaging service in a mobile phone for many users.
Best WhatsApp Messenger Alternatives
Replacing WhatsApp is quite tough but there are many apps available in the Play Store and App Store to let you send text messages, pictures and audio clips using your internet connection. Here we have some decent recommendation for you to consider installing and trying it on your iPhone, Android and Windows Phone.
Also Read, WhatsApp Web Chat Client Released for iPhone and Android
Signal Private Messenger
Privacy is the core idea of Signal Private Messenger App and every single message you send are End-to-End Encrypted. You can send all your pictures, video messages in high quality to groups and friends separately. It uses your Phone number and address book, so don't require any logins or pin numbers. Works just like WhatsApp but with few extra features and same simple and easy to use interface.
Signal Private Messenger is Free to Download, and there are no advertisements displayed so far. It is an open source messaging app and publicly available for any developers at Github.
Latest version of Signal Private Messenger now supports 3D Touch on iPhone 6S/6S Plus. You can send quick replies from your lock screen on iOS. Signal for Android also comes with excellent UI and Design and integrates very well with the Android platform. Signal Private Messenger is Fast and Secure messaging app and definitely the best whatsapp messenger alternative available.
Download Signal for iOS and Android from Google Play Store.
Telegram App
Update: Telegram is updated for iPhone 6S and iPhone 6S Plus.
One of the best and my favorite WhatsApp alternative is Telegram App. It is simple and has got iOS 7 design recently. Its super fast and i feel its faster than WhatsApp while sending texts and pictures. Telegram is slowly growing and WhatsApp recent downtime is giving a rapid growth without any doubt. Telegram has just tweeted that it has got 800,000 new registrations world wide in the past 4 hours and growing. Telegrams built in Document sending feature (upto 1 gigabyte) and Search Web Images feature are really impressive than WhatsApp.
@milosflaca Yes, it may happens right now. 800,000 new users registered within the last 4 hours are growing fast.

— Telegram Messenger (@telegram) February 23, 2014
Download Telegram App from App Store, Play Store and Windows Store. Telegram is also available for Mac OS X, Windows and Linux currently under beta. Similar to Viber app you can use it in your Computer and also from mobile phone. There is no guarantee how perfect it will be, as it is in beta you may see some bugs while using it in your desktop computer.
Also Read, Best Cloud Storage Apps for iPhone, iPad and Android
Viber Messenger App
Viber updated its iOS App and Android App recently which gave a new user interface and design to one of the worlds popular voice chat app. It was a good alternative for Skype and their recent addition of Messaging feature aimed at WhatsApp and other messaging apps. Viber has apps for iOS, Android, Windows Phone, Blackberry, Nokia, Windows 8 systems and Samsung's Bada OS as well.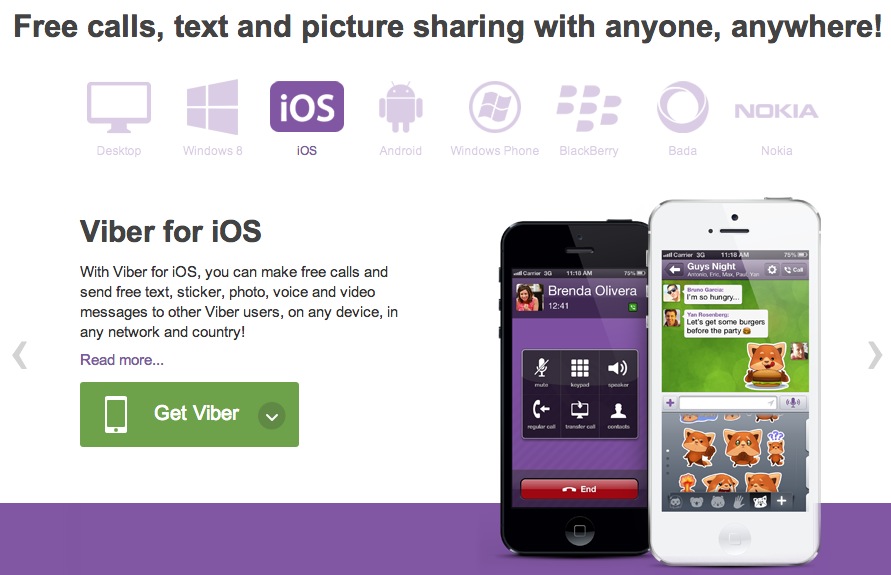 Similar to skype you can make a good quality voice calls with your friends using Internet connection with Viber. Simple and very easy to use app now available on Mac OS X, Windows and Linux computers as well. Download Viber App by visiting the App Store.
Hike Messenger App
Hike is another good WhatsApp Alternative that i know many of my friends using it every day. Hike Messenger is colorful and has good collection of emoticons, stickers ready to send from the keyboard window while chatting with your friends or in a group. You can invite your friends by sending SMS from Hike for Free if the other person dont have Hike Messenger App installed in their smartphone.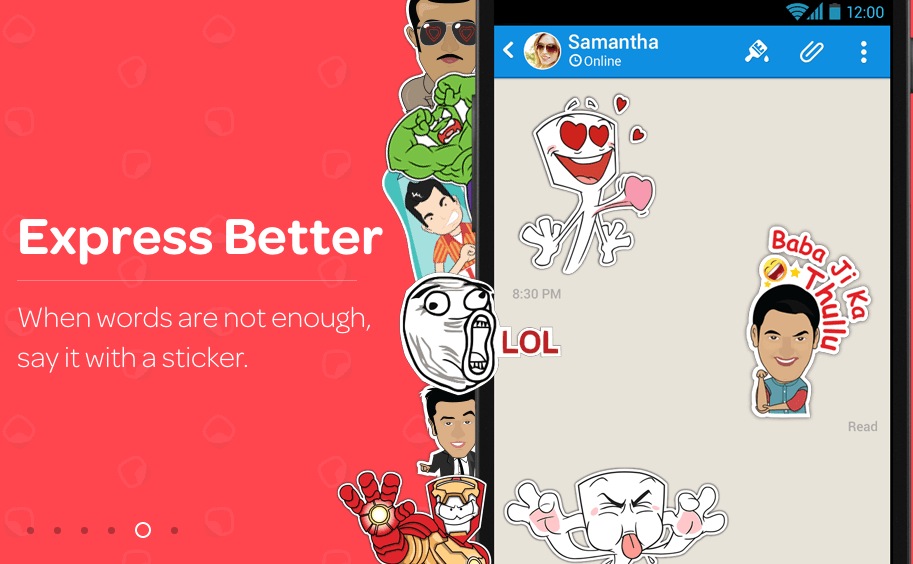 Share photos, videos, contacts, location, audio clips and do more with your friends. Hike is yet to release iOS 7 design update still, its a decent app that i like to recommend you here as one of the WhatsApp Alternative. Hike is available for iPhone, Android, Windows Phone, Blackberry and Nokia S60, S40 devices. Download Hike Messenger App.
WeChat
Tango Text
Line Messenger
Kik Messenger
BBM
TextMe
eBuddy XMS
Skype
are some of the famous Messaging Apps and the best whatsapp alternative apps available in Google Play Store, iTunes App Store, Windows Store and supports Symbian based Nokia phones as well. Try to download and see which app you and your friends like most to stay connected. Having atleast two free messaging apps installed is recommended and thats what i learned after the recent WhatsApp outage. WhatsApp is my favorite messaging app and even they delayed the iOS 7 update i was unable to switch to any other free messaging apps.
Facebook Messenger App will be my last option as it is not that great with GPRS or when i am connected to a slow speed internet connection. Tell us which is your favorite messaging app and you like to recommend that to others as well. Thanks for reading and you may now share this post with your friends and followers across Facebook, Twitter and Google+.
You may also like to Read,