The CEO of SpaceX and Tesla, commonly known as the real-life Tony Stark, never fails to give his savage replies on Twitter. List Elon Musk Savage's Tweets on Twitter, and let me know in the comments which are your favourite.
Whether a Politician, Celebrity or an ordinary man, he got no chill 🙂 Elon treats all equally when he responds. You may hate Elon musk, but you cannot ignore him. After Twitter Acquisition, Elon Musk became a worldwide trend last week. You may also like to Read, Download Youtube, Facebook, Twitter Videos and Instagram Reels on iPhone and iPad.
His story is insane, with a lot of inspiration and sacrifice, but as a person, he is very funny.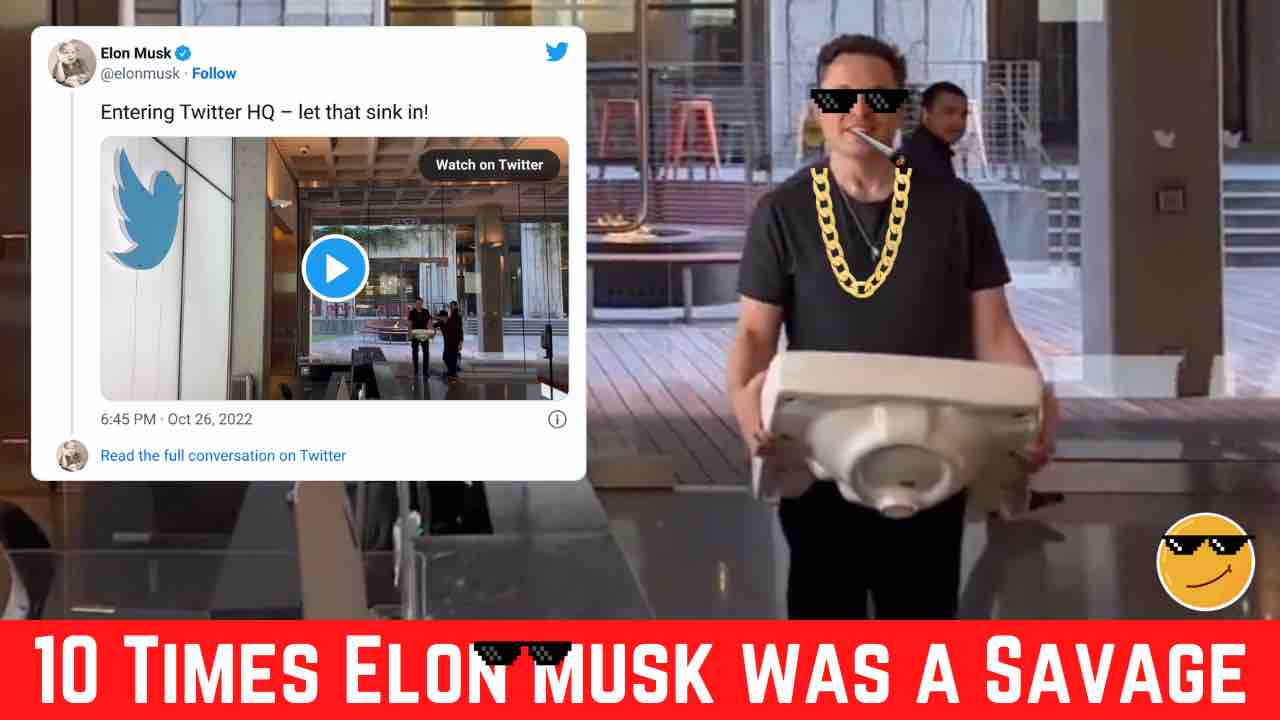 Elon Musk is very active on Twitter; his Tweets are so powerful and dominate the overall twitter community. You may ask how powerful Elon Musk's Tweets are. With his one Tweet, he can change the overall market value of a Crypto Currency upside down, and even he can influence the New York stock exchange with a single tweet. Yeah! That's how powerful Elon's tweets are.
By analyzing his tweets and replies, I found a few incidents that resembled how he was a savage sometimes and thought of making a compiled list of his funnier and more dominating tweets and replies.
Elon Musk Savage Replies
I hope this will be very engaging and helps you to find out how kind of a person Elon Musk is. Don't forget a tweet it if you like it 😉
#1 Elon Musk Entering Twitter HQ with a Sink 
Elon Musk has completed the $44 billion acquisition of Twitter after months of legal turmoil and offensive memes In the process of taking Twitter private and removing several key executives, including CEO Parag Agrawal, Musk finalized the deal on Thursday night.
The talking point is he entered Twitter with a sink and tweeted, "let that sink in".
Also Read, iPhone Apps that Uses Dynamic Island, Fun and Creative Apps
#2 Elon suggested Flamethrowers for the "Zombie Apocalypse."
We all know, Musk raised money for The Boring Company by peddling actual flamethrowers. He backed up the incredible marketing stunt with some scathing tweets pleading with people to purchase, saying that they would be quite useful in the event of the zombie apocalypse.
#3 Musk States He is not an Alien 
How is it that one man can be the CEO of so many innovative businesses and still date Grimes? Musk appears to take great joy in dispelling the speculations that his supporters must be hoping are true.
#4 Musk about Twitter
After the Acquisition of Twitter, The first Elon Tweet was this,
#5 Musk buying Coca-Cola
One of the biggest stories on Twitter this year is Musk's effort to buy the social media site. A measly $44 billion was agreed upon by the two parties. Musk, though, has further plans. And here is the subsequent acquisition.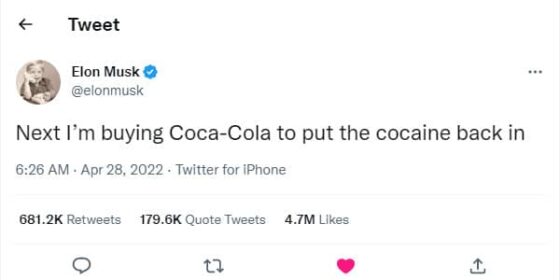 Also Read, Best Screen Recording Apps for iPhone and iPad
#6 Musk Confirms Twins with Executives
Now a parent to his eighth and ninth kid, Musk. The millionaire and his first wife, Canadian novelist Justine Wilson, had six children together, one of whom went away in 2002.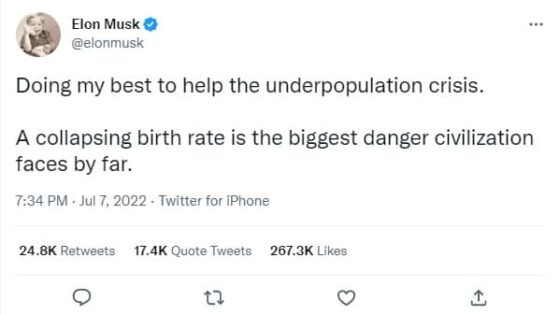 With the musician known as Grimes, he has two additional children. And most recently, Musk and Shivon Zilis, an executive at Neuralink, had twins. The man is constantly concerned about others.
#7 Elon About Biden
President Joe Biden and GM chief Mary Barra declared in January to support domestic electric automobiles. Musk, on the other hand, did not attempt to control his ideas and conveniently left out Tesla's contribution to the industry.
#8 Musk is Very Public
Politics are not necessary to get Elon passionate about a subject. A book he's reading, like a history of Catherine the Great, may be the subject. Author's Note: To be clear, there is no truth to the legend that Catherine the Great had sex with a horse.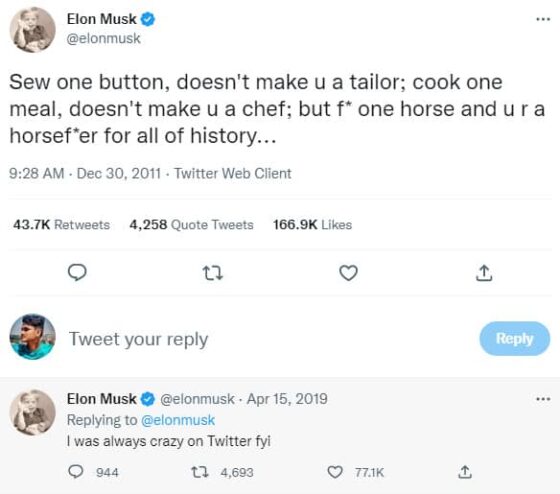 #9 Musk about the Shape of the Earth
While colonizing Mars is Musk's main goal with SpaceX, he is compelled to reveal significant scientific findings about our planet. In particular when it defies the Flat Earth Society.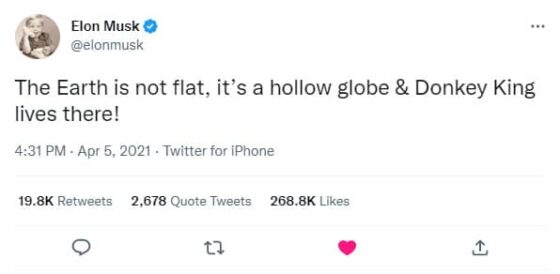 #10 Elon's Meme
The groundwork was laid for Twitter's acquisition, but it later emerged that the social media site was secretive about the number of bot accounts it maintained. Twitter was not thrilled with Musk's decision to back out. Musk responded by making his meme in typical Rocketship-Billionaire style.
Also Read, iOS 16 Lock Screen Wallpapers to Download for your iPhone.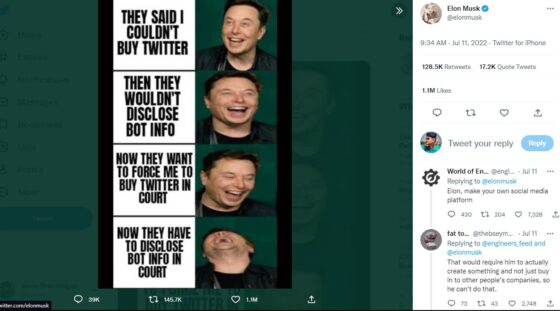 These are the 10 Best Elon Musk was a Savage Tweets, Do let me know which one is your favourite in the comments. If you like it, then you should press a Retweet on it. 😉 Share this article on Twitter and Facebook to spread a smile. Have a wonderful day.