It's Time to Look out for Best Flickr Alternatives for Unlimited Photo Uploads. We Hand picked few best cloud storage services, where some are Free and some are more affordable and cheap cloud storage for Photo uploads.
We also have Flickr Discount Coupon Code to Save 15% on your Total Billing if you decided to stay with Flickr Pro subscription. Continue Reading…
Flickr was acquired by Smugmug in 2018 and in a very disappointing move, they shut down the Free service (literally) by announcing 100MB limit on Uploads. And set a dead line for all current users to either upgrade to PRO plans at $49.99 for first year and $99.99 (Renewal Fee) for every other year.
You may also like to Read, Where to Backup Live Photos Online from iPhone ?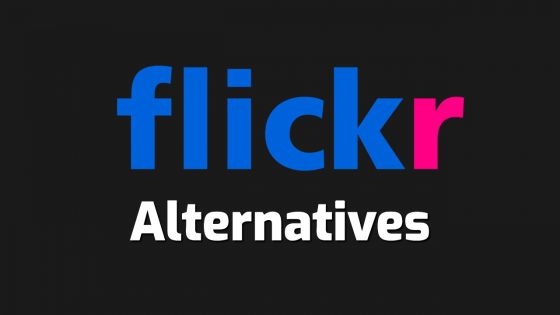 It was very upsetting for Flickr Fans across the world (including myself) and many have even quit their PRO plans from being renewed this year.
Smugmug could have kept the existing tariffs and put certain decent limit on Free users storage. 1000 images & videos limit is super low and people who are quitting have to move tons of GB of images to other services.
From 1TB of Free storage, they could have reduced it to 10GB to compete with many other alternative services available today.
Ofcourse, there are very very few Unlimited Cloud Storage services available.
Best Flickr Alternatives
As i mentioned earlier, there are very few Flickr Alternatives 2019 available. I will be adding more Unlimited Storage and Better Alternatives to Flickr in coming days in this post.

You may also like to Read, HOW TO: Sync and Connect Multiple Cloud Storage Services?
Flickr Photos Deletion Announcement
"*Free members with over 1,000 photos or videos uploaded to Flickr have until Tuesday, January 8, 2019, to upgrade to Flickr Pro or download content over the limit. After January 8, 2019, members over the limit will no longer be able to upload new photos to Flickr. After February 5, 2019, free accounts that contain over 1,000 photos or videos will have content actively deleted—starting from oldest to newest date uploaded—to meet the new limit."
Flickr Users Reacted to it…
Before proceeding with the list of, here is what existing Flickr Pro users feel about Smugmug's literal kick out of its existing Pro and Free account users form using their service.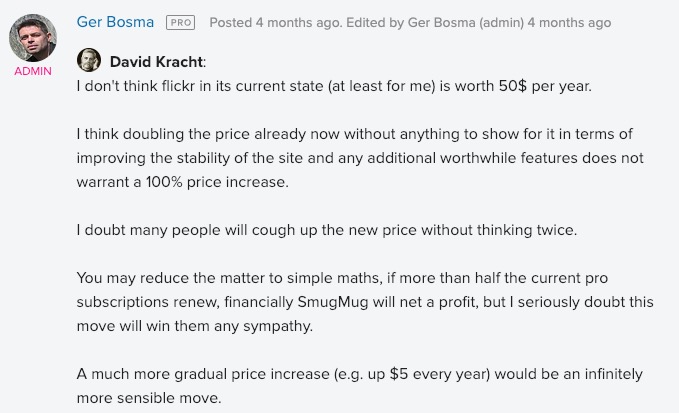 If you are here, then you are obviously looking for some Free Flickr Alternatives to upload your Photos. Unlimited Cloud Storage or Service that you can move all your Flickr data and store them safely.
New Flickr Pricing and Discounts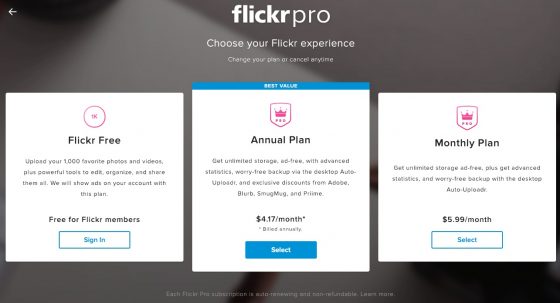 Free Flickr Accounts will have the limit of 1000 Photos and Videos (totally) Limit. Monthly Plan starts at $5.99 per month and if you go for Annual billing, then you will be paying $4.17 per month.
You get Unlimited Photos and Video Storage, Ad Free Surfing, Advanced Statistics, Regular Backups, Exclusive Discounts on Adobe Photography Plans, and few other Service integration as well Flickr Discounts and Offers.
Flickr Discount Coupon Code
You could use the following Flickr Discount Coupon Code to purchase your Flickr Pro package and avail 15% Flat OFF on total billing.
Flickr Pro Discount Code
Amazon Prime Photos
Most of us have Amazon Prime Membership now a days to enjoy watching unlimited Movies and TV Shows. Did you know that your Prime Membership also brings you Free Unlimited Photos upload to Amazon Cloud Storage?.
Note: Amazon Photos Unlimited Cloud Storage is limited to certain Countries. Not available in all countries. Amazon is slowly rolling out this feature. But right now 5GB Free storage is available if you have Prime membership.
Yes, You read it correct. You can upload directly from your iPhone, Android Mobile or Desktop Computer to Amazon Photos service.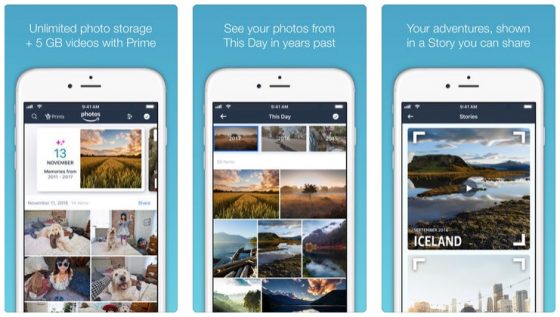 Unlike Flickr's change of mind, you don't have to worry about Amazon's Cloud Storage service. They are going to be Free and Unlimited as they promised until you have your Prime Membership plan.
So, Whats the catch?
Well, if you are not going to renew your Amazon Prime Membership for another year, then your Amazon Photos Storage comes to an end. You won't be able to upload any data further till you choose any storage plan according to your usage.
Free Amazon Photos Storage
By default, all amazon photos account gets 5 GB Free Cloud Storage for uploading Photos from their Phones and Desktop computers.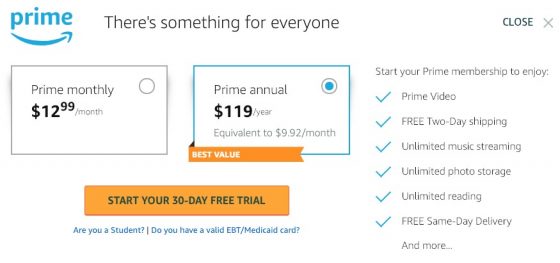 Don't wait anymore. Just download the backup copy right away from your Flickr account and move them to Amazon Photos. Also setup future photo uploads to your Amazon Photos account directly from your iPhone, Android or Desktop computer.
Download: Amazon Photos (Get Prime Membership)
Google Photos (Unlimited Photo Uploads)
Google allows us to upload unlimited photos to Google Cloud Storage using Google Photos App. It is my favorite Flickr Alternative without any doubt. Their recent updates to iPhone (iOS) makes it more user friendly and allows us to manage the Photos very efficiently.
It's Free *. (High Quality)
It's Unlimited Photos Upload.
It's available on all Platforms (iOS, Android, Windows, Mac and Linux)

About that Asterisk symbol next to the "Free" means, you can upload High Quality (HD) photos without any storage limit. You default 15GB Google Drive storage is not counted with your Photos Upload.
However, if you want to upload Original (RAW) and other File format Photos as shot by your DSLR Camera or 4K Quality photos without letting Google to compress it, then you have to upgrade to paid storage service. That can be counted within your Google Drive Storage limit. New Google Drive Plans and Pricing.
Speaking about Privacy, there is a way to turn off it's A.I feature if we want to. The built-in A.I feature of Google Photos App creates impressive small video files or GIF style animations with the photos we upload.
For example, if there was a birthday party celebrate at your Home and you uploaded them in suitable folder, then Google Photos A.I will create a beautiful GIF style animation clip for us to Preview and Share, only we want to.
Instead of me trying to type everything to make you understand, it would be great if you can give it a try with few picture uploads by yourself.
If you are Android user, then Google Photos is already there for you and you might be using it already. Google Photos for iPhone and iPad available in App Store. Windows and Mac users can access it via Web Browser. Google Chrome or any web browser you have in your system.
500px – Unlimited Photo Upload
For long time, 500px.com stands out from the crowd with its unique offerings and features. Connecting Professional Photographers, Marketers and Buyers.
I still remember, friend of mine uploading a Photo he shot using my iPhone 4S Camera and made few bucks by selling it on 500px website.
I thought it was Flickr, which is Pro Photographers Paradise. But 500px showed its quality and good improvements since day one. There are plenty of success stories among Mobile Photographers and Pro Photographers being successful with 500px.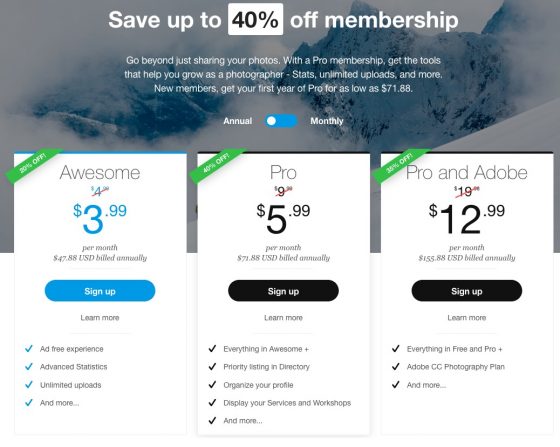 Their Base plan starts from $3.99 per month for annual subscription and $4.99 for monthly subscription. Which is very sufficient and affordable if you are looking for the Best Flickr Alternatives this year to move all your Photos.
You get ad free experience, Unlimited Photo uploads, advanced statistics and much more features bundled with the Base Plan. Their Top Tier plan of $12.99 per month (annual billing) is very attractive for Professional Photographers as it comes with Adobe CC Photography Plan.
You Save Money while selling your Photos on 500px and upload unlimited photos and store them in Cloud Storage.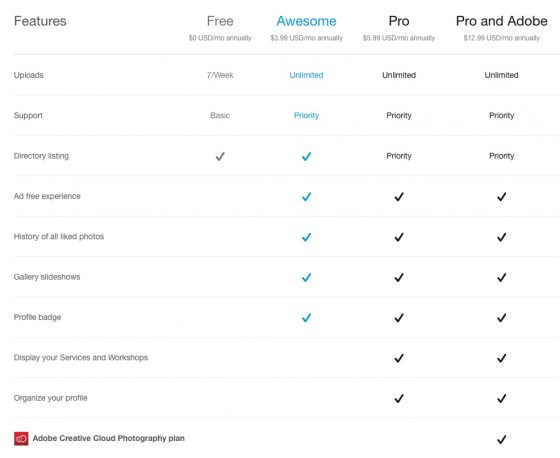 So, which tariff you are going to choose now with 500px? Do tell us in the comment box below. It may help other fellow new 500px users to make their decision as well.
Web: 500px Unlimited Photo Uploads Plans and Pricing
iCloud Drive as Flickr Alternative
If you are using iPhone or iPad, staying within Apple's Eco System, then this suggestion is for you. You can go with iCloud Drive paid storage plans to upload your Photos and Videos directly from your iPhone and iPad to your iCloud Drive.
Apple upgraded their storage limit on existing tariffs by literally doubling them. At $9.99 users were getting 1 TB iCloud Drive Storage and now they are able to use 2 TB with same monthly billing.
Apple have made it cheaper few months ago to compete with Google Drive storage plans. To let Apple users prefer iCloud Drive over Google Drive and keep their day out of reach from Google.
By default, every iCloud user get 5GB Free storage. Which will never be sufficient to backup your Photos and Video Regularly.
But their iCloud Drive Plans are lot cheaper now and i would recommend you to consider going for Annual billing instead of monthly billing. Compatibility wise, iCloud Drive is suitable for anyone staying within Apple's Eco System. Even it has iCloud Drive App for Microsoft Windows 10 and officially supported by Apple as well.
Let's look at the Tariff and you choose which one will be suitable for your needs.

If you are using Android mobile and looking for an alternative to Flickr, then do go back to the previous list of recommendations i have made. This iCloud Drive option is not suitable for you. Consider Google Drive to go with your Android mobile Photo Uploads and DSLR Uploads as well.
Web: iCloud Drive Plans and Pricing
I hope you have found this List of Best Flickr Alternatives useful to migrate or to create your new account today. As i said earlier, i will be updating this list of Flickr Alternatives services frequently as i find more Unlimited Photo Upload Service or Cloud Storage options available.
Remember, Flickr shut down its free users access to their Photos and Videos by February First Week.
So Hurry Up and choose your suitable Free or Paid Cloud Storage service today. Upload Unlimited Photos and Save big on your monthly bill as well.
Feel free to share your views in the comment box below. If you find this Post about Flickr Alternatives useful, do share it with your friends and followers at Twitter and Facebook.
Have a wonderful day.
You may also like to Read,