Google plus provides a lot of interesting features to share with your friends in close circles. A user thinks to increase their Google circles and there by keeping in touch with many people and get notified about the recent things worlds shares about. To improvise your circle with more number of follower count all you have to do is understand Google plus better.
It all doesn't matter how many you follow but who you follow. Your followers should be of your kind in sharing things, Keeping the update about their, holding the information alive and therefore want to note the things you share and recommend that regularly.
Get More Google Plus Followers ?
5 Steps to Get More Google Plus Followers
Have optimized circles:
Google circles are the core of Google plus. This is the place where you need to be very careful in creating Extended circles. Extended circles can be in many ways like your sort of categorizing people in your circle and the things you are going to share with them. Main thing in this section is make sure you are going to share high quality contents here. Because you may get people in your friends circle from this section.
Follow influential people:
Most important thing on the social network is who you follow. As i have said this already to improvise your follower count you need to be very cautious in who you follow. Make sure you are following influential persons like Celebrities, Stars, Performers who are all capable of getting more followers initially. You may use their traffic into yours with a bit of patience and the content quality you share.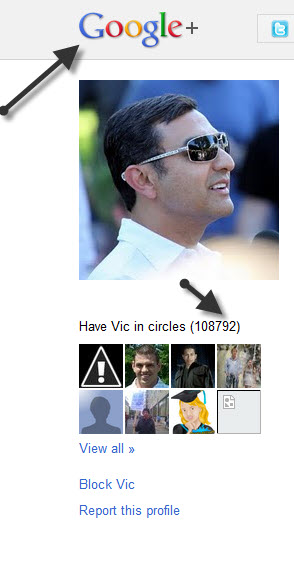 Here i'm following Vic Gundotra, Developer of Google plus and he do have 100k followers.
Make yourself Visible:
As long as you have to prove your presence inside Google plus you will have a reasonable followers constantly. All you have to do is share others post, make comments, recommend it (+1), post new things if once they got impressed with your way of doing things then surely your followers count will improve.
Understand +1 feature:
+1 feature of Google plus is highly effective than the existing Facebook likes. Use this full fledged in cases like you are recommending quality articles to your followers and keep them feeding with some quality articles on their wall. This feature help bloggers to bring their posts on first page with the support of being recommended by many.
Self Marketing:
This is the best ever thing that could help you improve your follower count. Publish in all other social networking places about your Google plus account and even you can add a Google plus widget in your blog showing all your readers and subscribers. This also helps you by taking new readers to your Google plus profile and improvise your followers number.
You may notice one such Google+ Profile widget in our Sidebar (right side). Thats all for now and soon i will come up with another interesting title. Thanks for reading and please do share this article in Facebook, Twitter or Google+ to let your friends also enjoy the good read you enjoyed.