Here we have one popular Google Chrome extension for tweeting right from your Google Chrome web browser. Google chrome extensions brings more features and flexibility to the I found an amazing extension for my chrome browser. Twitter got some Now i am able to share the pages and texts instantly through twitter using "chrowety". Its been listed under the featured extensions. You can feel the simplicity and the blending of the chrowety client. Twitter the micro blogging website is rocking in social media world, and this extension can help you to get it anytime when you are in your desk.
Once you find this extension through the extension search with keyword "chrowety" you have to download it and install it to your browser. The installed API gets a compact space at the address bar of the browser.
Once your install got over you will get your browser loaded with an amazing twitter widget, you can now login using your twitter id .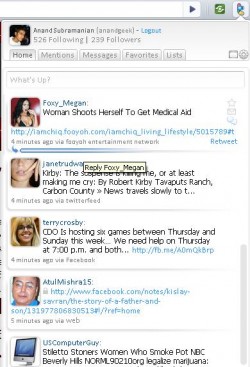 See the layout of the chrowety its so easy to use and looks  attractive as like a MAC layout . You can share what ever you see on your chrome ,added to that it has URL shortening facilities . Twitter as a whole is been got into a small addon with chrome. I have found 1 of the best in  1000 extensions found with chrome , you can also find lots of useful addons for your browser from Google Chrome Extensions.
Are you a blogger, does it take more of mins to write an article ??
I will suggest you some tools that can capture the screen shots within secs and also  share your words with the social sites in few mins, Read This "Chrome Extension Feature No 2"