Google Wave is currently available as a Lab Application for Google Apps users. You can enable this service and let the organization's collaboration become more intuitive. Follow the steps given here to enable Google Wave.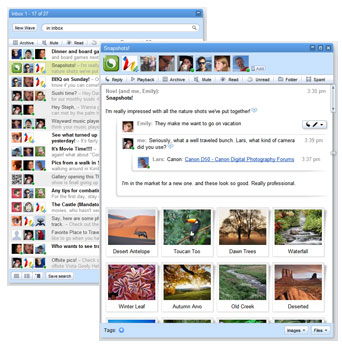 Step 1: Sign in to your admin control panel at www.google.com/a/yourdomain.com, where yourdomain.com is your actual domain name.
Step 2: Click Domain settings.
Step 3: On the Domain settings page, do the following:
Under Languages, select English. If your control panel is already in a language other than English, you can change the language again after you enable Google Wave.
Under New services and pre-release features, select Enable pre-release features.
Under Control panel, select Next generation.
Click Save changes.
Step 4: On the dashboard, click Add more services.
Step 5: Under Google Wave, click Add it now.

Thats it. You can see Google Wave becomes active in your Dashboard and ready to use. You may find more info at Google Apps Admin Help Center.