Update: We have updated this page with latest Bitdefender Discount Coupon Codes 2017 for Antivirus Plus, Internet Security and Total Security 2017 software's.
***NEW*** Bitdefender Total Security 2020 Coupon Codes to save upto 50% from Store Pricing.
Bitdefender Total Security 2015 is an all in one security software for Windows 7 and Windows 8 PCs. There is a reason why PCMag awarded Bitdefender as the best antivirus software vendor in the market. Bitdefender 2015 versions are more light weight and got feature enhancements to speed up your Windows PC that increases performance overall. There are free antivirus softwares which i never recommend if you take security serious. There should be no excuse when it comes to Security. Calculate how many licenses you want and buy genuine product license always to get good Technical Support and after sales service.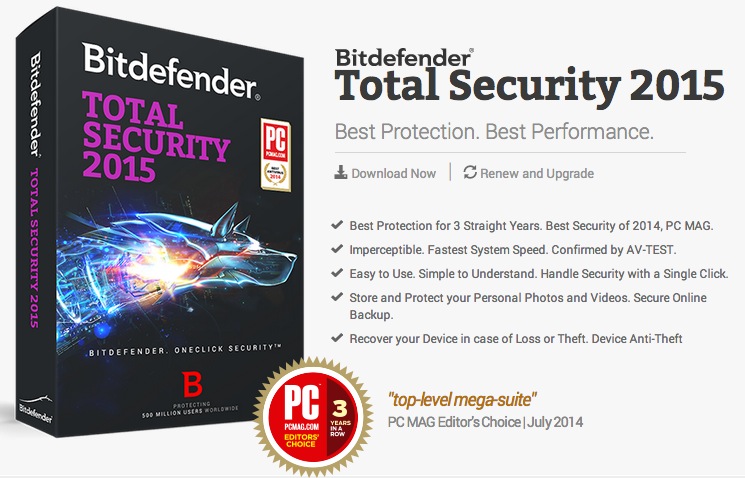 Bitdefender offers good tech support and has best ratings from existing users who use their software. Total Security 2015 is an all in one security software that has all the features one need, if your computer always stay online for business and other purposes. The moment you connect to Internet your computer is exposed to millions of viruses and internet threats. You need an intelligent system in place to alarm you when you encounter a Phishing Website, Malware, Spyware attached webpage and software downloads.
This security software is now well automated and you can easily check reports, enable and disable security measures in one click. It also offers secure online backup options to keep your photos, videos safe.
Bitdefender Total Security 2015 Review
Lets explore the best features of Total Security 2015 from Bitdefender. This should help you decide over other Free or Paid antivirus softwares. At a little extra expense you can get better features and same level of security as Internet Security 2015 from Bitdefender offers.
Bitdefender Profiles – These profiles are new feature addition in 2015 product titles. This feature automatically analyzes and detects when you work, play or watch movies in your Windows PC. Based on your activity it prevents pop ups or other apps running and consuming too much resource that may disturb and affect your current work in progress. So this is one interesting feature addition that bitdefender have come up with and added it with Total Security 2015 software.
Tune Up Utility – This is another utility addition that comes with bitdefender 2015 software titles which lets windows users do advanced system optimization tasks. There are dedicated softwares to clean up junk files, free up space, memory and boost speed and windows performance. When you buy Bitdefender Total Security 2015 this feature comes as a built in utility to save you some bucks.
Improved Bitdefender Wallet – Now you can make payments in websites with single mouse click. Bitdefender Wallet has got lot of improvements and seamlessly integrates with your web browsers for Auto Form Filling and Credit Card Details as well.
Autopilot Mode – My favorite feature in Bitdefender Software that gives complete hassle free user experience by automated scanning, deleting viruses, cleaning and free up clogged memory spaces without disturbing you. You dont have to configure anything after enabling Bitdefender Autopilot.
Anti-Theft Protection – Again, you dont need a separate monitoring or anti theft hardware or software to be purchased. Bitdefender Total Security 2015 has this unique feature built-in to protect your Laptop even physically from Theft. So its not just a security software to protect your Operating System and Data. One step further Bitdefender Total Security 2015 will also allow you to Lock, Wipe and even Locate your laptop from any Internet connected device (smartphone, tablet etc.,) easily.
Apart from these, Bitdefender Total Security 2015 comes with all the enhanced, internet security and antivirus security features packed in one. AntiPhishing, Personal Data Filter, File Shredder, Parental Control, Powerful Two Way Firewall, File Encryption and so on. When you buy BitDefender TS 2015 you will also get Free Online Storage with Bitdefender Safebox.
Bitdefender Antivirus vs Internet Security vs Total Security 2015
Here is an official comparison chart to show the difference in features with Bitdefender 2015 Antivirus, Internet Security and Total Security Software. Choose the one you want and get full security and protection against threats and attacks.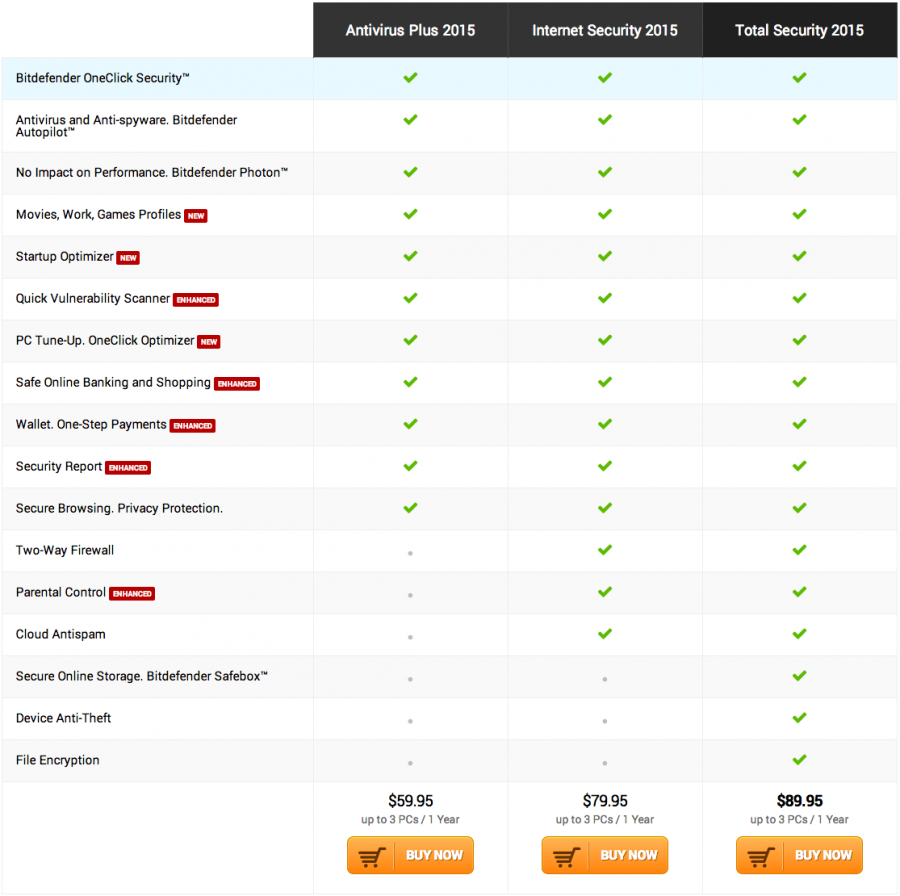 We do have a bitdefender discount coupon code for you to save up to 50% maximum and 25% minimum. For a limited time we have this offer and dont miss this one to save more from the official store pricing. You may also want to check out Quick Bitdefender Antivirus Plus 2015 Review and Bitdefender Internet Security 2015 Review.
Bitdefender Total Security 2015 Coupon
We have updated all the links with latest and working Bitdefender Total Security 2015 Coupon Codes. You can save 50% from the store pricing while protecting your Windows PC.
As i mentioned earlier, here you can find latest working Bitdefender Coupon Code 2015 software list. The discounts are based on number of licenses and number of years you choose. For single user purpose to install it in their Work Computer, Laptop and Home you can get 3 users license with 50% discount for 1 full year. Check out the linked article. If you have any questions related to coupon codes just write to [email protected]. We will be happy to assist you for more number of licenses or with issues in getting the discounts on purchase.
Bitdefender Total Security 2015 1 PC / 1 Year License
Price: $69.95
Discount Price: $34.97
Bitdefender Total Security 2015 Coupon Code
Bitdefender Total Security 2015 3 PC / 1 Year License
Price: $89.95
Discount Price: $39.97
Bitdefender Total Security 2015 Coupon Code
When you purchase Bitdefender Total Security 2015 from us, you also get free PC Booster 7 latest version. Thanks for reading and you may now share this post with your friends and followers across Twitter, Facebook and Google+. Also, don't forget to use our exclusive Bitdefender Total Security 2015 Coupon to save 50% on license key purchase. Have a wonderful productive day.