Installed Bitdefender Antivirus, Internet Security or Total Security recently? Want to uninstall or remove bitdefender completed from your Windows PC or Mac computer? Then this article should help you with the removing or uninstalling bitdefender antivirus completely from your system. Go to bidefender.com/uninstall and download the suitable bitdefender uninstaller / removal tool to start the process. To be more precise, check out the following video and you should be able to uninstall bitdefender from your PC completely without any problem.
Also Read, CleanMyMac 3 Review, Is it a Good Cleaner App for Mac OS ?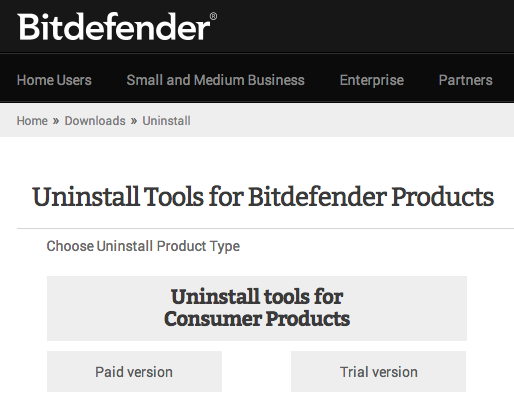 Bitdefender is one of my favorite and best antivirus software available for Windows PC. Well, i dont use any antivirus or security software for Mac but with windows, i definitely need one. Bitdefender Uninstaller will help you complete the job of removing/uninstalling this security software completely from your computer. Lets talk about the instructions that you should follow in order to do that task.
You may also like to Read, Bitdefender Antivirus for Mac 33% Discount Coupon for limited time.
Bitdefender Removal Tool
Uninstall Bitdefender Antivirus, Bitdefender Internet Security or Bitdefender Total Security with their official removal tool. Never download these type of utilities from third party websites which may also get a malware or viruses as a bonus with the file you download from unverified sources. Lets see the steps involved in downloading bitdefender removal tool.
Step 1: Go to bitdefender.com/uninstall/
Step 2: Select the type of bitdefender security software you have installed in your PC or Mac. Simply hover the mouse cursor and it will give two options on each box, they are Paid and Trial. If you have downloaded and installed the trial version then go to trial version option, else to paid version to get your removal tool.
Step 3: In the next screen you will be seeing list of Bitdefender Antivirus, IS and TS versions and select the exact one you have downloaded and installed in your computer.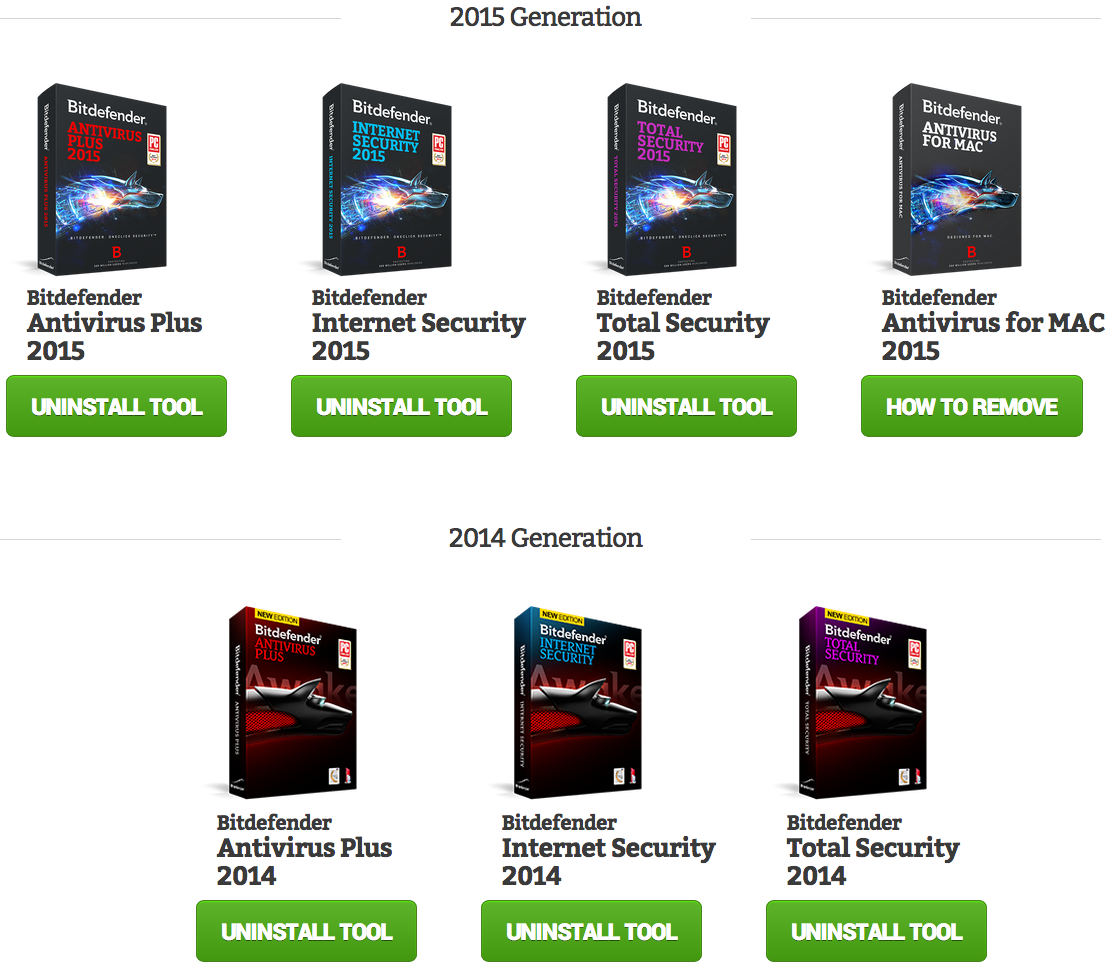 Step 4: In the next step you will be prompted for a feedback to tell why you want to uninstall bitdefender security software from your Windows PC or Mac. If you dont want to write about it to bitdefender, then simply select the "OR" option where you can do a direct download of bitdefender uninstaller utility.
Thats it. You will be able to safely remove the bitdefender software from your computer using this tool.
What is Removal Tool?
Many softwares available today integrates well with the system files and other applications to work effectively. Bitdefender is not an exception and it integrates itself to most of the software applications you install in your computer. To prevent leaving any unwanted, old files or temporary data, files and traces, software vendors provide removal tools. This will perform wide range of search across all possible directories in the system to search and find the bitdefender related files. At the final step the utility prompts you to initiate the uninstallation procedure where all identified files will be deleted from your computer completely.
This is common of most of the antivirus softwares available today and the default uninstaller comes with every software isn't enough these days. Also the windows uninstaller utility fails to delete all the files completely from the system most of the time. So these removal utilities are dedicated to do the deleting tasks.
You can also read about our latest bitdefender reviews and get up to 50% bitdefender discount coupon codes 2017 version.
Thanks for reading and feel free to post your questions in the comment box below. Also, you may share this post with your friends and followers across Twitter, Facebook and Google+. Have a great day!
You may also Read,