Update: For Kaspersky Coupon Codes updated this 2015 visit the link. Save $20 and more on selected titles. The discount is applied store wide.
Kaspersky for Middle East users has announced a limited time exclusive promotional coupon code that can get you a flat 50% offer when you purchase a license. Yes, you get another license completely free when you buy Kaspersky Internet Security 2013 and Kaspersky Mobile Security today. It is applicable for both English and kaspersky arabic version. This offer is valid till February 28, 2013 so hurry up. Scroll to the bottom to get the latest kaspersky internet security coupon code.
[youtube]http://www.youtube.com/watch?v=M542_kxiYek[/youtube]
Kaspersky Internet Security 2013 is a complete security software for your Windows Desktop or Laptop PC. Everyday updates and latest virus signatures makes it more powerful than many other antivirus softwares in market. Kaspersky Internet Security has advanced protection mechanisms to fight against Viruses, Worms, Malwares, Spywares and any latest suspicious codes.
Kaspersky Internet Security 2013 Review
Let me give some feature highlights and a quick kaspersky internet security 2013 review to help you choose the best antivirus and internet security software for your Windows PC.
There is no need of banners and advertisements for kaspersky. They are very famous for the past few years in providing security solutions for Home users, Small and Medium businesses and Enterprises as well. The sophisticated malware attacks are rising day by day and it is must to install an internet security software to protect from these threats and attacks.
Antivirus is not sufficient these days and that is why we need some advanced level of security solutions when we connect our computer to Internet. You can trust on Kaspersky Internet Security 2013 without any further doubt. Just because it offers best security, you cannot spend huge money on it. That is why we are recommending kaspersky for you today as we have an interesting deal when you buy it within this Valentines Day offer. Let me highlight the features of Kaspersky Internet Security 2013 here.
Safe Money
KIS 2013 has introduced safe money feature that adds stronger security for online banking and shopping. Internet Banking and Net Banking are two essential features that computer users use maximum. Not just to check the account status and balance, also to shop online and manage their banking statements etc., Bank websites has lots of features in it that allows its users to completely manage their bank account from home or office, also from their mobile devices. Hackers may spy on your computers by infecting your computer that can record all your computer activities including your banking.
[youtube]http://www.youtube.com/watch?v=mTHlCX8vhIs[/youtube]
Safe money compare the website's URL with a database of secure websites.
It verifies and checks the Digital Certificate used to set up the secure connection to make sure there are no behind the scenes transaction from your intended website to some other "Fake" website.
Check your Windows PC for Online Banking Vulnerabilities related to your Operating System.
Auto suggests opening the site in safe money mode for better and added security against theft of personal and financial data of users.
Parental Control
This is an improved feature addition that includes new and better protection for children, when they use your computer. Kaspersky Internet Security 2013 parental control feature is a well advanced and one of the powerful feature that effectively controls children's use of both the PC and the Internet. Dont let the kids stay online or use the PC for long time and without your knowledge as well. Take control of your kids computer and internet usage time and activity by installing Kaspersky latest version today.
[youtube]http://www.youtube.com/watch?v=kiZZmMExU4Y[/youtube]
Advanced filtering mechanisms that monitors and filters unwanted website links when viewed via web browser. Reliable filtering and protecting your kids from inappropriate contents and websites makes KIS 2013 so special and best security software for windows.
New Anti Spam Module, New Automatic Exploit Prevention, New Reduced Battery Drain technology, Improved Anti-Phishing attack protection, antivirus database and so many features makes this 2013 version stand out once again from the crowd of internet security softwares available for Windows 7 and Windows 8.
Best Internet Security for Windows 8
Kaspersky without a doubt is one of the best internet security software for Microsoft Windows 8 and well compatible one too. Easy to use interface and UI that suits well with Windows 8 OS. Perfect integration with windows security centre and anti malware system in place. If you are ready to buy this one, then dont miss the offer that is available for very limited time. Buy kaspersky internet security 2013 today.
Kaspersky Internet Security 2013
Original Price: 69.90$ Discounted Price: 34.95$
Kaspersky Internet Security Coupon Code
Kaspersky Internet Security 2013 (Arabic)
Original Price: 69.90$ Discounted Price: 34.95$
Kaspersky Internet Security Coupon Code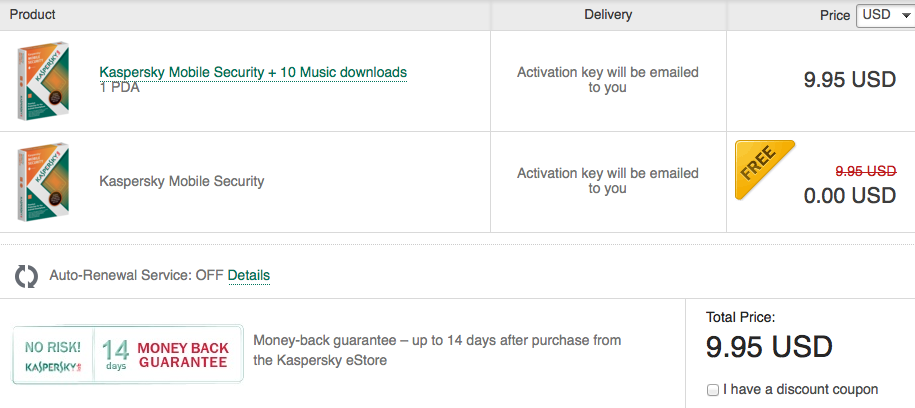 Kaspersky Mobile Security
Original Price: 19.90$ Discounted Price: 9.95$
Kaspersky Internet Security Coupon Code
Kaspersky Mobile Security (Arabic)
Original Price: 19.90$ Discounted Price: 9.95$
Kaspersky Internet Security Coupon Code
Thanks for reading and using one of our best coupon code today. You may now share this post with your friends and followers across social networking websites. Have a wonderful productive day.