After Apple released the iPhone with the Wireless Charging feature last year, the demand for Wireless Chargers started skyrocketing like anything. We hand-picked a few Best Wireless Chargers for Fast Charging with 7.5W and 10W compatibility to help you save money and get the best product from the best brand.
These are not just Apple AirPower Mat Alternatives; they also work as excellent Qi Fast Wireless Chargers. People planning to upgrade their earlier iPhone models have started purchasing Wireless Charger in advance.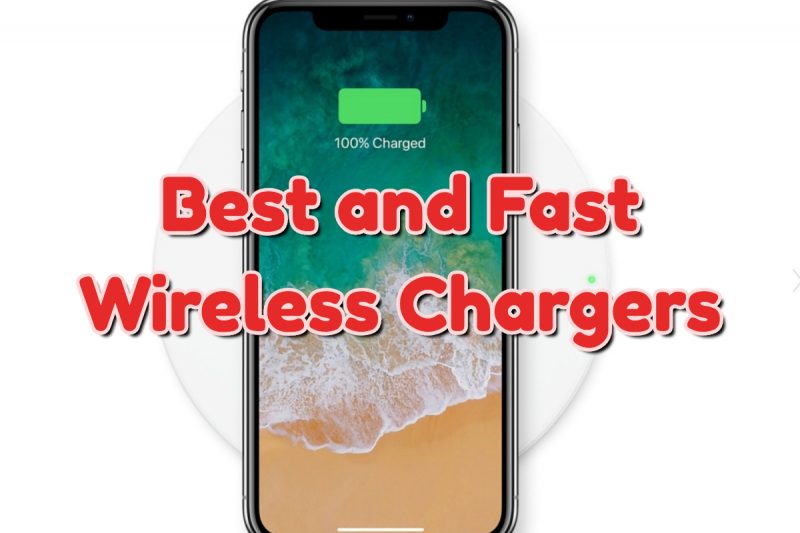 These chargers are compatible if you recently bought a Samsung Galaxy S8 or Note 8. Place your Smartphone on the wireless charger, and it will start charging. Perfectly suitable for Home and Office setup. All these Qi Wireless Chargers listed below are rated as the best wireless chargers by existing users.
Best 7.5/10W Fast Wireless Chargers for iPhone
One is for my Work Desk at the Office, and the Second is to keep in my Car. At Home, I have an Amazon MFi Certified Lightning Cable. I use it to charge my iPad Pro, so I didn't want to add one more Charging Dock in my Home.
Maybe next year, when the iPad gets wireless charging, I will upgrade my USB to Lightning Cable to Fast Wireless Charger.
These Fast Wireless Chargers charge your iPhone X, iPhone 8, and iPhone 8 Plus with 7.5W power capacity defined (and limited to) by Apple. To use the 7.5W Fast Wireless Charging feature, ensure you have updated to iOS 11.2. Early versions do not support 7.5W and can charge your iPhone up to a maximum of 5W.
Important Note: Car Mount

Remember not to use any magnets to mount your Wireless Charger when you use it inside the Car. Using any Wireless Charger with Magnets on the base is strictly not advisable. Go for Stickers or Mild Adhesive tapes to stick inside Car Placements.
Nomad Wireless Charging Base Station (2 Devices)
You can charge 2 Devices simultaneously using the Nomad Wireless Charging Base Station. Place your iPhone, Airpods, or iPhone and Apple Watch on the Charging Pad to start charging. We have all been waiting for an Airpower Mat from Apple, and this Wireless Charger is a super alternative that lets you charge 2 Devices simultaneously.
The fabric where you place your iPhone and accessories is rich in quality.
Also Read, How to Transfer Apps to New iPhone?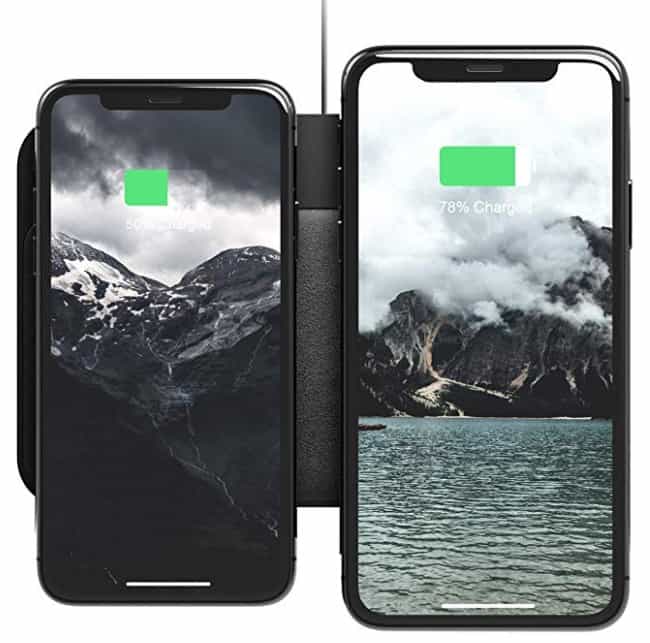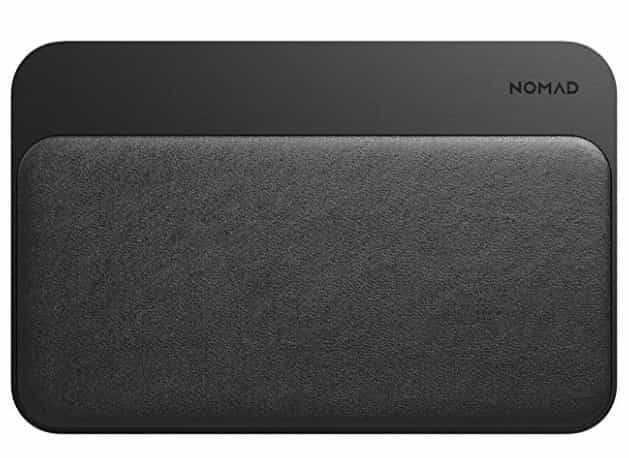 NOMAD is known for its charging stations, but its latest wireless chargers are popular because of their Design. Perfect for placing at your Work Desk and charging your iPhone, Apple Watch, and AirPods.
Connecting the USB-A port to power up the NoMad Wireless Charger delivers an output power of 7.5W. They also provide a USB-C Port, which can offer 10W Fast Charging for both the devices you place on the pad.
It's a helpful Fast Wireless Charger for your Apple Products and Android Smartphones.
Spigen Essential Fast Wireless Charger Pad
One popular iPhone Case and Cover manufacturer recently launched a Fast Wireless Charger for iPhone. It can charge your Wireless Charging-compatible iPhone or Android device up to 9 Watts.
If you own a Samsung Galaxy Note 8 or Galaxy S8, you can use its full potential. Apple has restricted the wireless charging power to up to 7.5 Watts, which is still a good choice for iPhone X and iPhone 8 users.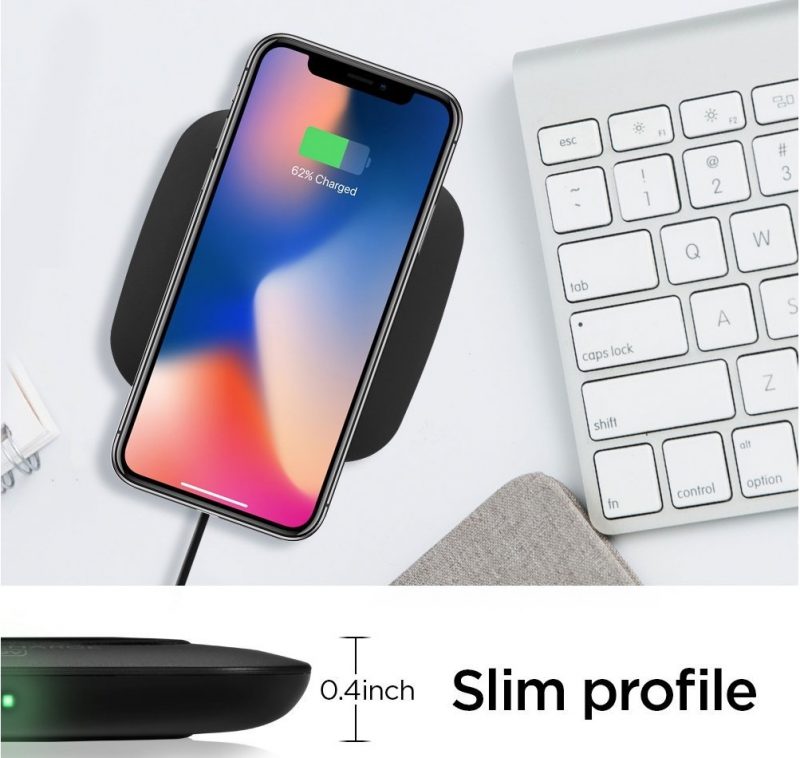 Spigen Essential Wireless Charger is slim and sleek, which allows you to carry it easily in your bag. If you use a Spigen Crystal Wallet Case, Slim Armor CS Case, or Wallet S Case, this charger will not work for your Phone. For any other cases, it works excellently to Fast Charge your iPhone.
Belkin Wireless Charger 15W Fast Charging
For the first time, Apple officially recommended two third-party accessories during the launch of iPhone 8 and iPhone X. Mophie and Belkin are the two Qi Wireless Chargers formally recommended by Apple and are available in Apple Online and Retail Stores.
Also Read, iPhone Frame Drop Problem while Gaming, How to Fix?
Belkin 15W Fast Wireless Charger works on iPhone and Android devices with Qi Wireless Charging enabled.
It is engineered to work with most lightweight cases. However, ensure you buy cases with a Wireless Charger compatible sign on the box. Belkin Wireless Charger is compatible with any Qi-enabled devices.
The top surface is a nonslip design to hold your Phone perfectly in place. Green LED shows whether the phone alignment is correct or not. Hence, the charging is unaffected.
Anker Wireless Charger for iPhone
One of the popular iPhone and Android Smartphone power manufacturers. They are top seller and widely known for their Power Banks than many other accessories they manufacture.
Faster Wireless Charging with Anker Wireless Charger promises up to 2x faster than a regular 5W charger. The Design looks normal and has a nonslip pad on the top to give a good grip for your Smartphone while charging.
It's super compact and easy to carry anywhere. You can place one in your Car if you want to. Anker Wireless Charging unit has multi-protect technology with Temperature Control, Surge Protection, Short Circuit Prevention, and more.
Also Read, iPhone Clock Widget Automatically Change to Cupertino, How to Fix?
Anker PowerPort Qi comes with three 3-foot micro USB cables; you can use other micro USB cables if you have any. Blue LED Lights on the side let you know when it's charging.
NANAMI Qi Fast Wireless Charger
Are you ever worried about your iPhone or Android Smartphone getting heat while charging? NANAMI Fast Wireless Charger keeps your iPhone cool while wirelessly charging it.
Also Read, iPhone Lock Screen Wallpapers | Peacock and Flowers Theme
All Qi-enabled smartphones are compatible with the NANAMI Fast Wireless Charger. Indicator LED lights turn blue when on standby and green when charging your Smartphone. You look like an oval shape with a perfect deck setup to place it on any flat surface.
Choetech Fast Wireless Charger has built-in Temperature Protection and prevents any overcharging problem to your Smartphone. The fan placed on the rear will spin only when Fast charging is enabled to blow out any heat produced by your mobile.
Turbot 3 Coil Fast Wireless Charger
This is one particular Wireless Charger for its 3 Coils Design. You get Faster Wireless Charging, as Turbot 3 Wireless Charger promised, simply by placing the Phone on its Stand Pad. The Design looks simple and perfect for people who want a Stand type of Fast Wireless Charger to keep on their Desk.
It sits silently on your Desk and Charges your iPhone or Android mobile with the Qi Wireless Charging feature. The manufacturer recommends using the Wall Adapter for a total 2A power output. Connecting your Wireless Charger to a PC or Mac via USB, you may get less power output; the Fast Charging will not work.
Remember to use a Wall Power Adapter to experience the Fast Charging ability. Also, you need to buy the power adapter separately or use the one you already have for your Smartphone. The bottom of this Wireless Charger has Rubber to give an excellent grip on the Desk when you place it for Charging.
Samsung Qi Certified Wireless Charger
L, SamsungLast year, Samsung announced their Wireless Charging accessory, with a built-in Fast Charging feature. Many iPhone 8 buyers and iPhone X users are using Samsung's Qi Fast Wireless Charger until their AirPower Mat is officially available at the Apple Store. We are unsure how long it will take for Apple to release the AirPower Mat. Still, Samsung's Qi Fast Wireless Charger is the affordable option currently available if you are looking for a branded wireless charger.
Of course, Apple AirPower Mat is different as it charges three Qi-enabled Apple products simultaneously. Your AirPod Case, iPhone, and Apple Watch Series 3 can be set simultaneously with AirPower Mat.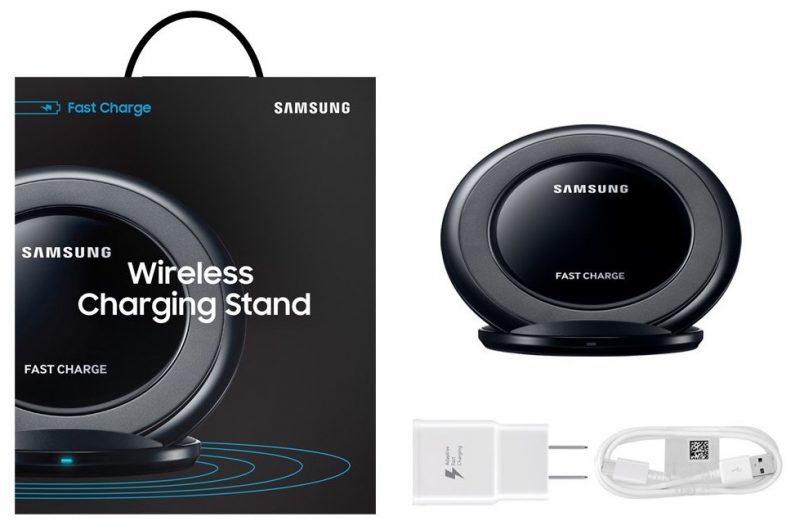 Samsung Qi Fast Wireless Charger can charge one device at a time. Best buy as it is from Samsung. So far, the users are happy with their purchase as it sets Super Fast if you also own Samsung Galaxy S8 or Note series phones with Qi-enabled.
If you use any other third-party Qi Wireless Charger and want to include its page, leave it in the comment box below. We will add a few more Fast Qi Wireless Charging Accessories for iPhone and Android in the coming days.
Feel free to share this post with your friends and followers. Thanks for considering our recommendation, and have a wonderful day.