AirDroid 3 brings Apple's Continuity feature to Android phone with premium quality. Now you can seamlessly connect your Android mobile phone to PC, Mac OS and Web (web.airdroid.com) to receive and make calls, read and send messages, notifications, get whatsapp message notification on your PC and Mac, Send and Receive files just by Drag and Drop. There are some more cool feature additions made with Airdroid 3 for Android smartphones.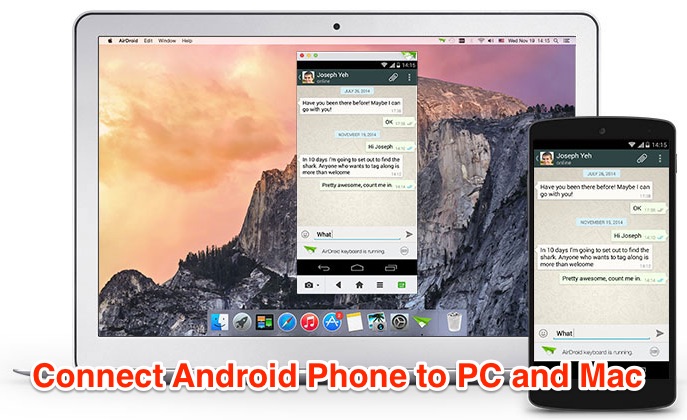 Now your Android phone is connected very well with your Macbook, iMac and Windows PC when you use Airdroid 3. Their premium packages allows you to get more out of this excellent android app. The beauty of this app is, it works very well with Mac OS. So if you own an Android phone, Nexus or other devices, then Airdrop will help you connect your smartphone and macbook to use your entire phone in big screen.
Airdroid 3 is compatible with OS X Yosemite, so it is updated and ready for your fresh looking Mac OS X. Also it is ready for Windows 8, so you dont have to worry about compatibility with Windows latest operating system.
Also Read, mSpy Review and 15% mSpy Coupon Code Discount, Best Spy App for Android and iPhone.
Connect Android Phone to PC and Mac for Calls, Messages and Notification
[youtube]https://www.youtube.com/watch?v=oHSYHft_HSo[/youtube]
Make and Receive Calls on your Computer
You will be able to attend phones calls and make phone calls using your computer without picking up the phone. Airdroid 3 acts as a bridge between your android smartphone and the Windows PC or Mac OS powered Macbook and iMac.
Notifications
Receive Calls, SMS and App notifications on your computer, also respond to those notifications from your computer without picking up the phone.
Use your Computer Keyboard
You can now use your computer, laptop keyboard to type comfortably to respond your notifications, messages and take notes. Typing will be much faster and you dont need any cables to connect android phone with keyboard. All works wirelessly.
Android Apps on PC/Mac
You can use the android apps installed on your Windows / Mac OS using Airdroid 3 but some devices require rooting to do this task. You will be able to use WhatsApp, WeChat any apps installed on your android phone right on your big computer screen.
(Features may vary by client platforms – Windows, Mac or Web)
– SMS: send and receive individual or group messages.
– Files: transfer files between Android and computer from any network.
– Notification Mirror: Mirror phone notifications from any allowed apps to computer.
– AirMirror: Complete control of Android, and use any apps, like WhatsApp, Wechat and Line. (requires root, AirDroid Windows & Mac only)
– Contacts: View and edit all the contacts.
– Photos: Transfer photos between Android and computer.
– Music & Videos: Play and manage music & videos on Android and transfer them between Android and computer.
– Ringtones: Set music as ringtone and export ringtones.
– Screenshot: View the real time screen of Android devices, take static screenshots. (requires root)
– Apps: Import and export .apk files.
– Camera: See through the lens of both front and back cameras.
– URL: Push url to Android and open it with default web browser.
– Clipboard: Share clipboard content between Android and computer.
Also, do check out their webbased airdroid version at web.airdroid.com. Just like using telegram messenger on windows, mac and linux without installing any app, you can use airdroid via web to control your android smartphone.
Airdroid has come long way. You can participate in localizing this brilliant application by crowdin airdroid. Download Airdroid 3 from official website only. Thanks for reading and you may now share this post with your friends, followers across Twitter, Facebook and Google+. Have a wonderful day!