How to Convert HEIC to JPG on iPhone for Free? Without any Paid App or complex steps? Photos you take using the iPhone camera app by default are saved as.HEIC format. They are high-quality file formats with less compression. It is good when you use only iPhone, iPad, and Mac to view your photos.
Even when you upload photos to iCloud Drive, Google Photos, and other cloud services, the photos will be preserved as it is. Uploading to Facebook, Instagram, or Sharing it to your WhatsApp contacts also works well. Also read, iPhone 4K 60FPS Disabled or Not Working? How to Fix?.
But when you share HEIC file format photos to Windows or Android devices, you will see an error.
We need HEIC Viewer to preview those photos shot using iPhone Camera.
How to Change HEIC to JPG in iPhone?
To avoid your Photo shot using the iPhone camera to be saved in .HEIC format, follow these steps.
Step 1: Go to Settings – Camera.
Step 2: Navigate to Formats.
Step 3: Select "Most Compatible," and it will be saved automatically.
Photos you take here after using the iPhone Camera App will be saved in .JPG file format. Let's see the steps to Convert .HEIC to .JPG file format for Free, on iPhone.
Also Read, iPhone Freeze When Trying to Share, How to Fix?
How to Convert HEIC to JPG for Free?
It is easier to convert HEIC to JPG for Free. Follow these steps to convert and share Photos without worrying about file format or compatibility problems.
You don't have to download any paid app or software in Windows or Android to view HEIC Photos taken using iPhone Camera.
Step 1: Open Photos App and Select the Photos you want to Convert .HEIC to .JPG on iPhone. Select "Copy" by tapping on Share Sheet icon at the bottom left corner.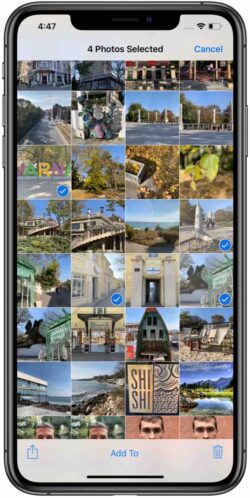 Step 2: Open Files App and Navigate to "On my iPhone" Storage.
Also Read, Using iPhone Camera as a Webcam on Mac? Things You Should Know
Step 3: Create a New Folder named "JPG Images".
Step 4: Navigate to the Folder "JPG Images" and Paste the Photos copied from Photos App.
That is it. All your .HEIC files are now automatically converted to .JPG file format. It is amazing to see some cool new Hidden features of Files App that allow us to convert .HEIC to .JPG files without any paid apps or free apps. Also Read, How to Fix "Call Failed" on your iPhone?.
Do you find this post useful? Able to convert .heic to .jpg on iPhone without any problem? Share your thoughts in the comments below. For iPhone, iPad, and Mac-related tips and tricks, kindly search our Youtube.com/dailytut channel once.
You may find the solution faster. Thank you, and have a wonderful day.