This is the First Apple iPhone X Face ID Fail which surprised us. Apple do have an explanation for that and don't forget to watch the video below to understand, how iPhone X Face ID getting Tricked by Triplets. And the full credit goes to Joanna Stern, TheWallStreetJournal.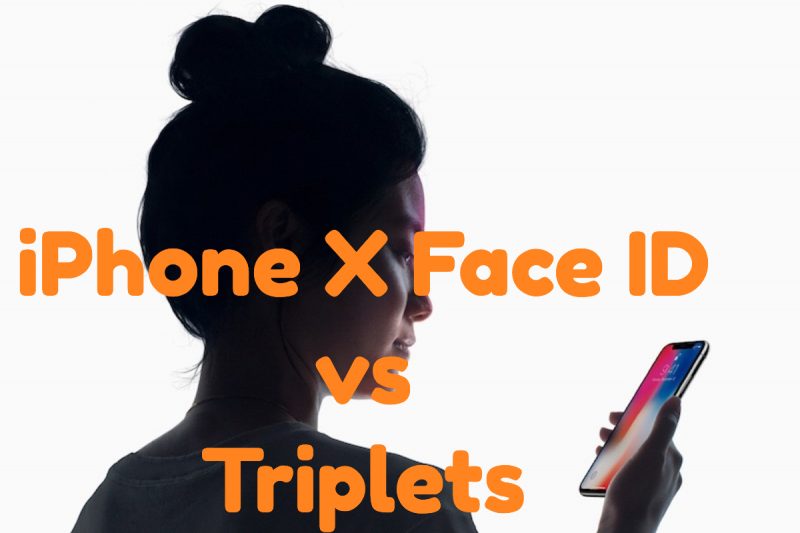 Apple gave few iPhone X Review Units to popular Youtubers and Journalists couple of days ago. Suddenly, the iPhone X Review Videos Spiked in Youtube, where they shared their Experience with the Device. By now, the Apple fans who booked their iPhone X and waiting for November 3rd, and the other kind of people who always wait for the product to be released and what the popular youtube reviewers say, can now get a detailed look of it by clicking on this Youtube link.
Also Read, Best Apple iPhone X Cases and Covers you can Buy Online
You can watch the iPhone X Unboxing and Review by MKBHD here.
iPhone X Unboxing and Review
You can get a detailed look at how to setup Face ID and the gorgeous 5.8 inch Super Retina Display, Animoji, Apps Navigation and more in the above iPhone X Review.
Youtubers have already started testing the iPhone X Face ID with Identical Twins and as apple promised during their announcement, iPhone X Face ID has won. Twins so far were unable to successfully gain access to the phone, when the other one try to unlock it.
You may also like to Read Best Apple Watch Alternatives with Heart Rate Monitor and Fitness Trackers
Scenario I:
Face ID is Smart, there is no doubt about it. The Wall Street Journal, Joanna Stern tried creating a fake mask of herself to fool the Face ID. Again, Face ID Succeeded and Joanna was unable to unlock it with her Face Mask.
Scenario II:
Group up Identical Twins tried to fool the Face ID system. One registered her face with the iPhone X and the other one tried to unlock it. Apple Face ID didnt recognise the second one and the iPhone X didn't unlock. Mission Completed.
Face ID vs Triplets
In Third Scenario, She tried to register Face ID of a 8 year old. This time, its the Triplets, and one of them registered their Face ID to an iPhone X. Now the second kid tried to unlock the iPhone X and failed. When the third kid tried to unlock it, and Face ID got successfully tricked and the iPhone X is now unlocked. Watch the Video Below.
This is the First Face ID Fail that is recorded since the announcement of iPhone X. Once its publicly available, we will be able to see lot of attempts by Security Researchers and Journalists from around the globe.
Apple Says children under 13 may also change the probability, mainly over time, as their facial features develop and change faster than an adult's.
Apple has proved that it is good at innovation by bringing Face ID. Ofcourse, after a long time. As Steve Wozniak recently said in one of his interview, iPhone 8 is not worth upgrading because it is just like iPhone 7 which is again, like iPhone 6. However, the minor improvements every year and making it super stable compared to its competitors are the secret of Apple being successful in smartphone market.
So far, the popular youtubers and journalists who got their iPhone X Review units, praised Apple for its all new Design and Technology that built into the iPhone X. It is going to be the future of Apple Smartphones for the next decade, and most of the Android Smartphone Manufacturers also going to follow the same design and technology pattern shortly :). There is no doubt about it.
Anyhow, Joanna concluded in her iPhone X Review, that Face ID is secure, fast, reliable and so easy to use. So you can confidently buy iPhone X if its available in your local Apple Store on November 3rd. Otherwise the waiting time is going to be 5 to 6 weeks which is more than a month according to Apple Website.
Alright, what do you think about this revolutionary Face ID Technology that built into the iPhone X? Feel free to share this post about iPhone X Face ID vs Triplets to your friends and followers across Twitter, Facebook and Google+. Have a wonderful day.
Update: Looks like iPhone X Face ID Failed once again with this Identical Twin. Watch the following video to see how this Twin fooled the Face ID and unlocked the iPhone X. We are not quite sure whether apple can fix this with a software update, but this rare scenario proves that Face ID is not 100% secure for Twins and Triplets :). They should depend on Passcode till apple announces some fix if there is any.
You may also like to Read,