Apple Watch is the new gadget of 2015 introduced by Apple with Health and Fitness in mind. Apple has sold more than 7 million Apple Watches globally and it is yet to be officially available in many countries. There were fitness trackers, heart rate monitors before the release of Apple Watch. Just like any other apple products, the release of Apple Watch boosted the sales of other affordable, cheap fitness trackers, heart rate monitors that are considered as best apple watch alternatives.
Also Read, Apple iPhone 7 Release Date may be set Earlier in 2016
We have compiled the list of best apple watch alternatives to help you choose an affordable wearable as your every day fitness tracker, hear rate monitor and sleep activity tracker.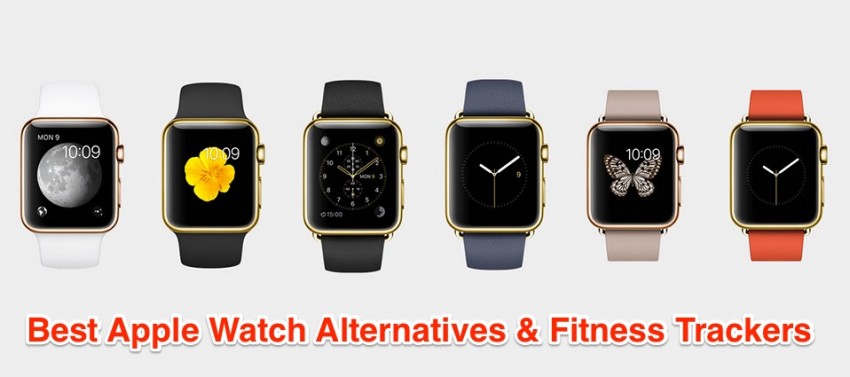 The main objective is getting a wearable that does everything or has most of the essential activity tracking features loaded with good battery life. Some Apple Watch users have returned their watches and people who are using Apple Watch mostly complain about its Battery life.
Also Read, Best External Battery Power Banks for iPhone and Android Mobiles
So we are careful about that while compiling this list of best apple watch alternatives for you to pick one.
Apple Watch Alternatives – Heart Rate Monitors and Fitness Trackers
People who want to keep track of their fitness goals can buy fitness trackers to record and monitor their progress in day, week or months. Fitness Trackers count every steps you walk, calories you burn, sleep activity tracking, messages and incoming calls notification on your smartwatch, music controls and finally, they display time :).
Apple Watch
Heart Rate Monitor: Yes
Battery: 1 Day
Currently running Watch OS 2.0 that is released during WWDC 2015 with lots of improvements to the core and less feature addition to the existing Watch Operating System. Apple allows developers to create watch apps and make existing iPhone, iPad apps available on their all new wearable as well. Watch apps integrate iPhone and Apple Watch for Fitness Tracking, Heart Rate data, and much more useful purposes. APIs available for developers make the watch more powerful wearable than any other gadget if you own an iPhone.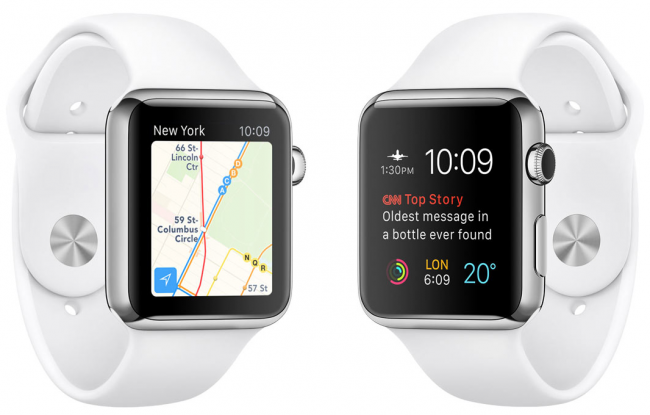 One of the best feature of Apple Watch is Heart Rate Sensor integration which shows more accurate results than most of the heart rate sensors available at this size.
Price: $300 and above
There are plenty of apple watch alternatives available to buy, but its perfection in design and results accuracy makes me fall for it than its competitors. However, not everyone should consider buying this expensive fitness tracker by Apple. Without any further delay, lets see the list of best apple watch alternatives that comes with Heart Rate monitor, sleep and activity tracker.
---
Fitbit Surge
Heart Rate Monitor: Yes
Battery: up to 7 days
One of the best apple watch alternative from Fitbit that also trusted and used by thousands of fitness lovers world wide. Fitbit is in the market of making fitness wearable devices for more than 2 years and they are really good at it. Their Fitbit Classic initially tracked only steps taken, distance traveled, calories burned, and sleep duration. They have come long way in the world of fitness trackers and making wearable so friendly to anyone and collect health data and review on their android or iPhone without any efforts.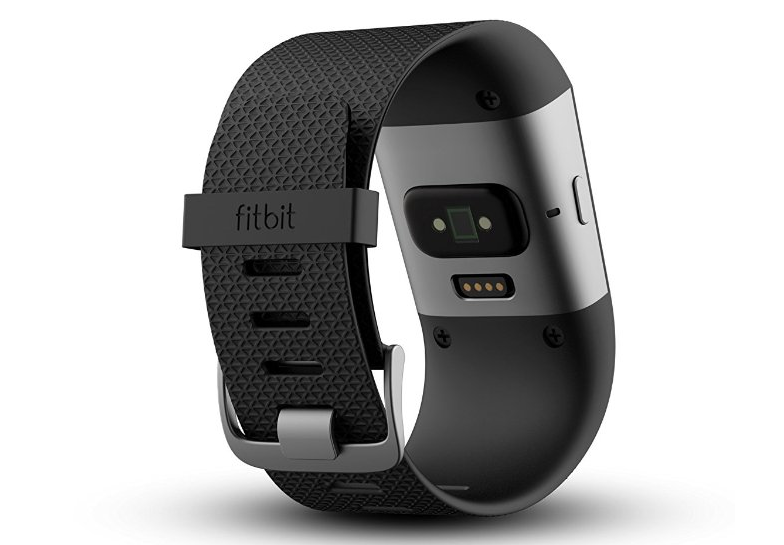 Fitbit Zip, Fitbit One, Fitbit Flex, Fitbit Charge, Charge HR and Surge are the product line up they currently have at their store. Fitbit Zip is the basic tracker and Fitbit Surge is the advanced fitness tracker that Fitbit has with features fully loaded.
Fitbit Surge connects with your iPhone, Android and counts every steps you make, calories you burn, sleep tracking, floors climbed, multi-sport mode, continuous Heart Rate monitor, Caller ID, SMS Notification, Music Control to save time for you to take the phone out from your pocket while workout. Fitbit Surge also has GPS Tracking integrated that allows you to see distance, pace and elevation climbed for review routes and split times on your smartphone.
Price: $242
If you are looking for little lesser expensive version under $150 with Heart Rate monitor, then consider picking up Fitbit Charge HR, which does most of the tracking and reporting that Fitbit Surge does for you.
---
Microsoft Band 2
Heart Rate Monitor: Yes
Battery: 2 Days
Microsoft Band 1 came with huge expectations among users, but didn't meet them up and got negative reviews from existing buyers. So they had to redo the work, and release Microsoft Band 2 with some design changes and components upgrade, which is quite successful among Windows Phone users. Comes in three different sizes as Small, Medium and Large to suite different wrist sizes. Has continuous heart rate monitor that tracks your heart rate, calories burn, and quality of sleep and saves them to your Windows Phone, Android or iPhone wirelessly.
Microsoft Band 2 gets all your emails, texts, calendar notifications along with Incoming call alerts without the need for taking the phone out from your pocket. It records all the running, biking and golf activity as well. Microsoft also allows you to use Cortana with this Fitness Tracker for all your productivity tasks. It is a light weight fitness tracker that feels good on your wrist.
There are mixed reviews about Microsoft Band 2's Heart Rate monitor accuracy. People who have tested this with chest band type of HRs have said that Band 2 is not more accurate but some what close to the actual heart rate value.
Price: $249.99
Buy Microsoft Band 2 on Amazon
---
Garmin Forerunner 225
Heart Rate Monitor: Yes
Battery: 2 Days
Garmin Forerunner is loved by people who want better GPS tracking system in a fitness watch. Their latest Garmin Forerunner 620 and 630 are very advanced and comes with high resolution color display that tracks distance, pace, heart rate, HRM-Run monitor that adds data for cadence, ground contact time and vertical oscillation. Garmin Forerunner 225 has most of the essential technology features to compete with Apple Watch and stand good as one of the best apple watch alternative in market today.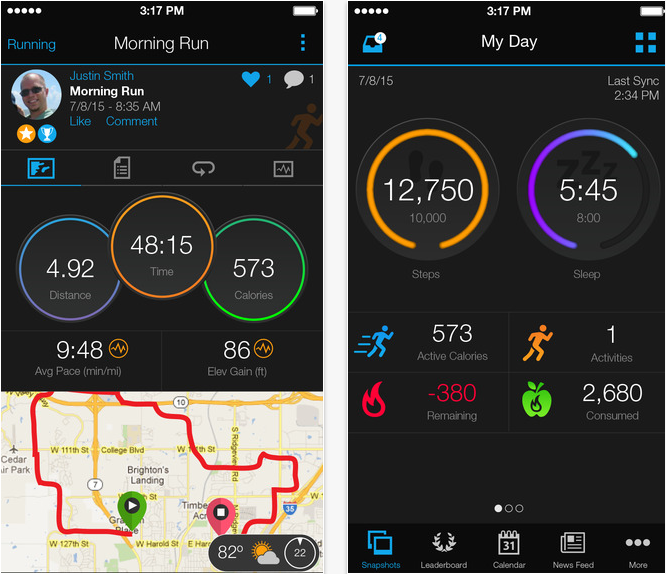 People who are using it able to track all their fitness activities and review them on their Android or iPhone using Garmin Connect. Garmin Forerunner 225 has Auto Pause (that automatically pauses and resumes timer based on speed), Auto Lap (automatically starts a new lap), Auto Scroll (cycles through data pages during workout), Advanced workouts support for goal oriented, custom workouts. Pace Alert feature triggers alarm if you vary from preset pace, Interval training lets you setup exercise and rest intervals. Heart Rate based calorie computation and it calculates calories burned through out your workout.
Garmin Forerunner 225 is a Shock Resistant and comes with all the fitness tracker features such as Step counter, Running and Sleep Activity tracker as well.
Price: $240
Buy Garmin Forerunner 225 on Amazon
---
Samsung Gear S2
Heart Rate Monitor: Yes
Battery: 2 Days (for regular usage)
Samsung Gear S2 (not iPhone compatible) looks beautiful with a regular watch face and anyone seeing it for the first time will definitely like it over many other smart watches available today. Samsung design team really done a wonderful job with Gear S2 design overall and the features are pretty impressive as well. Samsung Gear S2 comes with Heart Rate sensor along with all the necessary Fitness Tracker features, but it still lags iPhone compatibility which is expected in near future to arrive.
Gear S2 is pretty expensive just like Apple Watch, but it is loved by most of the Android users just like Moto 360 smartwatch.
Samsung Gear S2 goes very well with any Samsung phone if you own one, and its packed with S Health for collecting, recording and reporting all the Fitness Tracking data. You can easily check your notifications, news, call alerts, without taking the phone out of your pocket or purse.
Wireless Charging dock charges Gear S2 super fast and that is one big plus point for this fitness tracker, if you prefer a fast charging wearable for your every day usage.
Samsung Gear S2 is durable, has HR and sports decent battery life for regular usage. Existing users have reported one full day usage when they have used it heavily. Overall, Samsung Gear S2 is a good alternative for Apple Watch, if you are looking for an Android Smartwatch with Fitness Tracker features.
Price: $295 and above
---
Basis Peak Ultimate Fitness and Sleep Tracker
Heart Rate Monitor: Yes
Battery: 4 days
Basis Peak Ultimate is a Fitness Tracker and Heart Rate monitor from Intel. Yes, the famous Processor manufacturers entry into Fitness and Wearable Technology through this powerful smartwatch. Basis Peak uses advanced sensors to detect Skin Temperatures, Heart Rate 24/7 and motion. Track every single step you make, calories you burn day and night, skin temperature reports to know how your body reacts around the clock.
Get quality sleep with its sleep activity tracker that tracks, sleep duration, REM sleep for mental focus and memory, Deep Sleep, Toss and Turns and overall Sleep Score.
Basis Peak Ultimate Fitness Tracker from Intel, connects with your iPhone or Android just like any other Fitness Trackers for uploading all the recorded data.
Price: $126.99
---
Polar M400 GPS Sports Watch & Activity Tracker
Heart Rate Monitor: Yes (sold separately)
Battery: 1 Month (user feedback)
Polar fitness trackers are popular among joggers and fitness lovers for long time. They are bit expensive but worth every penny for accuracy and features that helps beginners and core fitness users to see positive results every day. Polar Fitness Watches comes with built-in training programs and seamlessly syncs with mobile application for additional workout planning and assistance. Including all the fitness tracking features Polar watches packed with H7 sensor that connects with its chest band accessory for measuring Heart Rate accurately even inside water.
Sleep activity tracker measures the duration and quality of sleep you get every night. Above all, the battery comes for a month and it is verified by existing users as well. So if you are a person looking for best battery lifetime on fitness tracker, polar watch is for you.
Price: $99.99 / $124 (with HR Band)
Buy Polar M400 Sports Watch on Amazon
---
Moov Now 2nd Gen Personal Coach & Workout Tracker
Heart Rate Monitor: No
Battery: 6 months
Moov NOW is entirely a different device than what you have seen in the above list of fitness trackers. Moov NOW is a personal coach and workout tracker that actively monitors and gives realtime audio coaching via bluetooth headphones. The voice assistant type of coaching guides you for running, cycling, cardio boxing and body weight training. Moov Now actively monitors your tendencies and advises you on how to get the most from your workout and helps you achieve your fitness goals as well.
Also Read, Best iPhone Headphones with Mic
This simple looking wearable is easy to wear on your wrists and you don't have to worry about water, dirt or sweat. It can handle everything being a water proof fitness tracker. And, no need to worry about charging as it comes with a bigger battery that requires replacement once every 6 months and it runs 24/7 tracking your activity, sleep and workout progress.
Moov Now uses Omni Motion Sensor that is used in military and gaming technology to capture and analyze users activity in 3D. Moov Now is compatible with both Android and iOS. The big selling point for this ultimate personal trainer is its price. At the price tag of $79.99, this is the best fitness tracker for users considering more outdoor workout and training.
Price: $79.99
There are plenty of Fitness Trackers, Sleep Activity Monitors, Heart Rate Monitors are available, but we hand picked few best apple watch alternatives for you today that are value for money, delivers best features and has best ratings from existing users.
Also Read, Best Wallpaper Apps for iPhone 6 and iPhone 6 Plus
We hope you found your fitness tracker with heart rate monitor for your every day workout routine. Kindly tell us which one you picked from the list in the comment box below. Thanks for reading and have a wonderful healthy day.