Apple has announced Apple AirPods that looks very close to EarPods without Wires and comes with its own Charging Pod to give a total of 24 hours battery backup. There are always good number of alternatives available for such accessories. We hand picked few Best Apple AirPods Alternatives for iPhone and Mac computers to help you save some money and experience the best quality as well. The problem with Apple AirPods as many users feel are, it is hard to carry several accessories and protecting them from getting lost.
Apple is very clear about the future being wireless and it has already started it with 12 Inch Macbook Retina announcement last year. By removing the traditional headphone jack from iPhone 7, Apple now has a single Lightning Port connector making it to own the device completely.
Also Read, Macbook vs Macbook Air vs Pro, Best Macbook to Buy?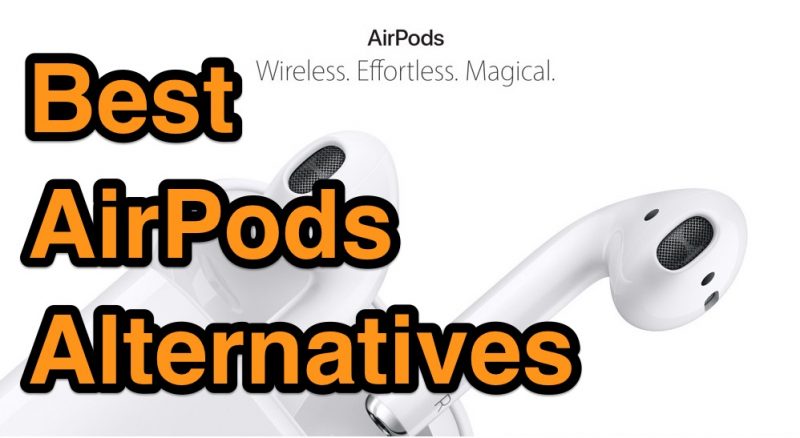 There are tons of Bluetooth headphones available in the market from popular brands to compete with the latest Apple AirPods. Keeping battery backup and audio quality as the top priority while choosing a wireless bluetooth headphone, there are very few branded headphones that keep up the promise and provide us quality headphones. That's why we hand picked few best bluetooth wireless headphones that stands as tough competitors to Apple AirPods in providing excellent audio quality and battery backup.
Apple AirPods are expected to be released by the end of October 2016. If you have decided to go with the Apple's own pair or wireless headphones, then its a good choice. I won't say the pricing is too high like other apple accessories. Apple AirPods are priced little higher than the current bluetooth headphones available in the market. The pricing of Apple AirPods is so Apple 🙂 is what i can say.
If you are looking for the best alternatives for Apple AirPods, then here we have some of the best bluetooth headphones as preferred by the users who are already using them. Go with the design and brand you like to choose your bluetooth headphone for iPhone and Mac today.
Also Read, 10 Best Mobile Bluetooth Speakers for iPhone, iPad and Android
Jaybird X2 Wireless Bluetooth Headphones
Definitely, the best apple airpods alternative available and many preferred when it comes to sports activity. Jaybird X2 looks sporty and very cool for regular use as well. You can connect with iPhone 7 and earlier versions via Bluetooth, also with Macbook, iMac for Facetime and Video Calling. One of the main reason i like Jaybird X2 is because of its decent battery backup. For single charge it gives 4 to 5 days for normal every day usage. That is really impressive compared to many other airpods alternatives available in the market.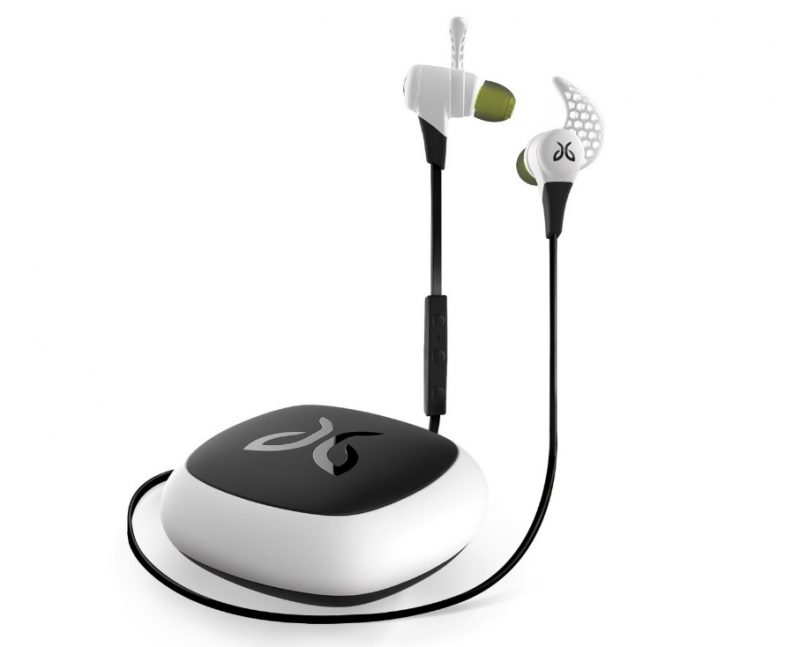 Jaybird X2 is also one of the top selling wireless bluetooth headphones in Amazon and BestBuy. Rated as the best wireless headphones with excellent audio quality and comfort to wear for Running, Jogging and other regular workouts, Jaybird X2 comes in few colors and with few ear buds that you can switch easily.
Lifetime Warranty against Sweat, 8 Hour Battery backup, Shift Premium Bluetooth Audio, Skip-Free Music Outdoors and Jenna Voice Assistant built right into the bluetooth headset are the feature highlights. Here is a Jaybird X2 Review by MKBHD, the popular Youtube Blogger.
Beats X Wireless Earphones
While announcing Apple AirPods during iPhone 7 Launch event, Apple also announced three new BeatsbyDre Earphones to be released in October 2016. These headphones will also get the Apple's W1 Chip for improved audio quality and better connectivity that comes with AirPods. Beats X, PowerBeats 3 and Beats Solo 3 are the earphones that are going to come this October to give variety of choices to customers.
Among these three, I personally like the Beats X, which just looks simple and gives 8 hours of battery life with Fast Fuel Charging technology built-in. Enjoy the beatsbydre headphone sound quality with Apple's W1 Chip at just $149.95. Almost $20 less than the Apple AirPods Wireless Headphones.
Video Credit: JimsReviewRoom
Authentic Beats Sound, Flexible Fit and Style, Lightning Charging option, makes this one of the best buy as a premium wireless earphone and as an alternative to Apple AirPods earphones.
About it's Fast Fuel technology, when you charge this earphone for 5 minutes, you will be able to enjoy 2 hours of music non stop connected to your iPhone or Mac. Beats X Remote control is easy accessible and you can switch between songs and use the microphone built-in to talk to your friends in excellent clarity.
Price: $149.95
Buy Now: Beats X Website
 Jabra Elite 45e Wireless In-Ear Headphones – Copper Black
If you prefer a more sturdy design wireless headphones, then you may like what Jabra has in store. Jabra Halo Smart Wireless Bluetooth Stereo Headphones comes with 10 mm speakers with powerful bass for exceptional Call Quality and Music Playback. The design of this wireless headphone makes the microphone water resistant and wind protected, so when you are on call, the other end person will hear you better even when your drive a motorcycle.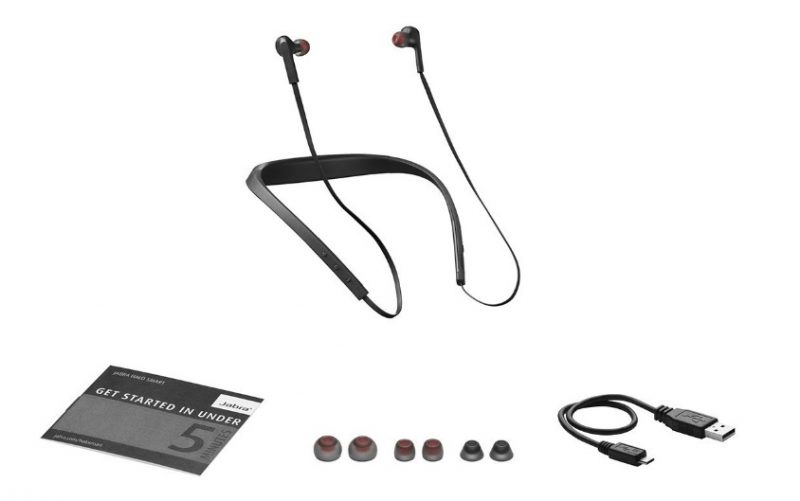 Just like other headphones following similar design pattern, you get the cable management feature with the magnets included in the headphones. Just click a button and access SIRI or Google Voice Assistant quickly. Another unique feature to Jabra Halo Wireless Headphone is it Vibrates when you receive a call and the phone is in silent mode.
Finally, Jabra Halo Headphones gives 17 hours of Talk Time and 14 hours of music playback after full charge. 99% of the customers who bought Jabra Halo Bluetooth Wireless headphones find the battery claim is true and as promised by Jabra.
MPOW Jaws Wireless Neckband Bluetooth Headset
Little bulky in design but super solid and light weight wireless headphones from MPOW. May not be the brand name you might have frequently seen on Television or heard from friends, but this Wireless Bluetooth Headphones are doing an excellent job when it comes to audio quality and a decent battery backup. Definitely, one of the cheap and affordable wireless bluetooth headphone that stands as an alternative to Apple AirPods, if the size and design is not a problem to you.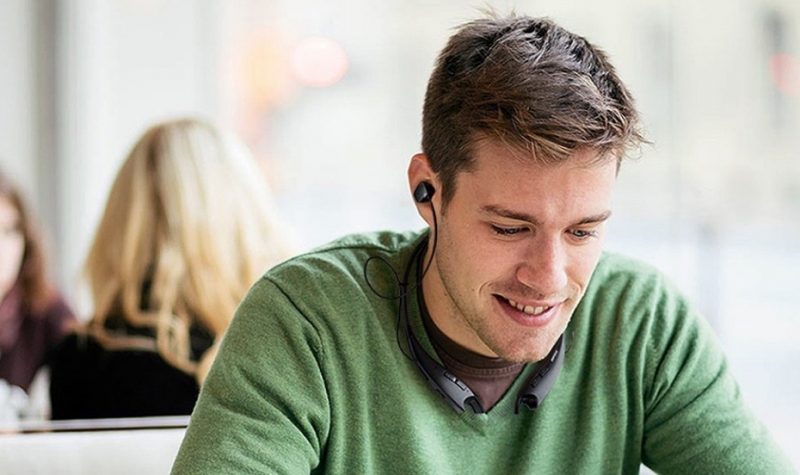 MPOW Neckband style Bluetooth Headphones comes with Bluetooth version 4.1 technology that is good at battery saving and delivering excellent audio quality. Noise Cancelling technology CVC 6.0 by MPOW allows the user to hear high quality sound and crisp audio calls on the go. It's a good wireless headphone for jogging, running and regular workouts. Also, the price is lot cheaper than Apple AirPods and you may consider this as an alternative in your list.
Samsung Level U Wireless Headphones
From the popular brand, Samsung Level U Wireless Headphones one of the top selling headphones in the market. Mainly, Samsung Smartphone users very well know about this Bluetooth Wireless Headphones. These headphones also works well with iPhone and Mac computers. Inside, the headphone has got 12mm speakers that produce high quality and clear sound and dual mic setup at the bar allows the phone call to be more clearer. Ear buds are magnetic and very convenient to wear while Jogging, Running and for regular workouts.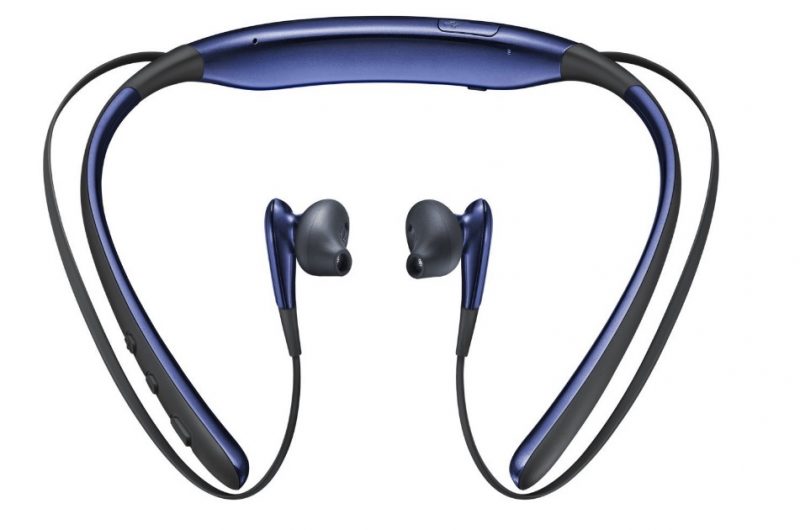 Samsung claims the battery life lasts up to 11 hours of talking and 10 hours of music playback and 500 hours of standby. However, users have reported slightly lesser figure than claimed by samsung. Just couple of hours maximum on regular usage making it as totally 8 to 9 hours of talk time and similar duration for music playback.
If you are looking for a cheap and affordable Apple AirPods alternatives, then these bluetooth wireless headphones will meet your needs. Also check out their Samsung Level U Pro series for better audio clarity and a premium version.
LG Tone PRO Bluetooth Wireless Headphones
Another popular brand name, LG known for home appliances and electronics have released a bluetooth wireless headphone couple of years ago and since then, they constantly improve and fix the flaws and release better versions. Here we have LG Tone Pro series of Bluetooth headphones that stands as one of the best apple airpods alternatives, that also cheap and affordable. Design wise, looks very similar to Samsung Level U headphones, and comes with bigger battery, sturdy design while holding light weight form factor.
LG Tone Pro bluetooth wireless headphones fits comfortably around your neck and gives 15 hours of talktime and 10 hours of music playback. The box includes two different sizes of ear buds to fit small and large ear types. Also the micro usb charger that charges your LG Tone Pro Wireless headphones.
Customers who have bought LG Tone Pro love its battery life and the awesome sound quality it delivers. Definitely, this is a best buy you can make to be your next Wireless Bluetooth Headphones.
We will be updating this post with few more headphones as they arrive from popular Headphone Brands and Rated as best by Customers. We hope you liked our list of Best Apple AirPods Alternatives that we have hand picked today for your iPhone 7 or earlier version. Stay tuned by following our Social Media pages at Twitter, Facebook and Google+. Have a wonderful productive day.
You may also like to Read,