Apple has released the all new Macbook 2015 model with new design and hardware changes that makes it super thin and very gorgeous macbook ever released. The 12 Inch Macbook is now 24% thinner than 11 inch Macbook Air and weighs just 2 pounds. It is like you have a keyboard attached to a 12 inch iPad Air. Well there are rumors about iPad Pro which Apple may release before end of 2015 which will have 12 Inch screen size and USB Type-C Connector.
Apple killed all the ports on new macbook 2015 model except one port that allows you to charge the macbook and connect an Adapter that allows you to connect USB Pen Drives, Video Output (for Apple Thunderbolt Display) and more Accessories.
Looking for New Macbook Pro 2016 models? You can Buy Macbook Pro 2016 models at Amazon.com and get Fast Shipping for Amazon Prime Members and more offers.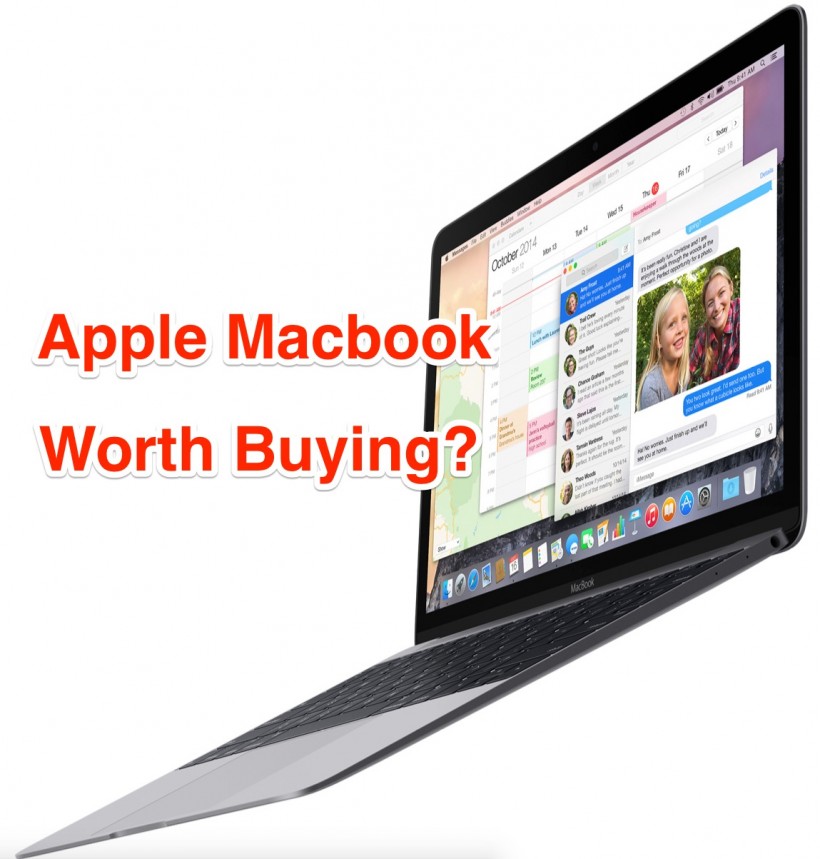 The above Macbook Intro video is simply stunning and Apple is famous to make our jaw drop when it comes to Marketing through Video Intros since iPod launch. Lets talk about some highlights about Macbook 2015 model, Who should buy it and Macbook Alternative choices for the same pricing.
Apple Macbook – Is it Worth Buying?
Well, its a very simple question and i can answer instantly, saving you time from reading this entire article.
Apple Macbook 2015 model is definitely the best buy if you were waiting for Macbook Air to get extra thinner and with similar hardware specification for decent performance for every day usage.
If this is your first Macbook, and your usage is moderate that you want it mostly for Web Browsing, Youtube, Video Playback and Apps then the new Macbook is definitely Best Buy.
What i am trying to say here is, the new Macbook 2015 model is not meant for above Average users who want to do some extra multitasking with several browsers opened, to do Image Editing, Video Rendering and so on. It has decent hardware specification (1.1 GHz processor and 8GB RAM) and with OS X Yosemite you will experience the best productivity for your every day travel needs and do on the go tasks. Macbook is the best Business laptop that is sleek and gives excellent battery life.
via MKBHD
Above video from the popular Youtube Blogger MKBHD will help you get better idea about the new macbook as well.
Macbook Hardware
I have used Macbook Air previous generation and found it is not equal to Macbook Pro which i am still using for all my Video Editing and it is the best multitasking companion as mac computer. Macbook 2015 model comes with 1.1GHz dual core Intel Core M processor which can Turbo boost up to 2.4 GHz with 4MB L3 Cache memory loaded inside. You can also select the second model which is 1.2 GHz that can turbo boost up to 2.6 GHz with same L3 cache memory. Both these models equipped with 8GB of 1600MHz LPDDR3 RAM Memory.
Image Credit: tgcafe.it
Apple Re-Engineered the Logic Board and made the entire architecture 60% less in size compared to Macbook Air's Logic Board. You can select between two storage options along with the processor as 256GB onboard flash storage and 512GB PCIe based onboard flash storage.
Graphics Chipset – The new macbook 2015 model comes with Intel HD Graphics 5300 chipset for Dual Display,  Video Mirroring (3840 x 2160 pixels) on external display. If you have got Apple Thunderbolt Display you can connect it as second monitor for better productivity.
Macbook USB Adapters
Apple also suggest you to get some USB-C Adapters if you want to connect a Pen Drive, Flash Storage, any USB Device, DVD Drive, External Monitor, Thunderbolt Display and so on. Apple killed all the ports to make the macbook super thin and sell their expensive USB-C Adapters on the other side. Its not new when we talk about apple, but glad there are adapters readily available and USB-C VGA Multiport Adapter will be a definite buy which makes the basic Macbook 2015 model price to be $1379 as the adapter costs you $79. If you want Digital AV multiport Adapter, then you got to spend another $79.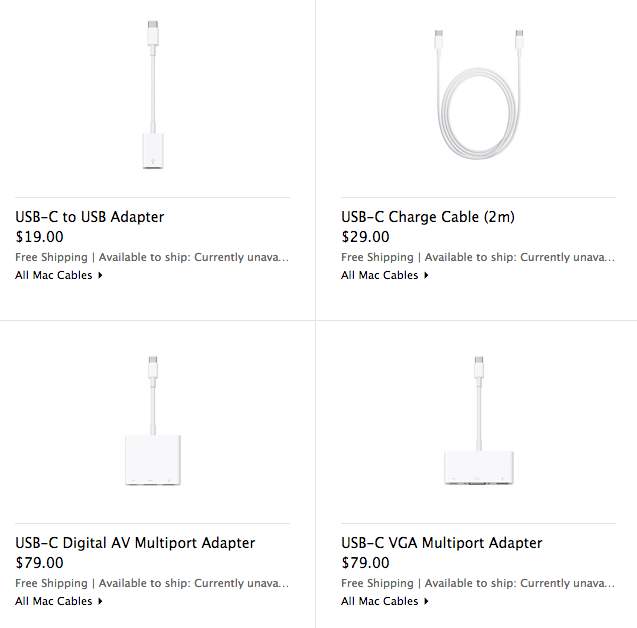 Conclusion:
Apple Macbook 2015 model looks superb, feels superb, but not priced correctly is what i feel. They re-engineered the Trackpad to Force Touch Trackpad, Internals of Macbook Air and gave a beautiful appeal everywhere and oh, i forgot to mention about the Retina HD Display. You will get iPad Air's battery life but with OS X you can do really a lot more with your every day on the go work life and to experience the best mobility. Apple also call it as a macbook with wireless connectivity as the main option by upgrading its wireless components such as WiFi to 802.11ac and Bluetooth 4.0, but didn't price it correctly.
But the Macbook Pro which also got some minor upgrade with new Force Touch trackpad, 5th Generation Intel Core Processors, Faster Flash Storage and Longer Battery life for the same $1299 price tag with USB connectivity is definitely the best buy and a Winner here. You will get a powerful processor from the base version and more RAM power, better Graphics Memory (Intel Iris Graphics 6100), 2 Thunderbolt Ports (for external monitors use) and Retina Display as well.
If you care about the weight, then go for Macbook 2015 model, If you want better performance and worth for the price you pay then pick up Macbook Pro 2015 model with upgraded hardware.
So, my final verdict is Apple Macbook is not the best buy as your only primary mac computer (laptop). Macbook Pro is the clear Winner here. You can share your views and suggestions in the comment box below. Also i like to mention once again, this post is clearly my personal review about new Apple Macbook vs Macbook Pro.
Price: $1,299
Storage Capacity: 256GB / 512GB
Buy Now: Macbook MJY32LL/A from Amazon
Thanks for your time and don't forget to share this post with your friends and followers if you like. Have a wonderful day.