Apple made two heavily armored warriors in the battle field to fight against other flagship android and windows smartphones till the next iPhone arrives in September 2015. Apple sold more than 70 million devices and reaped huge profit just from an iPhone sales this year. Apple iPhone 6 Plus sales went super high and crushed the sales of many big screen android smartphones.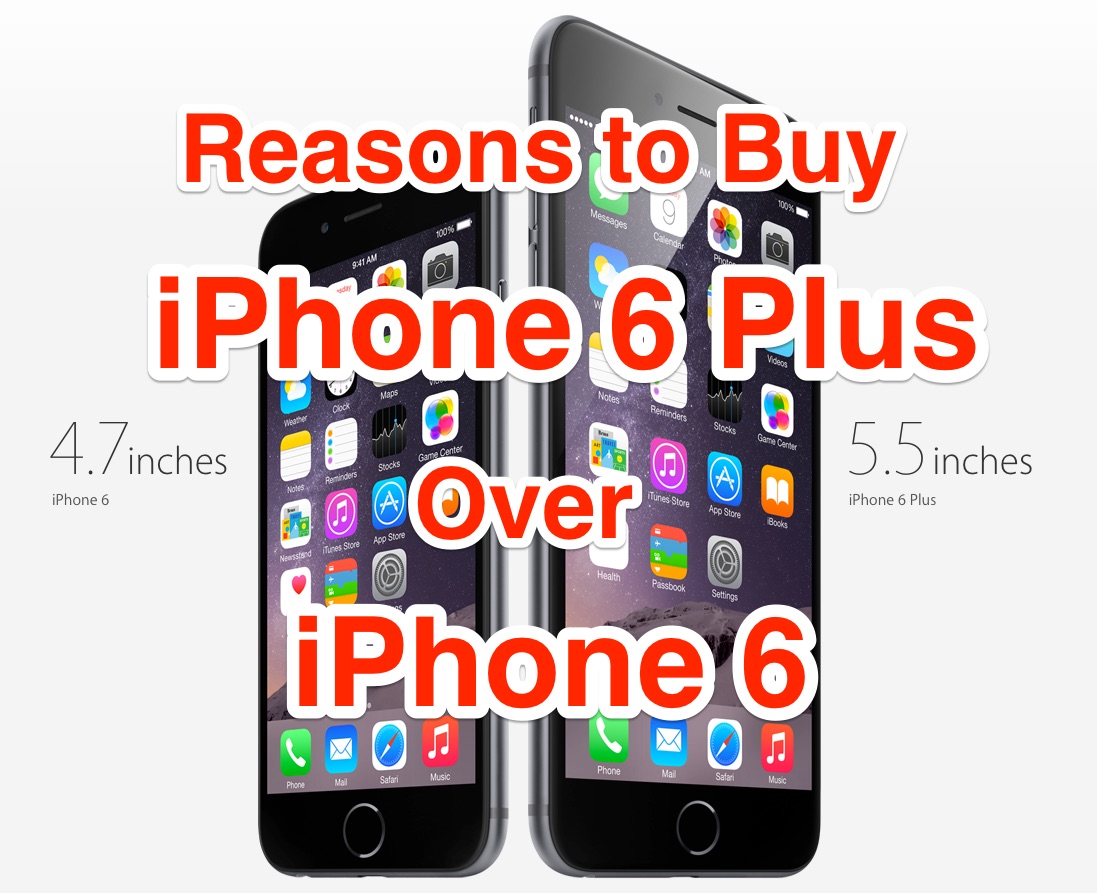 I thought to come up with a post to explain why you should buy iPhone 6 Plus over iPhone 6 from my own experience. I do like iPhone 6 but i feel that its not a true upgrade that apple has given this time in terms of hardware. Let me highlight few points quickly to help you decide iPhone 6 or iPhone 6 Plus.
Why You Should Buy iPhone 6 Plus?
Apple iPhone 6 Plus has got some good upgrades in many areas compared to iPhone 6 released in September 2014. Its no surprise when it comes to apple for hardware upgrade, and they always do it slowly. Well, that's because they are really good at optimizing the software which is iOS to run smooth on even older iPhone's and iPad's. Customers hesitated to buy an iPhone because of its pricing had to change their mind after using their first Apple product. Most of us start from Apple iPod or iPod Touch and convinced by its product quality and life.
Alright, lets talk about iPhone 6 Plus and why you should buy one over iPhone 6.
iPhone 6 Plus Display:
iPhone 6 Plus Display is a 5.5 inch LED Backlit Display with a screen resolution of 1080 x 1920 pixels and it has a pixel density of 401. Which delivers excellent color quality, text sharpness that makes reading and watching movies a lot better than small screen devices. iPhone 6 has 4.7 inch display with 750 x 1334 pixels and 326 ppi. which is ofcourse not bad, but when we talk about the pricing iPhone 6 Plus makes huge difference.
Also Read:
iPhone 6 Plus Battery:
iPhone 6 has 1810 mAh battery and iPhone 6 plus comes with 2915 mAh battery capacity. iOS performance delivers 1 day guaranteed battery life under regular phone usage, and its fast charging ability saves us time charging the device. iPhone 6 plus takes more time to charge because of its bigger battery, but i put it back in power unit only 2 days after charging it to 100%. Though the previous generation iPhone's are optimized for 1 day battery life under normal usage, iPhone 6 Plus gives 2 days solid battery life. When i play games, watch movies, some youtube time, messaging, calls and do more, it gives 1.5 days of battery backup. The battery backup of iPhone 6 Plus gives me huge relief from roaming around with an USB adapter in my pocket.
Bigger Battery is must these days as we consume more media and to stay all day in 3G, it is essential to get atleast 3000 mAh battery with any smartphone we buy today. Also dont forget to checkout our Best Android Mobiles with 3000 mAh battery backup article, if you are looking for one.
iPhone 6 Plus Camera:
Both iPhone 6 and iPhone 6 Plus have same camera except one technology addition to 6 Plus. If you shoot more videos using your iPhone, then iPhone 6 Plus comes with Optical Image Stabilization that takes videos with very less shakiness. Also the auto focus allows you to take a better video like a PRO using your iPhone 6 Plus Camera. Both has 8 MP cameras that takes pictures with 3264 x 2448 resolution.
iPhone 6 and iPhone 6 Plus Breakability Tests
[youtube]https://www.youtube.com/watch?v=zpx6r5FVXPo[/youtube]
Also Read:
Conclusion:
These three are are important reasons why i like to recommend you to consider iPhone 6 Plus over iPhone 6. Also, the apps are now optimized for iPhone 6 Plus bigger screens and Apps like Facebook, Twitter, Youtube, Flipboard, all looks bigger featuring more contents on screen to read and watch. The only negative point i give is its Frame. Apple should have reduced the frame size to fit well in pocket. So if you are a person who frequently take the phone out while driving, then i am sorry to say, iPhone 6 Plus is not for you. It fits perfect in normal pants but not good with tighter jeans and pants.
Apple iPhone 6 Plus is a clear Phablet device and not stands with a regular smartphone category. Its a super computer and you should consider getting it, only if you think you can adjust with the size and want more power and battery juice to be more productive.
Price: $749
GET Unlocked, Contract Free: iPhone 6 Plus from Amazon
Thanks for reading and dont forget to share this post with your friends at Twitter, Facebook and Google+. Also feel free to drop your comments below. Have a wonderful productive day.