Stellar is popular for its Data Recovery software and today we have one of their recently launched Mac Cleaner Application that they promise it will be effective in cleaning your Mac OS X and increases the performance by 25% instantly after using it. I am going to install Stellar SpeedUp Mac on my 27 inch iMac which is my office computer that is little bit slow while i use multiple browsers and applications on 4 desktops.
I am going to see how far this utility gonna help me to enhance the speed of my imac after using it for couple of days. Let's start with a small introduction to the Stellar SpeedUp Mac software.
Stellar SpeedUp Mac comes in two different version which is the basic version that does very basic tasks like Removing Junk Files, Duplicate Files, Apps and Widgets that just sits on your Hard disk, not used by you, and consumes memory and space.
The second one is Stellar SpeedUp Mac Platinum version, which does the above three basic tasks and,
Disk Defragmentation of your Hard Disk Drive.
Repairing your primary OS X installed HDD if any errors found during diagnostics.
Monitors and Displays HDD Temperature and overall Performance statistics.
Smart Care – for Scheduled pre-defined activities.
Benchmark tool – Compare Mac performance with Benchmark Reports.
Wipe Mac – to delete any sensitive files permanently without leaving a chance for any Data Recovery or File Recovery software's for Mac to recover.
Backup – a tool that makes the task of taking backup of your Mac HDD a lot easier.
These 7 features comes at extra $60 expense, so in total the basic version of Stellar SpeedUp Mac costs $39.99 and Stellar SpeedUp Mac Platinum version with all those above mentioned feature costs you $99.99.
Luckily, there is a special promotional offer going on currently and you can Download Stellar SpeedUp Mac for $34.99 and the Platinum version for $49.99, if you have decided to purchase the full premium version at the end of this Stellar SpeedUp mac Quick Review.
StellarInfo SpeedUp Mac Promo Offer is valid till 18th January 2016. So hurry up and save up to $50 on Platinum version.
Stellar SpeedUp Mac Review
System Specification & Scenario: As i have installed 16 GB RAM in my iMac, it worked really after after clean installation of OS X. But when i install third party apps like Google Chrome, Firefox, VLC, Tweetdesk and other utilities like Video Converters and more, the problem starts. I always keep three web browsers opened with multiple tabs on each and using 4 desktops on my iMac. Chrome and Firefox are definitely CPU and Memory Hungry apps than anything i have used. This slows down when i navigate through different desktops and also when i launch some movies to watch in VLC media player.
Going to see how Stellar SpeedUp Mac going to clean this mess up and improves the 25% performance after using it for my first day.
Day 1: Installing SpeedUp Mac on my mac computer, and i am going to try with the full version to see how effective it is in cleaning up the mess in my iMac (work computer). After Clean installing OS X El Capitan, this is the first mac cleaner app i am installing to see how well it cleans and boosts the speed of my mac overall.
First Impression, the UI is very simple and easy to use. Well designed to keep the features pretty simple and easy to access.
Also Read, Parallels Desktop 11 for Mac, Install Windows, Linux on Mac
Day 2: Didn't run the SpeedUp Mac for the whole day, but so far the performance is decent on my mac and i am able to notice some difference while watching Youtube videos and Facebook on my Chrome, leaving all the other apps that i normally use open on different desktops. Facebook and Youtube are definitely the most memory consuming websites when you open in Google Chrome browser.
Day 3: Launched and performed the Cleaning once again and SpeedUp Mac cleaned around 400+ megabytes of junk files from my mac hard disk. The numbers are impressive and i am OK with the performance boost i feel with my regular usage. If you want to try this cleaning app on your Mac then goahead and download the trial version of Stellar SpeedUp Mac today.
Above screenshot shows, the Stellar Speedup Mac Uninstaller which automatically pops up when you delete an app from Applications folder. It automatically scans the entire hard disk drive super fast and displays all the relevant files to remove and complete the uninstallation.
See how much speed and performance difference you see after installing and running this app once on your computer. Also, don't forget to use the Special Promo Code offer that is valid till 18th January, 2016. Save up to $50 with the purchase of Stellar Info SpeedUp Mac Platinum version to enjoy all the features that this powerful mac cleaner app offers.
Stellar SpeedUp Mac Single License
Original Price: $39.99
Discount Price: $34.99
Download SpeedUp Mac Single License
Stellar SpeedUp Mac Platinum License
Original Price: $99.99
Discount Price: $49.99
Download SpeedUp Mac Platinum License
Stellar Info SpeedUp Mac Screenshots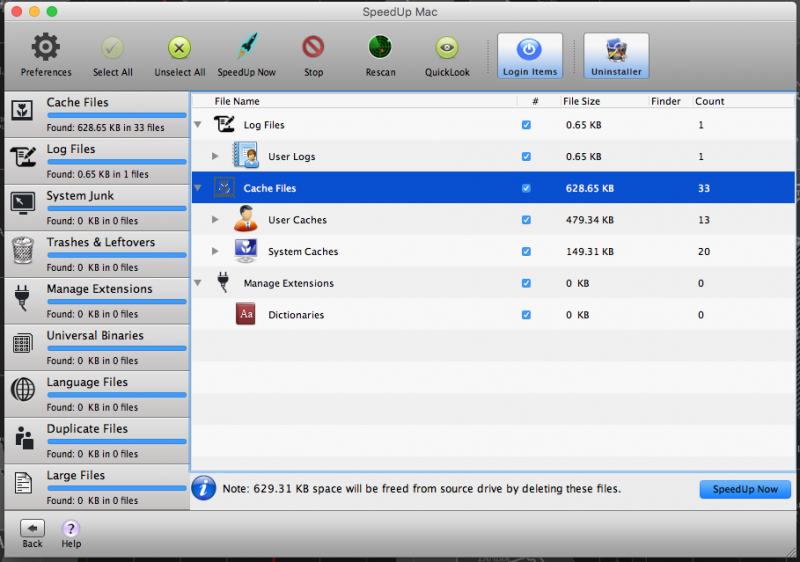 Thanks for reading, Have a great day and feel free to drop your comments below.
You may also like to Read,