Free Web Based Screen Recorder Software for Mac, Linux and Windows
Screen Recording Apps are very useful for Teachers, Trainers and any one wants to create Video Tutorials or Presentation. We can download screen recording apps or screen capture software suitable for Windows, Linux and Mac OS X operating systems. Whenever you don't have access to your personal computer or laptop and want to create a presentation or screen recording instantly, these web based screen capture softwares will be a great help.
You don't need to install any software's and all you need is latest web browsers running which already has Java and Flash plugins installed. Most of the computers that runs Google Chrome, Firefox and Safari Internet Browsers are ready to run these web based screen recording softwares.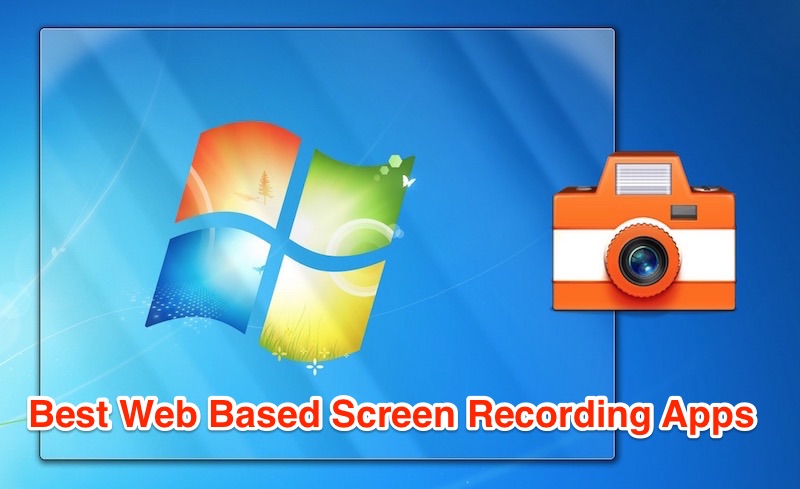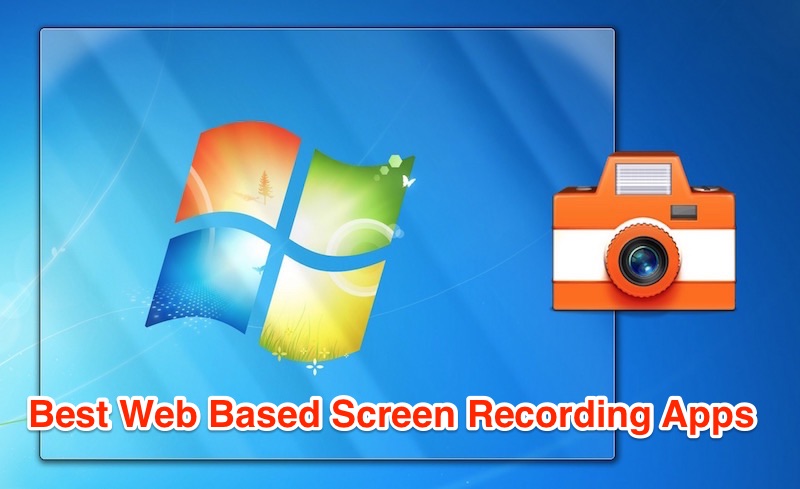 Today we hand picked few best screen recording apps that requires just a web browser to Run and not any third party software installation. This will come very handy for teachers and any one who wants to record screens, web browsers and create presentations instantly.
Web Based Screen Recording Softwares
There are very less screen capture apps available that runs complete using your web browser. Make sure you have latest version of web browser installed on your Windows PC, Linux OS or Mac OS X to avoid any compatibility problems. Also for security reasons, do check that you are running updated Java and Flash software on your computer.
Web based screen capture software or recording apps are best suited for recording browser screens. For more features and premium tools, consider reading the following articles.
Above suggested screen recorder software's require installation process, where you have to download the software from their official website and install it on your computer. This allows you to record entire computer screen and do more with the editing as well. You can customize your recorded video, add effects, add transitions, and comes with tools that makes the video look more professional when you use it for your Presentation or upload it to Youtube, Vimeo, Dailymotion or on your own website.
Alright, without any further delay lets see the list of Web based screen recording softwares.
Also Read, 10+ Screen Recording Software for Bloggers
Screencast O Matic
It is one of my favorite web based screen recorder software that makes the screen capture process very easy. It generates the output video in few minutes and you are all set to upload it to your Youtube Channel or Blog. They have both free and premium version of ScreencastOMatic. Free version allows you to record up to 15 minutes of desktop screen, free hosting up to 15 minutes per upload, record desktop screen and webcam as well. You can also publish your video to YouTube in HD format. Generate the final output video in .mp4, .avi and .flv movie format.
When you go to premium version of screencastomatic, you can upload your screen capture to google drive, vimeo and more video streaming networks. There will be no watermark of screencastomatic in your video. You can password protect your video uploads, use their editing tools, scripts, screenshot, record system audio on Windows PCs, and do much more.
Screencastomatic is the best choice for Teachers, Students and Tech Support people who want to instantly create a short video tutorial or guide without installing any software. Here is a video tutorial of this wonderful web based screen recorder.
It is super fast and gets the job done quickly. As it runs without the need for any software, screencastomatic serves the purpose as the best screen capture tool that is web based.
Go to ScreenCastOMatic
Screencastify
One of the best screen capture tool for chrome browser. It comes as a Chrome Extension to make screen recording task a lot easier. If you are using Google Chrome as your primary browser with all the other Google Services, then Screencastify will be a very handy tool for recording desktop, browser tab and webcam as well. Screencastify does not depend on third party plugins like Java, Flash to Run. It is very well compatible with all Operating Systems and requires just Google Chrome browser installed on your PC or Mac.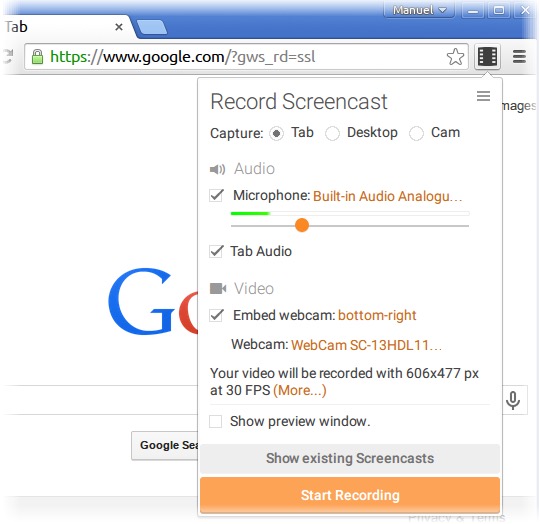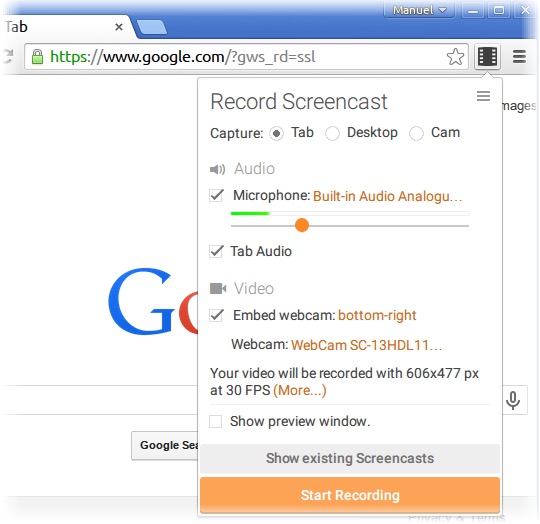 Screencastify can be integrated with Google Drive where you can store all your screen recordings and instantly share it with your students and access it from anywhere. Every video you record stored locally, and you have to choose where you upload and share it further. Screencastify developers have designed this app very user friendly, so you don't have to search for options. Everything is kept in front and you can easily access them with couple of mouse clicks.
Choose what you want to record, audio settings, webcam controls, screen size and recording settings and much more.
Go to Screencastify
Screenr
I remember using this service when i had a PC with 40GB HDD storage which was plenty of storage 7 or 8 years ago. Screenr is a very old service that still works for many online teachers who want to instantly create a screen recording and upload it manually to Youtube, Vimeo or with your Blog Post. Recently there are issues with the screenr website where it throws application specific errors to visitors. The team behind screenr may not be giving enough attention these days to update this powerful screen capture application and make it compatible on all platforms.
That is all, and if we come across any other screen recording application that works well on different platforms, we will update this article. If you know any such service, feel free to add the link in the comment below.
Go to Screenr
Also Read, Free Screen Recorder Apps for Mac OS X
Apart from web based screen recorder software, i also like to recommend you apps and software's that are excellent with tons of features and editing capabilities on Mac OS X, Windows and Linux operating systems. Download Screen Capture / Recorder software only from their official / developer websites and install it on your computer. Techsmith's Camtasia is one such popular screen recorder software that so far delivers excellent tools and features to let you record stunning and very attractive videos.
Thanks for reading, and don't forget to share this post with your friends and followers if you find it useful. Have a wonderful day.