Syncmate lets you sync your Mac with Windows Mobile, Nokia S40 Mobile, Android Mobile Phones, and iOS Devices seamlessly in a minute. Eltima Syncmate Review to immediately break the restrictions between your Mac and Android Devices. This amazing cloud service makes your file sharing easier than ever before. Sync Mac with Other Devices without installing an many Apps. Get a Syncmate account, and you are done. No complex configurations or steps to follow to sync your files between mac and other mobile devices. Syncmate synchronizes mac and other devices using cloud service.
Syncmate for Mac OS X also syncs your mac files with PC, Dropbox, Google Accounts, any Mounted Storage Devices and Sony PSP. You can also take a backup of your Mac using Syncmate. This is one great online backup system for mac and can be used in your Macbook, Macbook Pro, Macbook Air and iMac very well. Syncmate is compatible with Mac OS X Lion.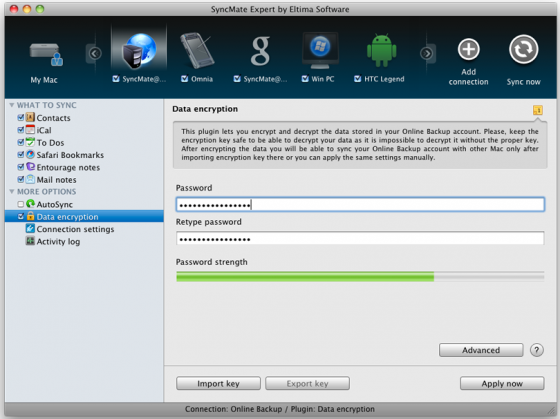 This is one of the working and best software i have tried to share files from mac with Android, iPhone, iPod Touch, iPad and Windows Mobile Devices. Cloud technology brings so much easy way of file sharing via Syncmate without any platform restriction.
Syncmate offers the following features.
Sync Android with Mac – Syncmate lets you sync Android phones and tablets with your Mac in minutes. Your Android Contacts and Calendars can now synced with your Mac OS X powered Macbook or iMac. You can do that easily with Syncmate Free Account. If you purchase an expert account then you can sync folders, images, music, videos and much more from your Android mobile phone to Mac. You can also manage your Android mobile messages effectively by reading, writing and deleting the messages right from your Mac.
Sync Windows Mobile with Mac – Now you can sync your Windows Mobile Phone with Mac and manage the Address Book, Calendar Entries, To Do's, Browser Bookmarks, Mail Notes, SMS Messages and so much simply from your Mac. Use your mac keyboard to send text messages to your friends and manage the messages as well.
Sync iPod Nano, iPod Touch and iPhone – with Syncmate you can Sync between your iPod Touch, iPod Nano, iPhone and iPad devices very well. All iOS Devices are supported and works perfect to sync and manage music, movies, pictures and contacts.
Sync Mac with Another Mac – you can Sync between any number of Mac's using Syncmate software installed on them. There can be any number of Mac's and still you can access all the files and folders quickly using this great tool.
Sync with Dropbox Account – Syncmate supports syncing your Mac with Dropbox account as well. So you dont need any more app to integrate the Dropbox feature to your Mac. Just one software can take care of all your Cloud services.
Syncmate with Mounted Storage – Sync your Bookmarks, Files, Folders, Contacts and Notes with Mounted Harddrive storage faster using Syncmate.
Sync with Nokia S40 Mobile Phones – Now your Mac can sync the contacts, sms messages with Nokia S40 mobile phones in minutes. Just connect your Nokia Mobile phone with Mac, and turn on the Syncmate to take care rest of the work.
Sync Android Tablet with Mac – Yes, it is possible now. You can sync your Android Tablet with Mac using Syncmate and to do that, all you have to do is install Syncmate module from Android Market on your Tablet, then connect your Android Tablet using USB. Browse files through Finder in your Mac.
Sync Blackberry with Mac – Syncmate will soon support Blackberry to Mac Sync feature, which is currently under development.
Apart from the above mentioned services, Syncmate supports Google Accounts (to sync calendars, documents etc) various Online Storage services and PSP Devices. Now you can use all these features on your Mac without any waiting time.
Syncmate comes in two editions, Free and Syncmate Expert Edition with some extra features as addition. At 39.95 USD (personal license) and 59.95 USD (family license) Syncmate is totally great and worth for the money. You may get 20% discount by using syncmate discount code exclusively for our readers.
When i use Syncmate to sync my iPhone with my Mac, there was no delay and the file transfer happens so fast. Though i read in some websites that there is still some bug in the app, we can expect a fix for them, in coming updates. Overall, this is one useful app to break the restrictions that prevents file sharing between Android and Mac computer. Now people can freely choose their choice of platform devices rather depending for certain services. Cloud is going to be the future technology when it comes to file storage, and Syncmate is using it very well.
If you like to see a review of your Product, Software, Theme in our blog, you may write to us [email protected] to get it reviewed here.
Thanks for reading and do share your views through comments below. You may also share this post in Facebook, Twitter and Google+.