Recent days its been a centralised attitude to make money through online. The most professional way in this is to blog. The way of blogging can be more expressively said as an 'art of blogging'. But the problem is many feel uncomfortable to be active on their blogging activity. So here comes a solution for that which would keep them cheerful with their handsets. According to Interactive Date Corp (IDC) there will be more than 1 Billion of people  access Internet through mobile  by 2013. Being as a blogger only thing you need to concentrate on that 1Billion readers from our blogs. Most of the mobile traffic arrive from the Twitter and Facebook also some sorts of social bookmarking sites.
Here comes a question.
How do we synchronise Mobile and a Blog ?
There are a lot of plugins for wordpress blogs in order to make the blog more friendly with the mobile. Recently Blogger is also concentrating on this issue and providing the necessary code to their customised templates. Unfortunately most of us are not using those in order give the viewers high look and feel. No need to worry of all those issues because  there are a lot of scripts that we can introduce in our blogger via Edit Html option. It takes just few seconds to place this code in your blogger layout.
So things you need to follow are
Step 1: Goto dashboard of your blogger and click on the Layout and then on Edit HTML.
Step 2: Find the <head> header of the template given.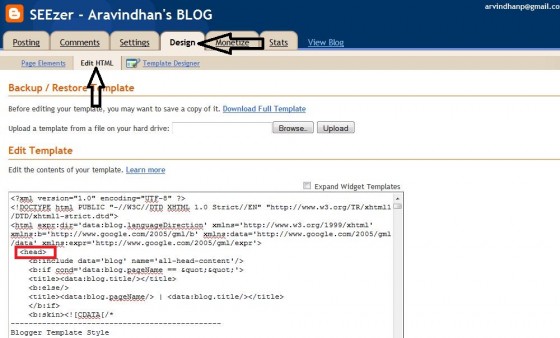 Step 3: Once you have found the header tag, paste this code below that.
<meta content='IE=EmulateIE7′ http-equiv='X-UA-Compatible'/><br /> <b:if cond='data:blog.isMobile'><br /> <meta content='width=device-width,minimum-scale=1.0,maximum-scale=1.0′ name='viewport'/><br /> <b:else/><br /> <meta content='width=1100′ name='viewport'/><br /> </b:if>
After inserting the code
Step 4: Save the template.
Now start experiencing the all new feature of your Blogger powered blog and keep blogging from your mobile totally at convenient time. Your comments can help me to understand what positive or negative you feel after reading my article. So dont delay in commenting below and give me a chance to improve more with my upcoming article. Thanks a lot for your patience.