Ginger Spell Checker and Grammar Checker are one of the famous and best proof reading software for any platform. It works with the help of your web browser and currently it supports Firefox, Google Chrome and Safari. This ultimate spell checker software is so essential for people who have doubts with their grammatical accuracy. As a writer, once we complete an article, it is must to check for spelling errors and grammar errors. Ginger software makes that work totally easy and you can publish your article very quickly.
No More Spelling Mistakes or Grammar Errors !
This simple yet very effective proofreading software was in the market for a long time, but the recent developments and improvements making it one of the best proof reading software for Windows, Mac OS X and Linux users. You don't have to spend hundreds of dollars to find a better spell and grammar checker software anymore. Ginger is absolutely free and you can install it as a web browser extension in a second.
Ginger Genie
Ginger development team has recently introduced a new product called Ginger Genie which is a powerful and well automated proofreading software. Ginger Genie helps the user to improve the English writing and communication by recording the areas where specifically we have a problem and steps to improve it as well. You don't have to spend time for topics you already knew. Ginger Genie is a revolutionary software that collects the words you type and tells you in which area you need to spend more time in improving your English.
[youtube width="560″ height="344″]http://www.youtube.com/watch?v=2N7thbcF5gk[/youtube]
Spelling matters a lot and Ginger genie is a well advanced tool to correct spelling errors, grammar errors and train you to write better in future. Start writing better and faster than before.
Ginger Online Proofreader
Ginger website also has Free online tools to let you do spell check and grammar check completely online. You don't have to download any browser extension even to give this feature a try. If you like, consider downloading ginger browser extension to make the spell checking and grammar checking so easy. Ginger Spell Checker and Ginger Grammar Checker look very simple and easy to use online tools.
Ginger for MS Office
[youtube width="560″ height="344″]http://www.youtube.com/watch?v=b_I50LYW6_U[/youtube]
Ginger proof reader software is also available for MS Office, where you can do spell check and grammar check. It is compatible with Microsoft Word, Outlook, PowerPoint and Internet Explorer. Correct entire sentence with just one mouse click. It also provides analysis of sentence context to correct grammar, unusual spelling mistakes and misused words. Error reports generated and stored frequently helps you to know more information on amounts and types of errors you make. You can create multiple user accounts to personalize and track the progress very well.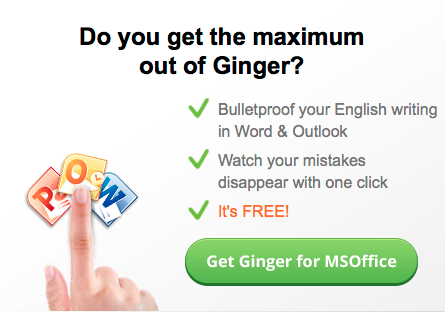 No doubt, that ginger is one ultimate free proof reader software for taking your writing to a better level. I recommend you to try the premium version of Ginger to get complete features.
Download Ginger for Free
Free ginger browser extension is pretty much great tool for writers. But to get unlimited usage of ginger you may consider paying (9.90$) 4.90$ a month or 59$ 29$ one time payment. The premium version that has a complete feature set is also available for 118$ 59$ for limited time. The premium version gives you three essential features and they are,
Enhance your Texts with unlimited use of Ginger software.
Perfect your English with Personalized Learning program based on your mistakes.
Improve your pronunciation and accent with Text to Speech reader.
Download Ginger  |  Buy Ginger Premium
Compatibility is not an issue at all when you download and use ginger proofreader. Ginger for Mac OS, Ginger for Windows and Ginger is also available for Linux as a premium software. If you just need a browser extension then click on the above download link to get it for free.
Ginger uses Internet to correct Spell mistakes and Grammar mistakes that you make while writing something on your document or web browser based editors. One of the best contextual grammar and spell checker available in Internet today. It just corrects the mistakes as you type. Also it can scan entire documents that are written already by someone and you can proofread it for any mistakes and correct them quickly and easily.
I am sure you will find this software very useful. Thanks for reading and please do share a word about this by sharing this post with your friends and followers across social networks. Have a wonderful and Productive day !