There are plenty of screen recorder apps available for MacOS, Windows and Linux operating systems. Very few works as advertised and become the favorite app for many. HYFY Screen Recorder Chrome extension is super light and takes a minute to install.
HYFY Screen Recording App also provides various API integration options, so that you can record videos and instantly share it with popular applications like Slack, HipChat, JIRA Softwares and much more.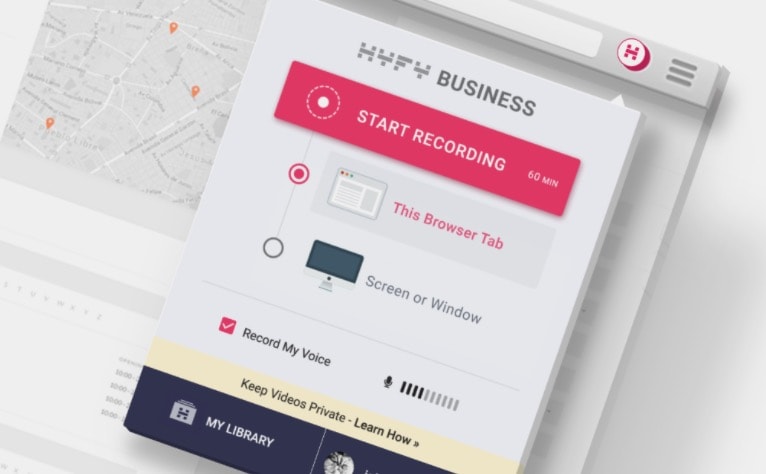 There are thousands of useful chrome extensions available, but very few can be installed as each of them are Resource hungry. You have to increase the CPU, RAM and have a specification rich computer in order to use more Chrome Extensions for Productivity reasons.
Another Interesting Read, Online Assessment, Exam Tools for Teachers and Educators
Among the essentials, HYFY Screen Recorder Chrome Extension is a must install. If you are a Teacher, Mentor or Developer who regularly create screen recordings to share it with your students and colleagues, then HYFY is a must application. Remember, to Download HYFY Screen Recording App only from Chrome Webstore. This way you can avoid unwanted malware or viruses when you download from third party websites and other unverified sources.
Why HYFY Screen Recording App?
It's Powerful and Light weight screen recording app.
Runs as Chrome Extension, no third party app installation required.
No Compatibility Problems. Works Flawlessly in Windows, Linux, and MacOS.
Instantly Record your Screen, add Voice to it and Upload it to Youtube, Vimeo and more Video Streaming websites.
After Recording, you can upload the video directly to HYFY Cloud and generate a Sharing Link.
You can control the privacy by setting the video permission to Public or Private (people only with the link can access the video).
Integration API provides the ability to integrate this amazing screen recording app to your Company, School or College Application.
Finally, it is a super easy to use and handy utility for Teachers, Software Professionals, Trainers and others who create videos to educate their students and staffs.
Create professional looking screen recordings with HYFY Screen Recording Software. Download HYFY Screen Recorder app, only from Chrome Web Store by opening your Chrome Web Browser now. You may also visit the official website to download this amazing screen recording extension.
Another Interesting Read, Free Web Based Screen Recorder Software for Mac, Linux and Windows
HYFY App Pricing
When you download HYFY Screen Recording app on your chrome browser, it starts as a free version.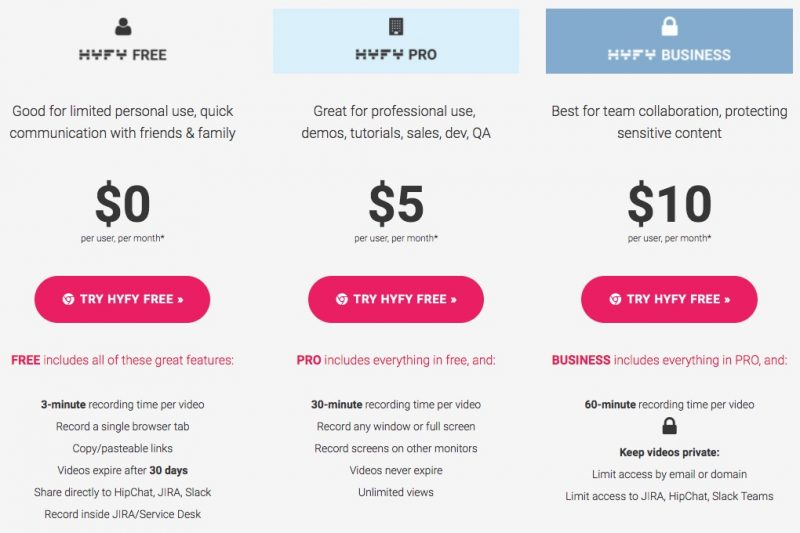 HYFY Free – The Free version has a limit of 3 minutes screen recording and works with single browser tab only. You can upload them to HYFY Cloud and those videos will have 30 days auto deletion limit set to it.
HYFY PRO – Premium version of HYFY PRO starts from $5 per month that includes everything that Free version offers, additionally 30 minute of video recording time and you can record any window screen or full desktop screen.
HYFY Business – includes everything PRO feature offers and you can record your screens upto 60 minutes per video. You will be allowed to set your video permissions as Public or Private. Further you can limit access by email or domain as well.
Do you know any similar screen recording app that works out of the box like HYFY? Feel Free to share this post and don't forget to leave your comments below. Thanks for reading and have a wonderful day.
You may also like to Read,