Update: Get Rockable press discount code.
I like to show up some case studies to prove how the Rockable Press – How to build a successful blog business will help you to build your own successful blog business. People who bought this book are very much satisfied with their blog traffic, quality content delivering and so on. Collis Ta`eed proved to be the best blog business expert and take a look at the case studies shared by few blog business giants. If you are not satisfied with the ebook then you may request for money back as Rockable Press guarantees you the 100% money back on all their ebooks.
Ranked in the Top 1000 sites by Alexa, Tuts+ is a network of nine tutorial blogs teaching everything from Photoshop to Photography. With over 250,000 RSS subscribers and reaching over 4 million visits a month, the Tuts+ network is without doubt the market leader in its niche. In How to Build a Successful Blog Business you will learn how the network grew from the original Psdtuts blog into a multi-million dollar blog business that is both respected and loved around the world.
The original and best known blog about freelancing, FSw is an award winning site with over 50,000 subscribers. In How to Build a Successful Blog Business you will learn how FreelanceSwitch went from a single popular article on another blog to a full blown site in a matter of days, how it attracted three thousand subscribers within the first couple of weeks and the process of turning the site from fast growing blog into a profitable enterprise.
Recently blowing past a million page views a month, the AppStorm network is the youngest of the case studies. Despite its age, Mac.AppStorm is already the largest blog dedicated to Mac Apps, and the network is quickly gaining in both reputation and traffic. In How to Build a Successful Blog Business you'll learn how the sites started, how staff were hired, how search traffic has been consolidated and how the sites are growing.
How to Build a Successful Blog Business is a straight forward guide to building a publishing business online that covers everything from choosing a niche to hiring staff, registering a business to selling it, finding traffic to monetizing it. Whether you are interested in creating an additional income stream or building a fully-fledged business, this is an essential read for web entrepreneurs and online publishers. Collis is a web veteran with a wealth of experience and an easy to read style. He has founded sites such as the Tuts+ network, the Envato Marketplaces, FreelanceSwitch and AppStorm which combined serve up over 50 million pageviews a month.
In How to Build a Successful Blog Business Collis shares tips from his years of operating kick ass blogs, and reveals stats, graphs, revenue figures and inside details from three real world case studies. Nowhere else will you be able to find information like this. Step behind the scenes of Envato's wildly successful sites and find out how you build blogs that are both profitable and popular.
If you are not convinced with the book, then you can use the 100% money back guarantee option to get your money back after purchasing this book.
If you are not feeling comfortable with ebooks, then you may order an paper back copy for extra 10$.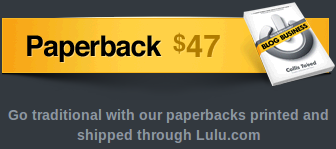 Rockable press accepts Paypal and Credit Card mode of payments.
Do share your views and benefits gained after purchasing this book and implemented the concepts in your blog.