Update: Swift Theme Free vs Premium Version Comparison
Before you jump all over me and shout "How come thesis can meet an alternative ???" i must explain that "But ? …" Its not so negative about the Swift Theme either. Recently, i did see, that few bloggers who are not using the Thesis theme started to use the Swift theme and seems very comfort with it. Swift theme have so many benefits similar to DIY Thesis theme. SEO, Zero image in use, Fast loading and server performance are some of the highlights of Swift theme.
When we google for "Fast loading wordpress themes" then the leader is Swift Theme. While comparing swift with any other free themes, it leads the race with its great administration panel. This theme has an admin option to customize it much better from the default look you get after the fresh installation.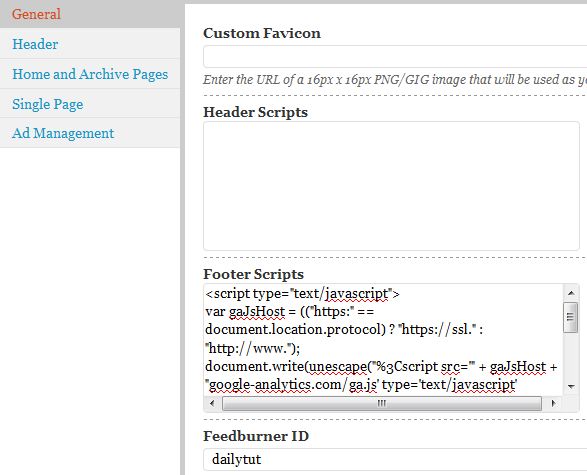 You may set your favicon, add some scripts to be executed when the header.php loads, similarly the footer scripts and finally Feedburner ID to configure the sidebar feed subscription unit. So over all the general tab helps you in configuring the maximum necessary script related items such as Google Analytics, Meta Tag Verification and so on.,
Swift Theme Review
Excellent font style in use by default. You may always change it as per your choice through CSS file.
Very much SEO friendly
Advertisement tab allows you to display google, bidvertiser or any of your favorite ad network advertisements in various locations of the blog.
4 sponsor ad box also available. You may add more boxes manually through the theme editor area.
Comment section looks so clean. In many themes, even though they have good layout in home page the comment box makes the user feel disappointed. It happened to me when i was searching for some clean layout designs.
Overall, Swift theme is on the race of beating the premium themes with many of its features. The theme is still in development, so some problems exist will be sorted out soon. The one negative i like to point here is the Image resize problem. It displays the image as it is while resizing it, and never allows it to exceed the blog content area. I hope the theme developer will fix this in his next release.
Some blogs using Swift Theme are,
TechnoskillOnline
Mostlyblog
Do leave your blog url in comment if you are using Swift Theme. You may download this great theme at WordPress Official Theme Repository and the preview is our DailyTUT as we are using the little customized version of that theme. I have a plan to switch to Thesis theme too, but it will take some time as my Swift gives me comfort as of now.
You may also like to Read: